On Farmers' Day this micro artist surprised everyone.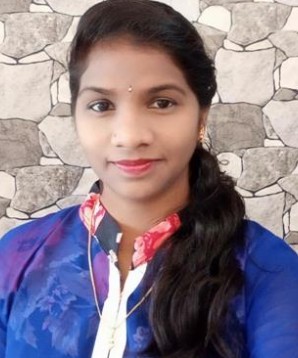 On a pencil lead, a creative welcome for 2021 was carved and it measured 1.7mm×4mm - tiny but elegant. Just before that, on the occasion of National Farmer's Day, supporting the farmer's cause, a bullock cart was intricately carved on chalk piece. When you see the Map of India holding the tricolour Flag, you cannot stop yourself from saying WOW. When names and wishes dance their way on the pencil leads, they rejoice this micro-artist's creative zinger. Eiffel tower and other significant carvings on toothpicks and chalk pieces display the muse of this micro artist. We are talking about the record setting micro artist from Andhra Pradesh, Nalini Manasani whose passion for micro art was born out of the desire to be unique always. Let's know more about this creative genius and her artistic journey.
Born on 9th April 1996 to a businessman Raghavendra Shetty and Veena, a housewife in Yadgiri, Karnataka; Nalini is currently a resident of Mantralayam in Kurnool district of Andhra Pradesh. Nalini completed her schooling from Shree Venkateshwara High School and graduated in B.Sc, CS from C.E.S College in 2017. Since childhood, Nalini was always drawn towards arts and crafts. However, she just admired the artworks and took it just as a hobby in times of leisure. However, after finishing her graduation, instead of clocking into a routine 9-5 job, she wanted to establish a unique path and identity for herself. When she drilled her own self at what she is good at, at every point, there was just one answer. "Art and Craft". She realised that she is not only good at crafting but has a deep passion for micro art. Right from the early years of her life, she pondered over the newspaper articles, clippings and social media posts that featured artworks. As a child, she used to carve those pieces of art she came across these platforms.
A Different Path but a Careful Takeoff:
Post her graduation, Nalini found her calling into the field of micro art. Though she listens to the music of her own fingers, she wanted to hone her hand at art from scratch. She spent close to 6-8 hours on each and every art piece she took up. She went on to visit artisans and their work. She spoke to them and this exercise helped her connect with art deeply. She spent time with art more than ever in her life and understood that art is a natural flow of emotions and thoughts without any rules and regulations. Art, she says, is a wholesome experience of one's own creativity. When her relatives and neighbours looked at her spending hours in close proximity with art without getting a potential career for herself, they warned her not to waste time in doing things that come to no use. None of them appreciated Nalini's craving for art. But Nalini didn't give up.
Microart- Her Identity:
Nalini's hands carve wonders on chalk piece, toothpicks, pencil leads and candles. Her carving of couple's names on pencil lead, giving it a stroke of green rose enclosing the piece in a glass tube is the perfect romantic gift ever. Her "Happy Birthday" customised gifts are spectacular to view and are a perfect choice to gift. Her mini keychain with a pendant is an amazing carving and well-suits to house a key. In support of farmer's protests, on National Farmer's Day, she carved a bullock cart on chalk piece that measured 2cm in height and 4cm in width. While her chalk piece carvings for Dusshera and Ganesh Chaturthi attract everyone's eyes, her tiny chalk piece flagpost where she is seen hoisting the little national flag cleverly tied to it surely makes you salute her creativity.

Record-setting Art:
The year 2020 was a creative boon to Nalini's talent. She was widely recognised for her distinctive flair. Nalini carved digits from 0 to 9 on a toothpick without even using a magnifying glass in just two hours. This feat gained her place in Champion Book of World Records in October 2020. When she carved a "Gada" using chalk piece in 2 hours time, she secured a place in "Supreme World Records" in October 2020. Her work was acclaimed and found a place in numerous newspapers like Eenadu, Vaartha, Andhra Prabha, etc. She also has received a token of appreciation from the Guinness World Record holder Dr Gattem Venkatesh that served to her, as a tonic of encouragement.
Her Words to The Young Art Enthusiasts:
Nalini says that those who once warned her about wasting her time are now appreciating her flair for art. She says that it's purely hard work and dedication that has got her to this point.
Never believe in luck, believe in hard work. It's only then you can reach success. Success won't come to you easily. It's all about patience, determination, dedication, desire and spirit, says Nalini.
She adds, Believe in yourself and never give up. Grow higher in life but never forget your roots.
Our team wishes this young enthusiastic micro artist who wants to set Guinness World Record one day, very best for all her future endeavours. May her art deals with every contemporary scenario and may her art educate and enlighten people. May her art become the voice of the clueless and may it provide peace and solace to the wailing world.