Mumbaikars-Drink hot tea and eat the Biscuit cup says the Engineer at his T-stall. Sake of a cleaner earth.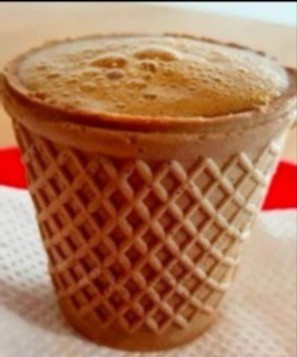 The next time I go to Mumbai on any of my business trips, I would surely visit this address.
"Swadishtam, Opposite Shivaji Park Open Gymkhana, Shivaji Park, Dadar West, Mumbai – 400 028"
Wondering what I'm talking about? Well, this is a place where I shall get my favourite tongue relishing a hot cup of tea to satiate my day's stress. Tea? Nah. Not just tea, they give me biscuits to munch on too. But that is everywhere! Why should I land on that address in specific? Well, let's know about Ashutosh Motilalal Choudhary and his first-time-ever initiative for Mumbaikars in serving them hot, sizzling tea.
An Environment-friendly Initiative:
Ashutosh Motilalal Choudhary hails from Mumbai and is an Electronic Telecom Engineer. He was always an eco- enthusiast. Being a lover of a hot cup of chaai, he used to drink cups of tea quite often like anyone else. However, the way tea is served caught the eco-eyes of this young man and he wanted to change it for his city. In one of the interviews given to an online platform, he said that tea is either served in plastic or paper cups that can't be used again. These use and throw cups are extremely harmful to the environment as they don't get degraded easily. Tea is definitely the most loved and consumed beverage by 95% of the population. But what about the harm caused to the environment because of the discarded tea-cups? Ashutosh brought into the picture of Mumbai, the idea of edible tea-cups. Yes! He introduced Mumbaikars to the idea of not just drinking tea but eating it off!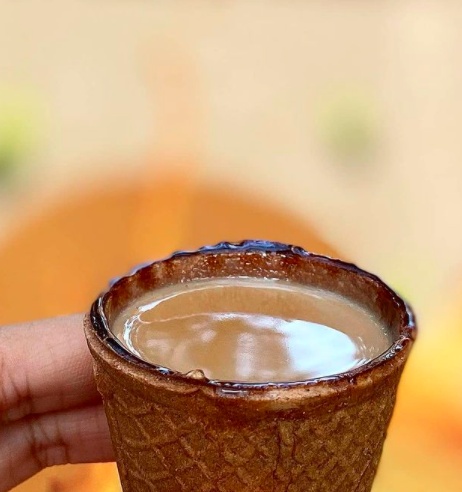 Swadishtam - A Unique Experience:
A one-of-a-kind tea stall for Mumbai City was established near Shivaji Park in Dadar by Ashutosh. Swadishtam serves hot tea in creative biscuit cups. Imagine standing at the tea stall, sipping hot tea observing people or chatting with loved ones, dropping all the day's stress off - amazing, right? But in the end, why should we hurt the environment by throwing plastic waste? Instead of dumping a crunchy biscuit in aromatic tea, why not consume hot, tasty tea from the biscuit cup itself? This is what Ashutosh offers his customers. You heard that right. Biscuit cups to drink tea. These cups are made of wheat, starch, and vegetable oil. Also, these tea-cups come in three flavours - chocolate, vanilla, and Ilaichi. Each cup holds up to 60ml of hot tea. While Ashutosh's father makes the tea at home, he sells it on his small open tapri.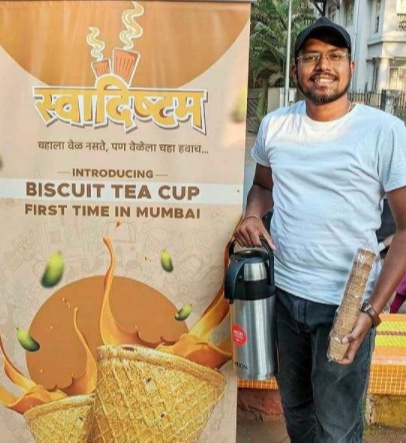 The tapri looks simple with a vertical banner that reads, "Introducing biscuit tea cups first time in Mumbai.'' Wondering if the biscuit tea-cup can hold hot tea without getting soggy or broken? Well, according to Ashutosh, this edible tea-cup can hold the tea for around 8-10 minutes. So, you can hold this cup until you sip the tea and then munch on it later. So, reach Swadishtam and then order a tea. You will be served kadak chai that's made with aromatic cardamom and ginger smashed with mortar-pestle and brewed with tea leaves, milk and sugar. Then, hold it with the biscuit cup and enjoy the taste. Ashutosh also says that these biscuit tea-cups are healthy and nutritious, keep people safe from falling prey to diseases like cancer like plastic cups do, are biodegradable and stand as a small initiative towards Swach Bharat, a voice of Vocal for Local - all just for Rs.15.
So why late Mumbaikars? Take your loved ones and spend some good time at Dadar's first Mumbai's tea stall where you can drink and eat your tea!

Follow His Work