This woman didn't talk about it but she did something for the women of J and K valley.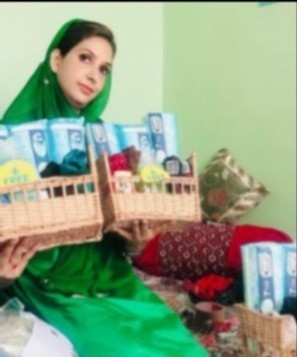 It was March. On one night, Irfana Zargar bought a handful of items like underwears, hand washes, sanitary napkins, antispasmodic drugs and sanitisers. She tucked them in kits and went to the female public toilets across Srinagar. She left these items there and kept walking away. When this act of hers was noticed by people, they started sending her messages of praise. "The quickness with which the news spread was unexpected," she said. Well, nice to read this right? This is not a Bollywood movie scene but one that happened in Srinagar. The woman behind this is 28-year-old Irfana Zargar, the founder of the initiative "Eva Safety Door".
Doors To Safer Menstruation:
Women don't know when they can get their periods. Though they keep track of their period cycle, sometimes unexpectedly they get their periods beforehand or after a delay. Imagine the plight of women who don't even have toilet facilities when they go out in a country like India, what can we expect for an emergency period? This is what triggered 28-year-old Irfana from Nowshera in Srinagar to do something. That something came in the form of her 'Eva Safety Door' sanitary napkin kit for women who avail public washrooms. For this, she spent her life's savings. "This is an initiative that will make accessing sanitary napkins at a time when someone is in dire need easier," she said. Explaining the name she chose for her initiative, she says that Eva' means 'women' and 'safety door' refers to the fact that this is a door that opens to their safety. Before this, she started distributing sanitary napkins and items to women for charity long back in 2014 when she was just 21 years old.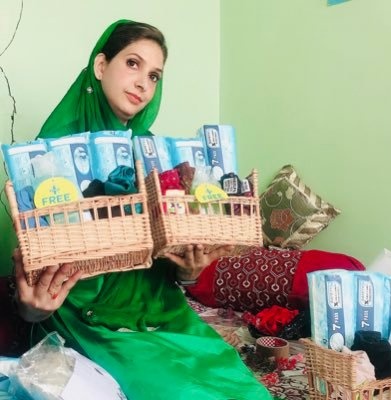 The Fuel Behind The Initiative:
Irfana's turning point in life occurred when she was 21 years old. Her father Ghulam Hassan Zargar passed away due to cardiac arrest. In order to support the family and fund her education, Irfana began to work in the public grievance cell of the Srinagar Municipal Corporation. It is then that Irfana decided to do something constructive and meaningful in life. She thus started this initiative for women. She started distributing menstrual kits as a tribute to her father. She was not funded by any non-governmental organisation (NGO) or government but was spending from her own pocket. Despite being a contractual low paid employee at Srinagar Municipal Corporation (SMC), Zargar didn't hesitate to spend her savings on this cause. "I believe this will elevate my father's status in the hereafter". While telling why she chose to distribute sanitary kits to women, she said that her father was the first man in her life who would get pads for her from shops. She says that her late father, who never shied away from raising awareness, was her inspiration to start this initiative. Men, she said, should be like him. "I am proud of my father and I wish with this initiative I have made him proud as well," Irfana said. Through this initiative, she has distributed more than 10,000 sanitary pads besides distributing menstrual kits in 15 public washrooms around Srinagar city. "I started to give away all the sanitary items as part of the charity back in 2014 and I would put several packets at two different public washrooms in Srinagar initially where women in need would use as per the requirement only to earn rewards for my deceased father who left us in 2013.", she said.
Irfana's Initiative:
Irfana Zargar has been receiving appreciation from the neighbourhood. Her 'Eva Safety Door' sanitary napkin kit for women and young girls is available in most of the public washrooms in Srinagar along with neighbouring villages in Kashmir valley. Her menstrual kits helped the unprivileged girls during the coronavirus lockdown in Kashmir as the markets were mostly closed and the girls were facing problems in buying them. "I started this concept in the washrooms first, when it came to my mind, I wanted to cover 15 washrooms in Srinagar city and later go to villages," said Irfana.
Pull-backs:
Irfana had a constant fear initially that people will falsely accuse her that she is being paid for all that she is doing. Her fear has a reason. It is Kashmir and it's very common there. However, she just wished that women support her cause. "Such support could come in the form of the donation of a single sanitary napkin at a time. We usually spend a lot of money for various reasons. It will be best if women in Kashmir spend a bit on this initiative. It is completely up to them how they will want to help.", she said. Irfana was accused by several men who said that she is making something that should be "hidden", a public aspect. To this, Irfana has a response. "I want to tell those men that if suppose, their wives or daughters get stains on their clothes and if they are in sudden trouble, will they be happy about it?" (Sounds perfect).
To End The Stigma:
Irfana says that there's still a lot of stigma surrounding menstruation. "When a girl or woman gets periods, their own parents forbid them to enter into the kitchen or to serve food. This is not something we should be ashamed of, it is natural," said Zargar. She feels anxious about the stigma and says that it should be tackled by creating awareness on a bigger scale. "Even I personally went to many places to deliver those items at the doorsteps of the needy and I was very successful in doing that also the post evoked great response from people," Irfana Zargar said.
An Expression Of Gratitude:
Irfana says that if not for her family's support, all that she has been doing wouldn't have been going so smooth. "There is no denial in saying that parents go beyond the limits for their children to help them in every manner. Similarly, my parents raised me with all the love and affection that encouraged me to do something for God's sake and I believe it will earn rewards for my parents.", she said.
This Would Continue And Shall Rise:
Irfana says that whatever she is doing is for the women and for their emergency needs. She wants to continue doing this and also extend this to the villages in the valley. Irfana also has plans to start a free cab service for women.
When an incident happens in our life, sometimes it touches us so deeply that we transform ourselves into a whole and that's what happened with the innocent 21-year-old Irfana who is now a fully accomplished woman with high aspirations.

Follow Her Work