She is an armless warrior. Her courageous story is a true inspiration.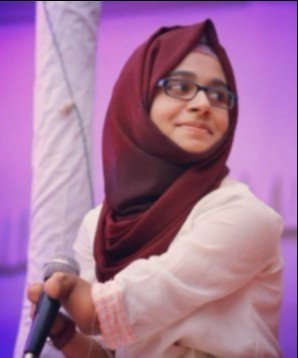 She was denied admissions in a few schools for the reason that she might make fellow students uncomfortable because she is not the way like everyone are. After her parents struggled under rain and sun, a school that saw her as a student and not a differently-abled person finally gave her admission. She is Kerala's Noor Jaleela, a 19-year-old painter, singer, speaker and a violinist with no forearms and legs.
Parent's "Normal" :
Noor Jaleela, a resident of Mayyanad, Kozhikode was the second daughter of Abdul Kareem. When she was born, she had no forearms and legs due to a congenital disability. This left the doctors and parents in shock as the scan reports before birth showed no defects and were absolutely normal. But the baby girl had hands-only till elbows and legs only until knees. Though the parents were shocked initially, they kept calm and decided to be confident in bringing up their child. "There was a major train accident that happened at Kannur near my home. Many people lost their lives and many others had to amputate their hands and legs. My father thought, if they all can live, then why can't my daughter? That is yet another factor that prompted him to stay positive.", recollects Noor. Her parents gave more than what all they could to make Noor's life as easy as possible. From nine months of age, Noor was given prosthetic legs. After being denied admission into several schools who suggested Noor's parents to admit her in a special school, Noor was finally taken into St. Nobert International School. "The priest who gave me admission there only wanted to make sure that I can walk and write, I did both.", recollects Noor with pride. Noor completed her class 12 from Auxilium Nava Jyoti School. "Officials at both schools saw my ability unlike other schools that saw only my disability", says Noor with gratitude.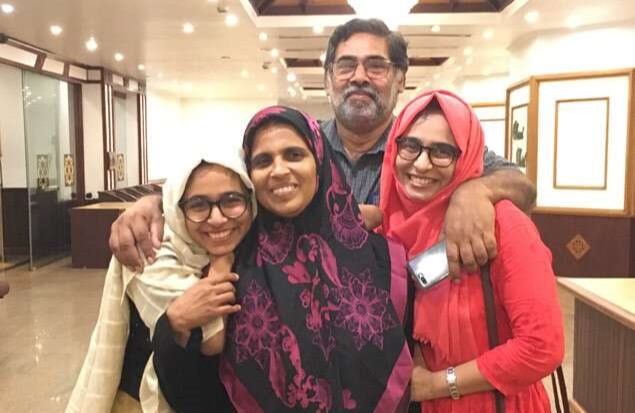 A Gift to Parents:
Noor, who started using artificial limbs to walk started doing things all by herself from a very young age. Her parents, especially her mother, who always had an eye over the girl slowly, gained confidence about the girl's abilities. One day, when Noor's sister Ayisha left her record book at home, Noor started drawing pictures and coloured them thinking that it's an art book. This caught her parents' attention who, instead of scolding Noor, got her drawing sheets, crayons and watercolours. Noor's painting journey thus began. She made several beautiful paintings and many of them were even displayed at art exhibitions. She also bagged the first prize twice and third prize once in the annual National-level painting competition organized for ICSE schools. Noor's painting was also featured on the cover of the Kerala Government's Relief Fund magazine. Noor also makes customized greeting cards out of paper and had also set up stalls at the events organized by the Institute of Palliative Medicine. "And so far, every piece has been sold. I also take up orders for these cards," says Noor. So okay! Let me tell you that no one helps Noor in cutting and pasting these papers. She does it all by herself by holding the paper with both the knees and cuts it with her arms. When Noor was in Class VII, she expressed interest in playing the violin to the astonishment of everyone who wondered how a girl with no forearms would even hold the instrument! Bashing everyone's confusion, Noor got into learning violin and she held it downwards like a cello. She tied the bow with a hairband to hold the violin. Noor says that stringing the violin was not an easy thing. It took great effort for her to adjust to the strings. Noor's violin trainer gave her special attention and made sure that she gets the right basics. To make the bow meet the strings seemed difficult to Noor initially but she didn't give up. She practised and succeeded. "I cannot recreate the way it is played by others and I might not get the right tune but still, I try to play it in the way I can", says Noor.
Philanthropic Side of the Teenager:
Noor, who has been using the artificial limb made by the Kozhikode Medical College Physical Medicine and Rehabilitation, recently switched to more advanced Otto Bock. She says that she is blessed for having got the support of family and teachers and thus wants to help the less fortunate. She was associated with the Institute of Palliative Medicine. In the year 2019, Noor went to the institute as one of the special guests to an event called 'Curios'. Since then, she has been voluntarily conducting various activities like painting and crafts, and even applies Mehendi on patients' hands, talks to cancer patients, supports deceased patients' families and so on. "I met many cancer survivors and those with spinal cord injuries. They were unable to even walk", she explains. "While working for an NGO where there were many wheelchair users, I realized how blessed I am.", says Noor gratefully. This mountain of positivity works in collaboration with many NGOs to help children with disabilities. She considers Dr Anwar Hussain, one of the founders of Palliative Medicine, a father figure. "He is my mentor and friend too. Just like my parents and sister, he has a positive influence in my life", she states. Noor was conferred with the Eastern Bhoomika Award for Iconic Woman of the Year 2020.
Brighter Future:
Noor, who is currently pursuing her BA Economics at St Joseph's College (Autonomous), Devagiri, aspires to become a civil servant or work with the Archaeological Survey of India. She loves to visit monuments and has dreams of visiting NASA and scaling Mt. Everest.
Noor's Wise Words:
Noor says that life is too precious to crib over the things we do not possess. "We need to earn to sustain ourselves, but my volunteer experience taught me that we also need to do good deeds; to share from what we have with those in need. When we are feeling low, these little things will come back to us. A little support from us can help people grow big—that's the biggest truth of my life," she says.
Strength lies not in the body but in the mind.
"The only disability is life is a bad attitude"

Follow Her Work

Like and Subscribe Her Channel For More Videos