Meet the 64-year-old who is giving trading lessons to the young. Try out.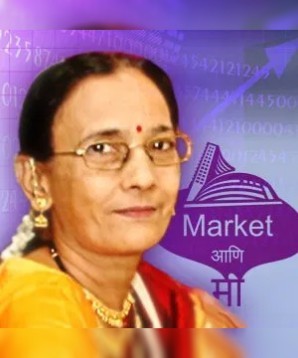 Bhagyashree Pathak:
More than 100 videos and over 59k subscribers on YouTube. She is fondly called as "YouTube Daadi. 64-year-old Bhagyashree Pathak is the YouTube sensation of the day, not with any cookery videos or traditional lifestyle tips. Her videos provide information about trading and investments, guiding the confused investors towards the right path. Look at Bhagyashree's life at 64 and you will never crib about the unproductive retirement life.
While 2020 had brought everything to a standstill, life should go on. Hunger, thirst and basic life needs don't come to a standstill; they continue to greet people every day. To satisfy the basic needs and to keep life going, people need money. With the shutting down of jobs and businesses, people had to look for alternatives that provide money in-flow. Majority of the people turned to invest in stock markets as it is only them that boomed to rise when other sectors went to sleep mode. But the understanding of the market is not everyone's cup of tea. To invest in markets, people open a Demat account and that is all, having no idea of what to do next. This is where Bhagyashree Pathak, an investor, who has been into stock market dealings for over 15 years, appears like an angel through her YouTube channel.
From Personal Blog to YouTube:
Bhagyashree Pathak is a self-taught investor who left the job to take care of her children. When she reached her forties, she entered the stock market and as there was no concept of online trading back then, she would go to the broker office to learn about investing and trading. Ever since then, she has been into investing and it's been more than 15 years now. Over a period of time, she started sharing her knowledge with others by tutoring and guiding them on various aspects of investing. She started a blog called "Market Aani Me" and presented all her trading knowledge in it in Marathi. She also authored two books on trading. In June 2020, owing to lockdown, when people were looking for ways to manage money, Bhagyashree decided to help more people and thus started a YouTube channel by the same name as her blog. Through her videos, she educates people about the share market concepts in a simple and easily comprehensible way.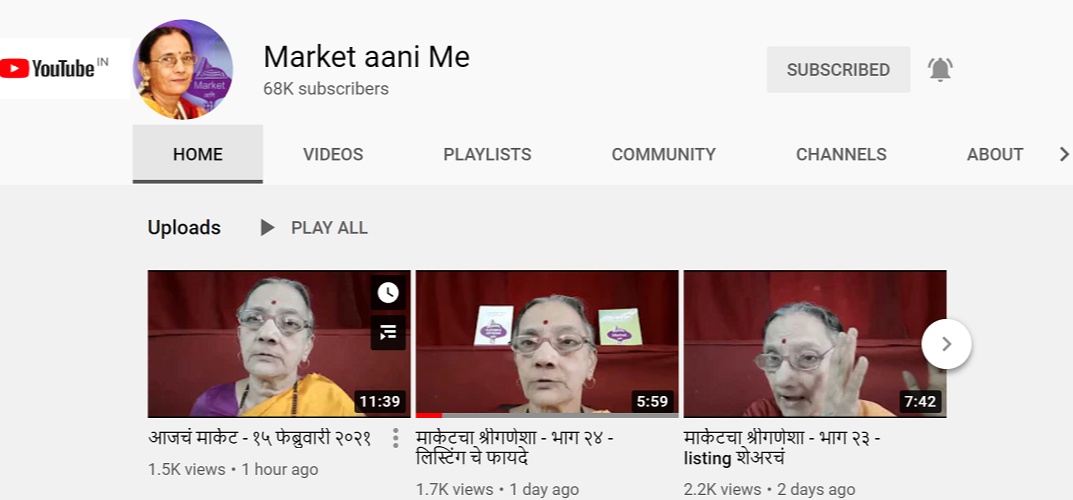 A Typical Day in Pathak's Life:
Retired "Daadi" plans her day in a systematic way. Pathak, who works for 12 hours a day, starts it at 7 a.m. She first listens to all the TV updates on the stock market while working. To obtain more information on the happenings in the stock market, she does her bit of internet surfing. She later does research and reading in order to put it accurately and easily to the beginners and to people with mediocre market knowledge. She takes notes from everywhere – TV, internet, books, etc. until 3:30 p.m. She then works on her blog, writes and shares posts on it with the help of her husband. Later in the evening, once the market is closed for the day, she sets on to record her videos, each at a time duration of 10-11 minutes. This passionate tutor has already made more than 100 videos with over 59k subscribers following her tips. She also submits her views in various columns addressing these topics.
Hats off to the knowledge-thirst of this old woman who is not only racing to learn more than the day before but is also trying to help others dive their way through the stocks. Its never too late to find an alternative way of trying to earn.

Follow Her Blog Market Aani Me in English

Follow Her Blog Market Aani Me in Hindi

Like and Subscribe Her channel For More Information