Meet the young illustrator from Hyderabad whose hobby turned into a profession. Something special?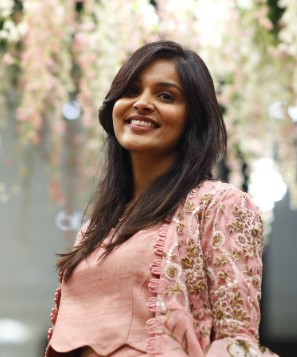 "Brains are awesome. I wish everybody had one". "Coffee isn't just a drink. It's a cup of sanity". "5 problems and 1 solution - Main sonay ja rahi hu (I am going to sleep)". All the above lines with many more like such, coupled with breathtaking pictures, are found on the social media handles of Ankita Jain, a Hyderabad-based Freelance Illustrator, Creator and Story Teller. Just scroll down through her Instagram page and you are sure to be splashed with vibrant colours that tickle you pink. Ankita Jain appears to you as the girl-next-door illustrating right what's on your mind.
Inclined To Art Since Childhood:
Ankita Jain was born and brought up in Hyderabad along with receiving her education there. Post her graduation, she went on to pursue Diploma in Fashion Designing. Once she finished her course, she founded a clothing studio along with her friend Archana in 2015. They named it The Manthan Studio which had an online presence while also displaying its products in multiple exhibitions of Hyderabad. "Currently I have taken a break from it, but I'm planning to work on it very soon!", she said. Ankita further started an accessory venture called Chic Pitara. "I strongly feel that I have always been right-brained with a lot of inclination to the creative side. I am obsessed with colours and I've always had a calling for Art", she said. She ventured into the sphere of illustrating by chance not even thinking of taking it as a profession.
Illustrations By AJ:
Illustrations by AJ was started in the year 2018 just to quench her thirst for creativity not as a profession. Eventually, her work started to receive praises and her followers increased. When people loved her work, she the began to take it seriously. "It has been my hobby to doodle quite frequently, be it gifting any creatives to my friends, decorating my room with the work I do, etc. .But, when people showed love for my art form, I really wanted to do more and that is when I started taking commissioned work.", she said. Having been an illustrator for over two years now, Ankita says that she has never faced a dull moment to date. "I am very glad that I can bring a smile to people's faces through my art.", she quotes.
Ankita's illustrations include potraits, comic strips, caricatures etc. She also takes up client orders for occasions like wedding, birthdays etc. and with her exceptional art, makes their moments perfect to cherish. She often tries to give a humorous touch to a serious or dull topic. "Art is indeed a special way to bring happiness", she quotes.
What's Her Piece of Advice To The Aspiring Illustrators?
Ankita, who is inspired by the work of Alicia Souza, says that she has an idea to start a new venture very soon. To all those who aspire to become illustrators, Ankita advises them to keep their work simple and crisp so that it can be easily understood by the common people. She asks them to be curious to learn and be inspired by other artists around. "Be true to your work and never settle for shortcuts. Never compare with others. Just try to up your game and keep learning each day. Take compliments and criticism both in the right spirit. Most importantly grab any opportunity big or small. Because every journey is a learning in itself. Experiment, innovate and create", she concludes.
Don't miss to check her social media handles and be mesmerized at her work. It's surely a treat you can gift your eyes and heart.

Follow Her Work