Can one single tree bear different varieties of the same fruit? Happy Agripreneur proves it.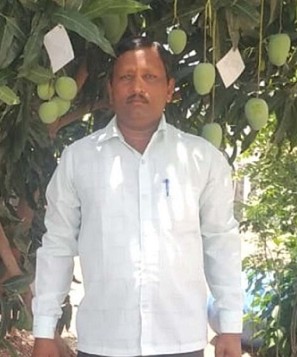 Imagine several varieties of mangoes hanging to the branches of one mango tree. Yes! You heard that right. Kakasaheb Sawant's one mango tree in his orchard has 22 varieties of mangoes. Let's travel to Maharashtra's Sangli district to know the story behind his enchanting agriculture.
Automobile Mechanic Turned Mango Man:
Kakasaheb Sawant lives in the Sangli district situated in the Southern part of Maharashtra which is a part of the Deccan plateau. Sawant has two brothers who are teachers. The family owns 20 acres of land in the drought-prone area of Antral village in Jat Taluka of Sangli district. Sawant began his career as an automobile mechanic and worked for automobile companies like Bajaj, Telco, Kinetic and others for about 15 years. The last job he held was with Kohinoor Technical Institute at Sangli as a faculty member. From there he was transferred elsewhere post which he decided to return to his village and take care of his family's farmlands. "I have not regretted my decision as I earn much more today. I am also helping green the taluka through the fruit trees and wild plants that farmers and establishments like schools, panchayat offices, etc, source from my nursery.", he stated.
Farming Unique:
When he first thought of growing mangoes in the land, people laughed at him. "This isn't Konkan", Kakasaheb recollected the villager's words. For them, mangoes are some exotic fruit to grow. Farmers in the village either grow grapes or pomegranates. The commonly grown crops in the region are bajra (pearl millet), maize, jowar (sorghum), wheat and pulses. But Kakasaheb who wanted to grow mangoes and show the villagers that mango farming is possible in the area, started his mango orchard in 2010. In 2015, he started a nursery in one-acre land and named it Shri Banashankari Rop Vatika. Kakasaheb got the 20-acre land divided into the mango and non-mango orchards. The Kesar variety is spread over 10 acres and the remaining 10-acre land is planted with chikoos, pomegranates, custard apples, guava, tamarind, and other trees. Every year, Kakasaheb harvests 2 tonnes of mangoes per acre setting an example to the farmers of the region.
An Efficient Agripreneur:
This former automobile mechanic now employs 25 people at his farm and nursery. "I sell around two lakh mango saplings from my nursery a year alone besides custard apple, Jamun, chikoo, guava and lemon," says Sawant. Until Kakasaheb began his nursery, farmers had to source mango saplings from Kolhapur or Konkan at high prices and this made them refrain from growing mango orchards. But with Kakasaheb's nursery, the taluka has a large number of mango plantations spread across more than 50 acres. While each sapling is sold at Rs. 40 to Rs. 70, Kakasaheb sells around 2 lakh mango saplings a year. He also sells around one lakh of custard apple, Jamun, fig, chikoo, guava, tamarind and lemon saplings a year.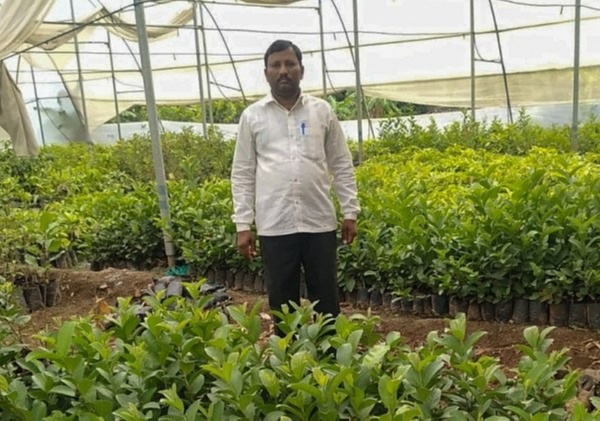 A Thought That Was Never Done Before:
At Kakasaheb's orchard, one mango tree has 22 different varieties of mangoes hanging to it. This peculiar idea came to the mind of Kakasaheb who then chose the method of 'grafting' to achieve his purpose. Grafting is a horticultural technique in which the tissues of plants are joined together to continue their growth. The upper part of the combined plant is called the scion while the lower part is called the rootstock. Sawant has combined scions of 22 varieties to the desi rootstock to get the yield. Farmers visit Sawant's farm and pick up the fruit saplings and also enjoy the wonder that he created - a three-year-old mango tree with 22 varieties of fruits hanging from it with each of their names as labels like Sindhu, Dudhpedha, Kroton, Dasheri, Vanraj, Niranjan, Lalbagh, Taiwan and 14 others including Amrapali, Alphonso, Baramashi and others stuck to them so that the viewers can understand the variety of the fruit.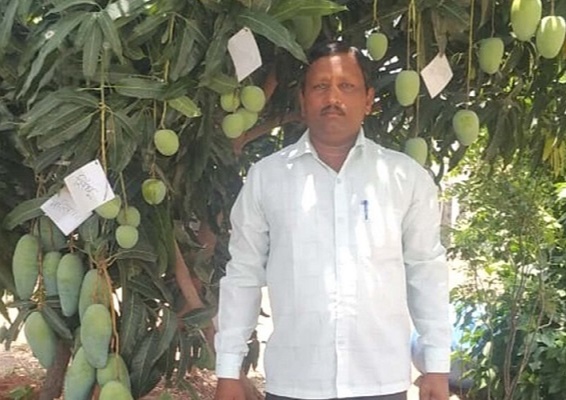 To graft the mango saplings, Kakasaheb has hired malis from Dapoli, a place 225 km away from Sangli. They stay with Sawant's family from June to August and they graft around 800 to 1000 saplings every day earning at Rs 3 per graft. "They're very skilled and I've picked up the sapling grafting techniques from them," Sawant mentions. Kakasaheb also offers to share his technique of growing mangoes with people around him. "I'm always available and enjoy talking to strangers and willing to share what I've learnt over the years.", he states. For his contribution towards farming, the Maharashtra government honoured him with the title, 'Udyan Pandit'.
This thirsty man who keeps looking for making it big when it comes to farming is on a mission to graft 100 varieties on the same tree in the next two years.
We wish Kakasaheb's unique farming ideas create interest and enthusiasm in more farmers thereby contributing to the agricultural growth by setting up unique milestones.