Who will buy Stone Art? I sold and created a market to fund my education.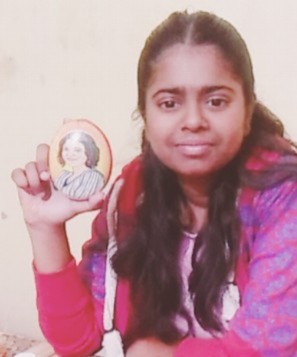 Give her a stone, she will create a masterpiece out of it. Give her another stone, she will carve an owl family. Give her one more, she will develop the best project for your school kid. This story introduces you to the youngest stone artist of India, Harshita Sharma who creates sensational pieces on stones.
Barred From Pursuing Fashion At NIFT:
Harshita Sharma who hails from Kanpur comes from a family with a poor financial background. Her father is a financial advisor in a government bank and her mother is a homemaker. With three children to take care of, the family's needs are high for the father's income. For this very reason, Harshita decided to give up her seat in NIFT. Harshita cleared the entrance exam for the prestigious National Institute of Fashion Technology in 2017. But, as the course fee along with other essential requirements cost around 1.5 lakh per annum, Harshita gave up. As she had a passion for arts and crafts, she decided to help her parents by earning a few pennies through her artwork. Along with helping their parents, she thought, if she makes money using her artistic skills, she could fund her future education as well. Thus, this young and talented lady, though was stopped from entering into the field of fashion, stepped into her favourite world of art, created masterpieces, gained fame and made it to the news today.
India's Youngest Stone Artist:
No one taught Harshita Sharma to paint and beautify the stones. Harshita used to give tuitions to younger students at her house. One day, her students approached her to seek help for their school project, "ART-FROM-WASTE". Harshita wanted to give them a unique project and thus brainstormed all possibilities. Her art-loving heart zeroed in on stone art. Thus, what started as a school project to help the students became her love and later her bread. She developed an immense liking for stone art and started gaining mastery with rigorous practice with the help of YouTube videos and online tutorials. With increased praises and appreciation from her students' teachers and others, she took her flair for stone art more seriously. This self-taught artist henceforth wanted to make this her source of living as there are hardly any stone artists in India and thus this art isn't popular in the country unlike abroad.
"How many get the chance to do it? My parents, though cannot afford it, but are quite supportive of my dreams to be an Art Entrepreneur in future," says Harshita. Thus, she wanted to set her mark in this field by beautifying stones.
Walking Her Life Through Art:
Harshita doesn't effortlessly get stones lying on the roadside and start beautifying them just like that. Though paint-worthy stones are widely available in her locality as she lives close to a commercial construction area and raw material for her art is easily available at no cost and effort, she also states that not all stones are worthy of turning into pieces of art. Picking up the right stone to shape a perfect art piece that sells at a good price needs one to invest a lot of time and effort. Harshita, who is preparing for the entrance exams to pursue Bachelor's in Fine Arts in an affordable Delhi college or in BHU, visits various art shops every day in Kanpur. She places her work as samples in various art shops in order to attract orders. She gets an average of 12 to 13 orders a day. She prices her artworks from Rs.100 to Rs. 500. "I am young and new. And soon I will create my own bigger and better space," says Harshita with confidence.
Rough Initial Days:
Harshita recollects the tough initial days which were extremely arduous. Not everyone understood her work. She visited local fairs but even a single artwork of her was not sold initially. People often passed comments and said, "Kaun Kharidega panther" (Who will buy a stone?). These comments pulled her spirits down. Not having a regular job and unable to make a steady income out of selling stone-art, Harshita was completely dejected initially as people poked her endlessly. People often advised her not to waste time as no local art shops would accept her work. However, her inner strength kept her going and she has never stopped herself.
Today, she has become the only stone artist in the country who is making her parents proud with a NEVER GIVE UP attitude. Success followed Harshita as eventually she started selling more artworks and the orders kept increasing. All those who have considered her work a waste of time, are now acknowledging her mastery and perfection over it.
Her Message In Her Words:
"I am a simple girl, with dreams to excel in something I am passionate and confident about. I wish to make my parents proud of me. And if you are someone like me, then my only message to you is NEVER GIVE UP!"
May she inspire more girls who stop to proceed further showing lack of resources as the reason.

Follow Her Work

CheckOut Other Stone Artist