Meet the teenager from Mumbai whose lockdown life gave rise to a global climate warrior.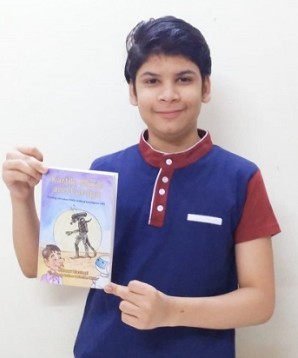 An author from Mumbai is distributing his book, 'Kartik, Mixie and Climate Change:
It's now or never' at free of cost to students across different states. Each book carries a packet of neem seeds that every reader is asked to plant, as a part of his "Each One, Read One to Plant One" drive. He is recognised as the youngest author and fiction writer of India with six book-writing records to his name. He is just 13 years old and is already a dedicated climate warrior. Karnav Rastogi, the creator of "Kartik and Mixie" series is who you need to know about today. He is who the planet needs today - the advocate of climate conservation.
No-School-time is the Time to Explore:
The COVID-19 lockdown in 2020 has changed lives of many for good and of many for bad. But for the mother earth, it was the time to breathe. She breathed fresh air, her waters turned pure, her mountains, glaciers, forests, oceans and deserts cheered with the bliss of remaining untouched by unwanted stimulus. People were caged and the planet began to sing green melodies. Right in those months, while most of the children were enjoying movies and home-cooked food, a 11-year-old boy in Mumbai was busy making the most out of the no-school time.
His profound interest in reading, writing and recitation, drove him to take part in Speak-a-thon. He spoke about 'Beautiful Memories during Lockdown'. This is where he realised that the planet has recorded the lowest values of pollution as compared to decades before. The inquisitive Karnav explored further, gathered facts and wrote a book on plastic pollution - Kartik, Daddy and Plastic: A journey about beating plastic pollution.
As publishing houses were non-operative, he released it as an e-comic.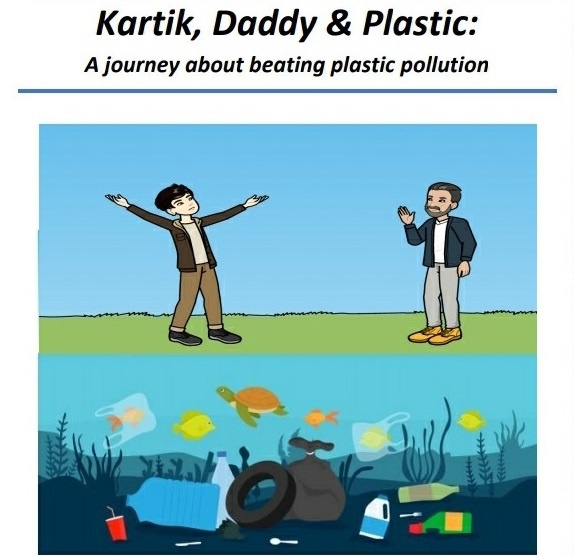 The Tide-Turner Was a Game Turner:
Karnav took up the Tide Turner Plastic Challenge, a global youth movement to fight plastic pollution around the world. This challenge opened his eyes to how plastic has been a planet destroyer all through. He understood that students have the power to bring about change in this regard. Before he set to raise awareness among others, he introspected and identified how plastic formed a major part of his own life. He thought that change should start from within and began replacing plastic with alternatives in his everyday life. He used newspapers as his book covers, used seed pencils, metal pens, coffee mugs, reusable masks and has replaced as much plastic as he could. After reducing his own plastic footprint, he encouraged his friends, relatives and family to do the same. He encouraged his pals saying that each one has the power to stop the dangers caused by plastic usage. He motivated everyone and instilled belief that each one can become a climate warrior. He also prepared a material to educate youngsters on plastic pollution.
Awakening the World With the Writer In Him:
Karnav believes that words carry the power to change the world. He wrote poetry under several titles - Environment, Beating Plastic Pollution, Single use plastic: A curse, Mother Earth, Coronavirus, Nature, Tiger, etc. His poems recieved awards and appreciation on various national and international platforms and were published in Children's magazine, India and youth magazine, U.S. The world's largest youth platform for 11-19 year-olds, 'Kidspirit' New York has him on board. With frequent discussions on articles and book reviews with authors and poets from across the world, Karnav sharpened his skills and been using them to enlighten people on plastic pollution.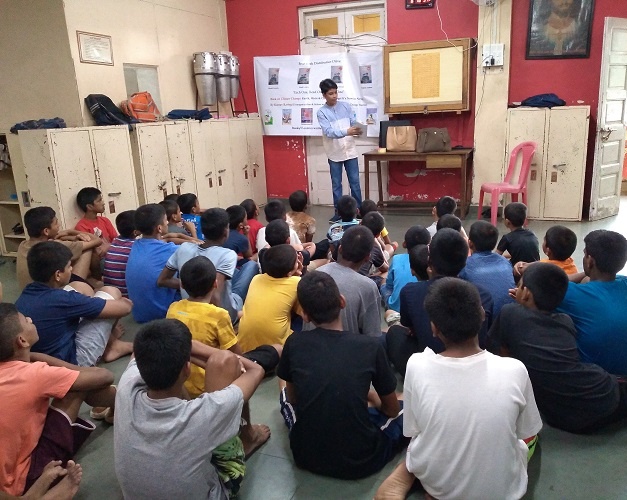 Future Writers in Making - By Karnav:
Karnav knows what writing can do to individuals and society. So, he has been conducting literature workshops for school students from Pune, Mumbai, Thane, Aurangabad, Bangalore etc. With these workshops, he tries to ignite writing skills in students and encourages them to read and write. Alongside, he also conducts workshops to spread awareness about plastic pollution, afforestation etc. He also created the Green Pledge - a poetic oath for students to reduce their carbon footprints and stop using single-use plastic, plant trees and reduce energy consumption in their schools, houses and wherever possible. "This is helping students from private schools as well as children from NGOs like YMCA and Bal Kendra", his mother Dr. Shweta Rastogi shares. He also provided assistance to many students in publishing their books.
A Challenging Journey:
Conducting workshops was never so easy. Raising awareness on climate change, plastic pollution wasn't a cake walk. He says that language barriers were to be broken to reach out to a wide group of students. "The most challenging thing so far as an activist was to reach out to students in different regions of the country. They speak different languages and Hindi and English is not their first language", he mentions.
Showers of Rewards and Recognition:
Born in Mumbai on 10th January, 2009 to Paras Rastogi, an IT professional and Dr. Shweta Rastogi, Karnav goes to R.N Podar School. This Grade 8 boy finds reading, writing and oration quite interesting. The long list of his achievements leaves you jaw-dropped. He was invited as the guest of honour for a couple of book launch events. In 2018's Andheri LitFest organised by Andheri Vee Raise team, Karnav was honoured for bagging the youngest author and fiction writer award. He was invited by various schools and NGOs to motivate students to read and write.
His book 'Kartik, Mixie & Climate Change: It's Now or Never' was released by the honourable Governor of Maharashtra Shri Bhagat Singh Koshyariji on June 5th, 2022 on account of world environment day. It is written in four languages to create awareness about climate change. This young teenager was also invited by UNEP to represent the youth of Maharashtra and speak about his climate change activity. He is the conservation hero for 2022's Earth Hour who is set to spread the message 'Save Electricity' through community radios and print media. He created a project for his own housing society in Mumbai and became the first to adopt solar panel installation. He presented this at the National Science Challenge and won first prize in 2022. The boy was also nominated for an international boot camp for ocean pollution control by WWF and became a certified Hero Level Turner - 2021.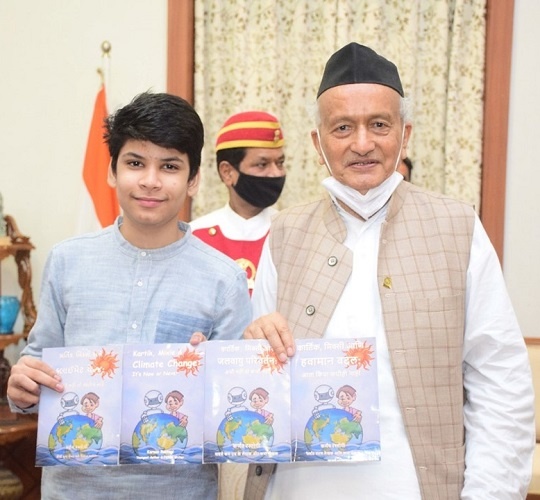 He was the speaker in National Youth Summit 2020 and presented his poem 'Single use plastic: A curse.' - 2020. He spoke on our healthy soil as a part of Earth hour celebration in 2021 in an official video montage of WWF -2021. He is featured in Trees of Human series by Sankalp Taru. He is the UNEP certified Tide Turner Plastic Champion 2021. His story was featured in Blitz India Media this year to inspire students to work towards climate change. He was interviewed by local newspapers from Mumbai, Gwalior and Jaipur to spread the message of afforestation, save electricity and curb plastic pollution. He released two e-comics, Kartik, Daddy and Plastic: A journey about beating plastic pollution in 2021 and Kartik, Mixie and Monster: A journey about ocean pollution in 2022. Karnav was also selected as one of the top 50 winners of Sony BBC young Earth champion contest 2022 and you know the best part?
Karnav has been conferred with the 'Messengers of peace hero 2022 award. Only 12 youth from different countries all over the world are selected and Karnav is one of them.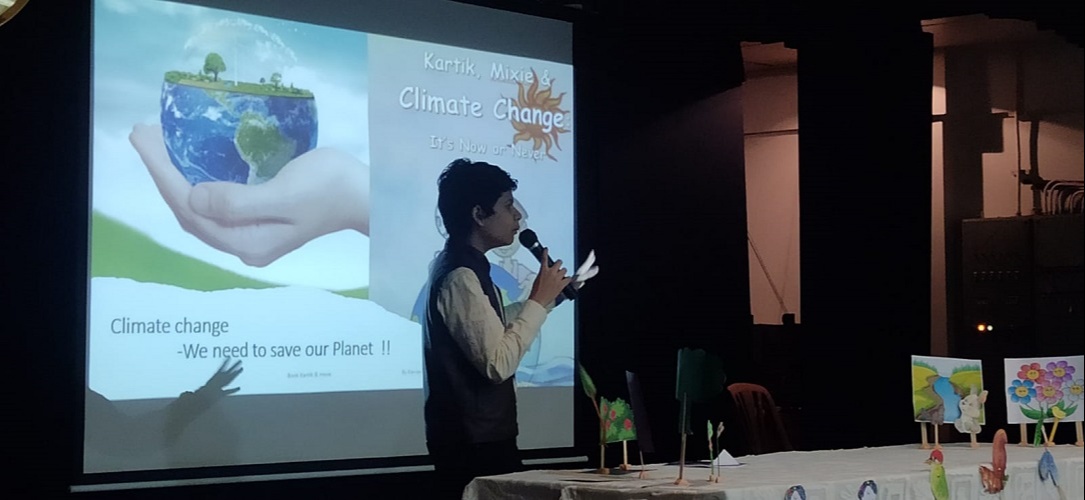 It's a long list, we know. But we thought it's not fair to skip any of his commendable jobs. After all, he has done so much not to bag awards or fame but to enlighten students and teenagers, who, he thinks are the future of this planet.
The Book of Achievers had a small chat with this climate warrior and here it goes!
BOA: What do you think a common man can do to contribute to saving climate?
Karnav: Climate change is an area where everyone can contribute. As I have written in my book to take a green pledge and follow the dos and don'ts and you can become a climate change warrior. Small changes are required. Stop the use of single use plastic bag. Switch off electrical switches when not in use. Don't waste food. Do not litter. Recycle your kitchen waste at home, save water and spread this message among your family and friends.
BOA : As Gen Z, what's your opinion on how generations till date have handed over the planet to you? How do you wish to pass on this planet to the next generation?
Karnav: We have been handed over a planet which is in a very unhealthy state. But I wish to pass on a healthy planet to my next generation by motivating young students to contribute their bit.
BOA: Do you think movies/media can play a role in leading climate preservation?
Karnav: Movies/ Media play a very important role. As an individual or a group our message reaches to a limited number of people but through movies and media it has a wider reach. I was a part of a video montage released by WWF on Earth Hour spreading the message of save electricity, savesoil, speak up for nature. That movie was viewed by many people and they participated in our movement.
BOA: What impact do you think children can bring in this regard?
Karnav: Young students like me have an important role to play because students are young and if they grasp right habits from the beginning, they would follow it further. Moreover, students have time to contribute towards such activities and can bring a change at their home which inspires adults, relatives, friends and neighbours too to adapt to changed habits.
BOA: How powerful do you think teenagers are when it comes to bringing a change?
Karnav: Teenagers are very powerful when it comes to bringing about a change. I am a part of international and national network where many teenagers are actively participating in climate change activities. Teenagers have innovative ideas which help in bringing new solutions for climate change. They can seek support of their parents to make their drive bigger and their voices be heard.
BOA: What's your message to the world of today?
Karnav: There is an author in all of us and we are surrounded by stories. It is important to write, no matter what or how you write. You just need to take that first step towards writing and the rest will follow. Let the author in you come out and shine. As Pen is mightier than Sword, you will be able to raise your voice through writing for any important cause. I am a firm believer of a quote on Lao Tze, "A tree as big as you can reach starts with a small seed, a thousand-mile journey starts with a small step." Take that first step towards writing.
Look at the maturity of this teenager. The way he understands the present crisis and the vision he has for future are worth appreciating.
"We never lose, we either win or learn", he says.
Karnav, who maintains a perfect balance between academics and activities says that he loves what he does and that supplies him with all the fuel to keep going. "I save a lot of time for good stuff because I don't like watching TV and I'm not on social media", he says. Isn't that a statement worth noting? He does so much because he gives no time for futile things. Can we take his example?

To follow Karnav and witness more of his work, do check his YouTube channel.
We wish this vibrant teenager numerous years of health and may he continue to inspire, enlighten and empower.

CheckOut His Book