This Bangalore's tween is already a poet, an author, an illustrator, and an environment influencer. Bagged several awards just at 9.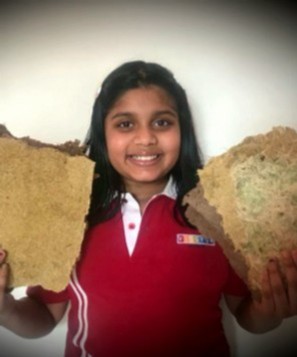 10 onion peels make two A4 sheets, half a kilogram of Peas makes three A4 size sheets, husk of 2-3 baby corns is equal to around two A4 size sheets! Wondering what I'm talking about? To clear your ambiguity, let me introduce you to Manya Harsha, who says that instead of chopping trees for paper, we can very well make paper ourselves. Bringing forth the concept of "Vegetable Paper", Manya says, "Let's all together join hands to RESTORE OUR EARTH". Get ready to be awed by the significant contributions made by a little girl from Bengaluru to preserve the nature and environment.
Bangalore's Manya Harsha was born on 17th June 2010 to Chitrashree Harsha who is a Software Engineer by profession. She is a sixth-grader and goes to Vibgyor High BTM, Bangalore. Ever since childhood, nature and her beauty charmed the little girl and this young nature enthusiast started to pen her love for nature ever since she was 4.5 years old. What started with inspiration from nature, turned her into a nature-themed poet and author. Manya, who is an avid reader too, emerged eventually as an illustrator of five books. Alongside this, she is also the editor at Sunshine Fortnightly, a digital magazine for kids, and is an environmental influencer. This eco-enthusiast introduced a new concept that solves the problem of waste management, reduces deforestation along with addressing stationery needs. Her initiatives promote nature and water conservation emphasizing the importance of sustainable living. This article takes you through the work of Manya Harsha and is sure to inspire you to walk towards sustainable living.
Kitchen – A Manufacturing Unit:
Unlike other children of her age, Manya notices how pathetic the market turns once the festive season is over. She recollects how beautiful and busy the market looks during the festival season with full of flowers and fruits, post which it just looks like a dump yard with the leftovers. This thing, in particular, made Manya think of a permanent solution as to how can plant waste can be effectively utilized in an eco-friendly manner. That's how her thought took life.
Manya speaks about how every household kitchen is an excellent hub for environmental protection. She says that on average every Indian household generates around 300 grams of vegetable waste every day. Recycling this waste into paper is what Manya thought of! That way, we can manage waste as well as help trees from dying. "If this waste is properly utilized, we can do wonders! We have all come across bio enzymes and compost. But this is something totally new! An idea! Generate A PAPER every day from your daily kitchen waste.", she reveals her mind. She further says that recycling a ton of paper can save 20 trees, 7,000 gallons of water, three cubic yards of landfill space, reducing 30 kilograms of air pollutants. Making paper in this way also helps stop deforestation. With close to 1.3 billion population, if every household could recycle vegetable peels into paper, deforestation can be curbed. If people come forward to generate paper at home, cutting down trees to generate paper would stop thereby putting a check to deforestation. "8 trees are sacrificed for 1000 pounds of paper! Now with around 10 onion peels, I can make 2 A4 size papers. Just like every drop counts, every eco-friendly product helps to combat the global ecological crisis. The impact may not be huge in the start, but definitely, it ignites for a sustainable future", says Manya. She says that the colourful papers made out of vegetable peels are just like any other handmade paper on which one can write, draw, paint and do whatever one can do using normal paper.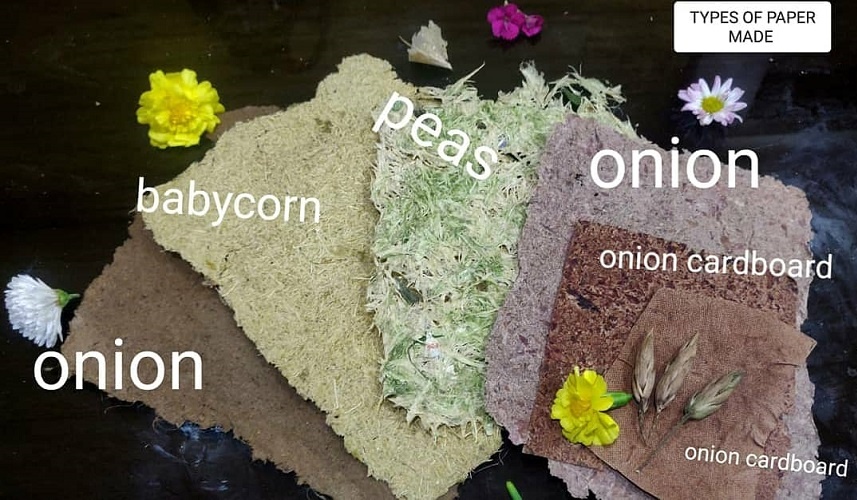 Talking further about her cause of concern, Manya says that waste management is one of the most pressing problems that every city is facing these days. "Born and brought up in Bangalore, I see the beautiful Garden city slowly dumped with Heaps of garbage on the roadside and how the quantity of waste is increasing, every passing day has a matter of huge concern.", little Manya shares her big thought. Manya explains that, with patience and feel accountable, one can do their bit for waste management. "Today, with a vast development of science and technology, at times even the most primitive methods turn out to be an eyeopener! This is what I found in my kitchen.", she states. Manya says that her project comes with zero investment. The kitchen waste is the raw material and except for grinding the waste and further boiling it to extract the pulp, the usage of electricity is negligible in the rest of the process. Again, with the use of simple equipment like papermaking mesh frames and some water, "Eco-friendly, Homemade and Attractive" papers can be made out of kitchen waste. "Every individual can produce their own papers at home. Anyone with a cooker and mixer-grinder can generate these papers at home. Instead of chopping trees for paper, let's recycle the kitchen waste to eco-friendly vegetable paper. Let's all together join hands to restore our earth", says Manya.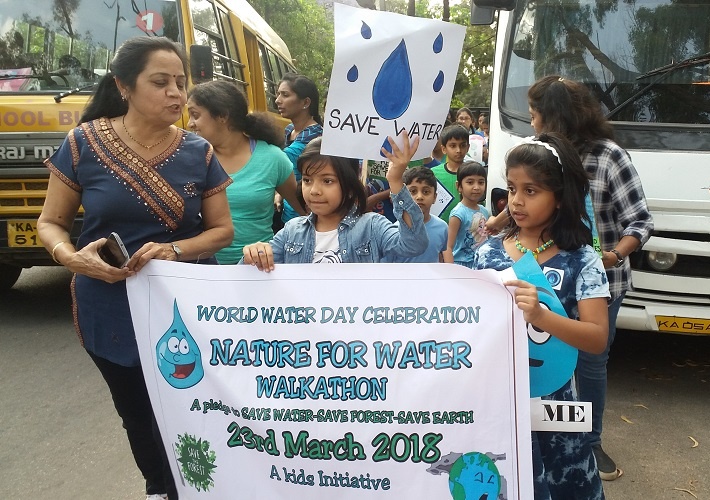 The Young Influencer Who Advocates Using Her Pen:
Manya Harsha not only does eco-friendly and sustainable activities but she also encourages others to follow the path for a better tomorrow. She, being an avid reader, developed an inclination towards writing at an early age. The major theme of her writings revolves around nature and its conservation. She started writing at the age of 4 and she has emerged as the young author, poet and illustrator of five books. Her fourth book, "Once Upon a Time in 2020", a children's novel that revolves around a group of children and their parents was penned during the covid-19 lockdown. This book which is a compilation of short stories and poems has simple and touching narration. The illustrations in the book were made by Manya herself. "The book throws light on the positive side of lockdown and has many inspiring stories which every reader can relate to. The fifth book ONDANONDU KALADALLI 2020 (LOCKDOWN NENAPUGALU) is a Kannada version of Once Upon A Time in 2020 (The Lockdown DAIRIES)", says Manya. This writer of five books (three English and two in Kannada) has got hugely prominent as a poet too. Her poems "The Lost Friend", " Nature Our Future", "Endangered and Extinct", "Let's Pledge", "Story of A Tree", "The Deer Story", "The Tiger Safari" are noteworthy among others. This nature-biased author has penned a book titled, "The Water Heroes" that was published in March 2020 by The Crimson Corner. This book was recommended and appreciated by the United Nations Water (UN-Water). This book focuses on the global water crisis and recommends ways to conserve water including a pledge that drives people to become "Water Heroes".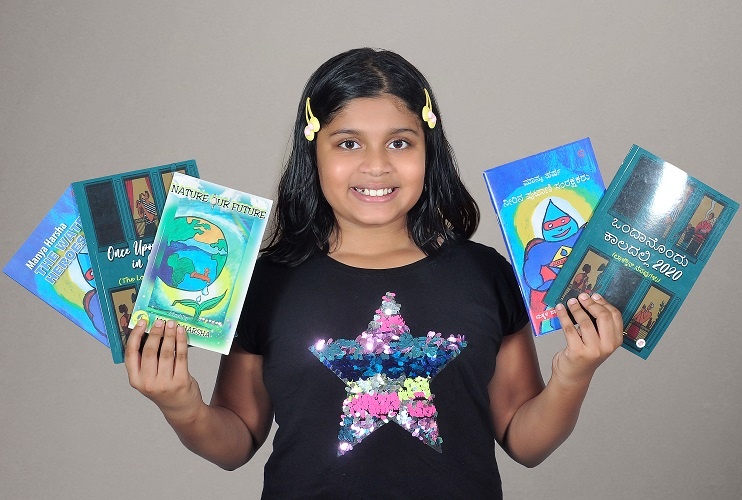 Recognition That Poured In:
For her outstanding contributions and relentless work towards sustainable tomorrow, Manya has received many accolades so far. She was awarded the title 'Grandmaster ' by the Asia Book of Records for her poetry book "NATURE OUR FUTURE" published in June 2019 by Raindrops Publishers. She is also honoured as the YOUNGEST POET OF INDIA, from Vajra Book of Records, World Records India, Golden Book Of Records, India Book of Records and Asia Book of Records. Her book" NEERINA PUTANI SAMRAKSHAKARU", Kannada version of The Water HEROES, made her the youngest Kannada author at the age of 9.7 yrs. She is also the winner of The Fireboxx Book Awards 2021. For her exceptional writing skills, she was also featured by various media houses like Deccan Herald, Indian Express, TV9, News9, Prajavani, Vijayavani, Vijayakarnataka, BTV, Eshe , Asianet , Moneycontrol , Public TV, DHIGVIJAY news 24/7 , Praja TV, Power TV etc. India Book Of Records named her as the Youngest Poet to publish a book on Nature 2019, Asia Book Of Records titled her as the GrandMaster 2019, VAJRA BOOK OF WORLD RECORDS named her as the Youngest Poet of India 2019, World Records India listed her as the Youngest Female poet to write a book on Nature 2019, according to GOLDEN BOOK OF RECORDS, she is the Youngest Poet 2019, EXCLUSIVE WORLD RECORDS honoured her for being the Young Author of Animated stories, 2020, INDIA BOOK OF RECORDS named her as the YOUNGEST KANNADA AUTHOR 2020 and also honoured her for being the YOUNGEST TO MAKE ANIMATED FILM ON SOCIAL AWARENESS 2020, ASIA BOOK OF RECORDS again titled her as the GRANDMASTER 2020, KARNATAKA ACHIEVERS BOOK OF RECORDS named her as the YOUNGEST KANNADA AUTHOR 2020, She was bestowed with the Water Heroes Award from the Ministry of JAL Shakthi for her work as a Water Activist through her book The Water Heroes. She was also the Winner of the International Short story award " Thanks Giving ". she received The Best Children's book 2021 Writers Ink Award for Once Upon A Time In India and The Best Child Author Award 2021 from Author Pages for Once Upon A Time in 2020 (Lockdown Diaries).
Her Words Of Value:
Manya, who is currently working on her sixth and seventh books which are again themed around nature, says that age doesn't matter to make a difference. "When we children together raise our voice, for a Sustainable future, difference happens", she says with a firm tone. She calls everyone to be a superhero themselves instead of waiting for someone to lead the change. Every individual on earth, she says, can be an eco-warrior. "Every individual has some superpowers to do his bit for Nature. Let's pledge to RESTORE OUR EARTH. Let's pledge to get back the lost beauty of mother Earth", she concludes.
What an amazing tween who has been living a life inseparable from nature ever since childhood! Sometimes it's unbelievable to see how kids amaze us. Given the freedom to voice their thoughts and ideas, children prove that they are incredible! No degrees are required, they prove, to achieve something unique and beyond.

Follow Her Work