A boy who surprised his mom and the entire village when he cracked the IAS, and none knew what IAS meant.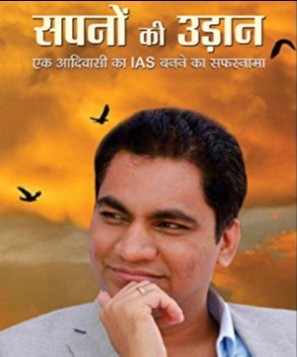 "Poverty is what we have known since birth. It is etched so deep within every person in the village that no one realises they are poor or illiterate. Each person is happy with what they have, and by living on nature's resources." These are the words by Dr Rajendra Bharud, a man from Samode village in Sakri Taluka who studied MBBS and to his mother's surprise came back to his village as an IAS. The funniest aspect according to Rajendra is that most of them in his village along with his mother haven't even understood what Rajendra has become. All they understood was that one of their tribe members has become a BIG OFFICER and he is the first one to make their tribe's name known to the outside world. Who is Rajendra Bharud and what is his journey that made a tribe hold its head high?
Childhood Years:
A small village in Sakri Taluka called the Samode Village was where Rajendra Bharud was born on 7th January 1988. His parents are Bandu Bharud and Kamalabai. Even before Rajendra was born, his father passed away while his mother was carrying. The poor family hadn't even had a picture of his father and so Rajendra has never happened to see his father. Rajendra was raised by his mother and grandmother along with his two other siblings. The family brought food to its plate by selling desi wine made out of sugarcane leaves. Having prepared traditional liquor using Mahua flowers, the process of extraction, fermentation, and distillation was carried out at home. Wine preparation isn't taken as illegal as it is very common in the area. Men who would visit their hut to relish a glass of wine were offered snacks too as keeping their customers happy is his mother's top priority. His mother also used to give Rajendra a glass of wine to put him to sleep whenever he cried. The average daily earnings of his family ranged to about Rs.100 that were used to meet the day's expenses, for the preparation of wine and towards children's education. Rajendra and his sister studied in Zilla Parishad school in the same village while his brother studied in a local tribal school. "We were the first kids from our tribe/village to go to school and nobody gave education any importance.", he recollects.
Step-Up In Education:
When Rajendra was in Class 5, his exceptional intelligence made his teachers suggest him to opt for better education in a much better institution. This made Rajendra enter into Jawahar Navodaya Vidyalaya School 150km away from his village. It was during his academic years at Navodaya School that he developed a passion for math and science. He stood as the top performer in his 10th as well as 12th board exams. Because of his academic excellence, he secured merit scholarship and admission at the Seth GS Medical College in Mumbai. His childhood dream of becoming a doctor came true but he felt that he had a different calling. "As I grew up, I realised that to help people, I need to educate them and provide them with better living opportunities. To do this, I had to become a civil servant," said Rajendra.
So this MBBS graduate started preparing for the UPSC examinations.
Two Distinct Roads Crossed At One Go:
It's not an easy task for an MBBS student to crack the UPSC exams. However, Rajendra ensured that this happened by fixing a proper daily routine. He woke up at 5 AM, did physical exercises or meditation, started studying, attended classes, and came back to study again.
"I never did anything a normal college student would do. No outings, no dates, and no partying. Though I had friends who would ask me to head out with them, I was very focussed on changing my future and the future of others. So, I never regretted not being part of that," says Dr Rajendra. Along with his MBBS final year exam, he also wrote his UPSC exam clearing it in the first attempt. His mother didn't even know that her doctor son would return as a collector. She didn't even know what is it at all!
"Until my results were announced, my mother was under the impression that her son was a doctor. When I told her I am going to become a collector, she did not know what it meant. For that matter, no one in my village knew who was a collector. As the word spread about me clearing a civil service exam, I was approached by neighbours, and they congratulated me for becoming a 'conductor,'" he chuckles.
Officer On Duty:
Rajendra was posted as an IRS officer in Faridabad in 2012. He cracked it and for the next two years, he was trained at Mussoorie. In the year 2015, he was posted as an Assistant Collector and Project Officer at Nanded. In 2017, he was posted as the Chief Executive Officer of Solapur. Finally, in July 2018 he was appointed as the District Magistrate of Nandurbar. As the District Magistrate of Nandurbar, Rajendra launched numerous initiatives for the development of tribal and rural people. His move brought more than 40,000 families under the ration scheme and enrolled more than 65,000 rural people under the Mahatma Gandhi National Rural Employment Guarantee Act (MGNREGA).
He shouldered schemes under the Swachh Bharath Abhiyan initiative. While on duty as the Zilla Parishad officer in Solapur, he introduced a sewer system thereby eliminating open drains. This also saw an increase in the water table for which he received an award from Uma Bharthi, the former Minister of Drinking water and Sanitation. He was also invited to IIT-Madras to present this model. Amidst Covid-19 pandemic, his work involved setting up block-level treatment facilities, creating awareness among people to follow social distancing, and wearing masks. "Coming from a medical background, I understood that early detection, isolation, and treatment was the only solution to curb the spread of the virus. Also, the issues of shortage of doctors and nurses were addressed at an early stage, hence fatality rate was comparatively low.", he said.
A Man With Pen:
Dr Rajendra has authored a Marathi book, Mi Ek Swapn Pahil in 2014 in which he described his struggles, and the sacrifices his mother made to raise three children.
The Biggest Honour:
One of the incredible achievements of his career is that he was made the Chairman of his own school, Jawahar Navodaya, Akkalkuva Taluka. Surendra Deore, a science teacher at the school, has been teaching there since 1988, who played a major role in enrolling Rajendra into the school said, "I am so proud to have one of my own students as my chairman. He was a very kind, and studious boy. He would mingle with everyone, and participate in all sorts of activities which the school conducted. During the day, he had a set of friends in school with whom he would study and enjoy, and after school, he had another peer group with whom he would do the same. I have never seen him be unproductive, as far as I can remember".
His determination, focus and persistence made his journey of becoming the IAS officer a truly inspiring one. "After seeing me rise from the small village to this position has created an awareness among my people of what they can do or achieve. That itself is a huge reward.", he says with pride. Kudos to the only man from the tribe who made it bigger than the biggest inspiring many others in his community to march ahead in lives instead of succumbing to poverty and lack of resources.

Follow His Work