A 38-year-old Anantapur man is treated as God. Helping every needy in the area.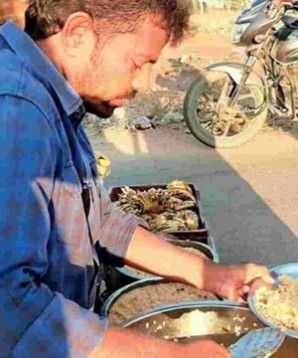 What's your definition of God? According to me, when I'm in trouble and find no possibility to find a way out of darkness, the helping hand that reaches out to me is the almighty. What if we cannot see or prove the existence of God? Is it not enough if we can feel the divine in our own deeds? These are the thoughts that pop into the minds of the people of Anantapur when the name "Venjeti Venkataramana Reddy" rings in their ears. If people are considering him godly, there should be something very special about this man. Let's get into the details and try to know more about him.
What You See Is What You Become:
Venkataramana hails from a poor family and his nativity roots back to a village near Proddatur in Kadapa district. However, even before he was born, the family migrated to Anantapur. His mother Ramalakshmi worked as a tailor and supported the family. His elder brother is currently a security guard. Venkataramana who studied only till Class X due to financial constraints knows the value of every penny and always thought of how best it can be used for the benefit of the needy. In his childhood, Venkataramana had a Muslim friend with a helping heart who used to share everything with others. Having grown together with such a friend, Venkataramana had a strong influence of him. In the year 2000, Venkataramana met a municipal employee Hanumanth Reddy who used to donate blood. This gesture moved Venkat and also laid an imprint in his mind. In the year 2005, a lecturer in Satya Sai College needed blood on an emergency basis. Venkataramana took a closer look at the life and death scenario and went forward to donate his blood for the very first time. This incident stood as the foundation for his service-oriented life. He has donated blood to 5000 people so far.
Services That Pour From His Honey-dipped Heart:
Venkataramana's selfless services that took the breath right at a tender age continued to touch people and their lives for the last 15 years. There are many people who keep joining him in his service-oriented missions. Of them, Constable Adinarayana, Ramanjaneyulu, a barber, Jagadeeswar Reddy, an engineering graduate is his noteworthy mates.
He collects old clothes from people and provides them to orphans. He arranges to collect the leftover food from a function and distributes them among the poor, the homeless and the needy. A mother and son duo, Anji and Ramakka from Chennekota in Kanaganapalle Mandal remain indebted to Venkataramana for saving their life because had it not been Venkataramana, they wouldn't have survived to date. When Anji fell from a tree in his 14th year and broke his spine, his mother who worked as a farm labourer couldn't afford both the family expenses as well as his medical bills. In a situation where she was draining out both physically and financially, Venkataramana stepped into their lives and started providing them with medicines worth Rs.3000 along with Rs. 1000 for the family's basic needs. Venkataramana also bears the physiotherapy expenses of Anji and takes him personally to Bellary for treatment. Kullayappa, a barber is a resident of Maruthi Nagar in Anantapur. His wife was suffering from a heart ailment and her medicines alone cost Rs. 3000 per month that was more than what he could bear. Venkat supports the couple by providing medicines every month and also by giving some money for their daily needs. Vannur Saheb, an electrician and a resident of Rajeev Colony in Anantapur suffered a serious head injury while he was on duty. Again, it's Venkataramana who came to his help.
There are no words to express my gratitude, said Vannur Saheb.
Walking further, Venkataramana also started showing his reverence for the abandoned dead bodies. Six months ago, for the first time, he performed the last rites to an abandoned body and has continued to perform the last rites of over 250 bodies so far. Well! Let us give you an amazing piece of information about him now. Having drawn towards his service-oriented life and attracted towards his creamy heart, his wife who works as a contract lecturer in a government college married him five years ago. An understanding wife is surely an asset to him.
Sanjeevani - The Life Saver:
People of Anantapur lovingly address Venkataramana as "Sanjeevani" and sometimes as "Blood donor Ramana". Venkataramana Reddy founded Sanjeevani Charitable Trust and is also one of its trustees. What started with the empathetic heart of a single man is now a Trust that addresses the distressed needy in Anantapur over just a single phone call. The man who believes that helping people in need is a true form of service is truly the "God" that people look for. We wish Venkataramana a life filled with happiness and health. May he live long and may more people live happier under his shade.