The House of Scrap. "Kachra Mane" is built using only Trash.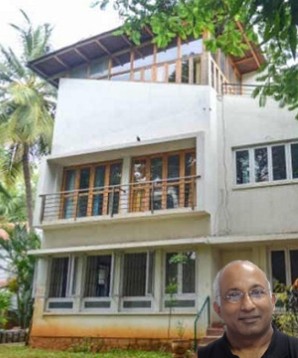 A Trash House "Kachra Mane" for a SWATCH lifestyle.
This beautiful TRASH Home is anything but TRASH. Can one imagine in a polluted and a noisy city like Bangalore - a Look & Feel like Farm house built entirely using trash and in Sadashiva Nagar ? Yes you heard it right. (Kachra Mane in Kannada means Trash House)
Even before the buzz word SWATCH did the rounds Mr G V Dasarathi a mechanical engineer could foresee the environmental hazards creeping into the city and started finding uses for every and any trash. That's why Das constructed a decade old Trash house which still looks as good as new. Das admits that it is made to last for 25 years so that the newer generation gets to build as per their choice and taste.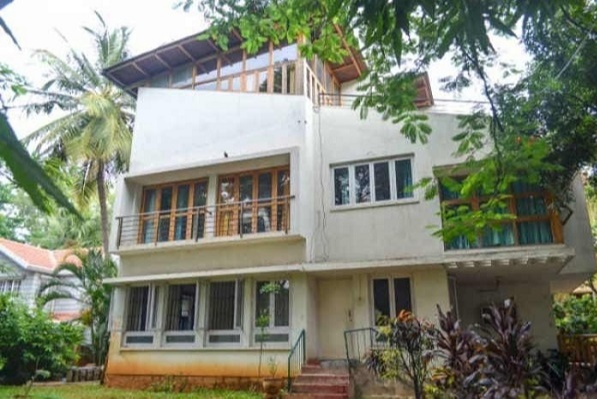 "Kachra Mane" is a true delight to the eyes of every and any passerby. Aesthetically designed with good looking French windows, ample ventilation, open space, greenery to give it the feel of a village home. Its a friendly home even for their two adopted street dogs, birds, insects, butterflies and squirrels.
"Kachra Mane" in just seven months.
If one gets a chance to step in then its like heaven on earth. "Kachra Mane" stands out among the rest of the regular brick and motor houses and gets the feel of a farmhouse with greenery everywhere. On a small 1700 sqft area, using only scrap/trash material, Das constructed a two-storied building, at half the cost and less than 5% sand used in a regular house, completed in a record time of just seven months using the existing structure. Since it is well ventilated even during the summers one can feel the cool breeze. Step in and your eyes go wandering and guessing the junk materials and how its been creatively re-used. Throughout the year this beautiful Mane attracts visitors and at least a minimum of one visitor a week. Many eminent architects, designers, builders and students have visited this house and marvel at the wonder.

Trash and only Trash.
Absolutely Nothing is NEW. The good looking tall French windows have no grills to avoid steel, the kitchen cupboards, bookshelves, tables are reused from discarded pine wood packing crates. These are coated with linseed oil and no chemicals used. The bamboo-corrugated roof gives it such a cool and stylish look. The washrooms and floors have no fancy tiles, its just cement all over. The walls are mainly made of wood and glass that keep out rain and usher in light were from dismantled houses. The kitchen has a natural draught instead of an exhaust fan. The electrical appliances – refrigerator, washing machine, microwave, oven — all are from seconds sales. Even the bathroom fittings like commode, hooks, wash basins are all from demolished houses or collected from Gujris. The home obviously needs no air conditioners
Dasarathi's '4R' Mantras...
People in the early 50s and 60s believed in Use and Reuse but today's gen x,y,z believes in Use and Throw. Das wants to reverse it by his '4R' mantras.
Rethink -Think and rethink if you must and really need something before you Buy.
Reuse – When you want to discard go back to Rethink and you will be pleasantly surprised to notice that almost all items can be Reused.
Recycle or upcycle – every material can be recycled to give it a new trendy avatar.
Reduce- reduce things like plastics and use earthen ware, steel, copper for a healthy life style too.
Das continues to live with the '4R' mantras - All the water from the bath area, machines, sinks is all reused for the garden. The 20,000 litre tank collects enough water thus reducing the corporation water and solar heaters fixed. The wet segregated waste goes into a compost pit and dry waste to the rag pickers. As and when he needs something there are enough people who discard stuff.
What can 'I' contribute.
Remember anything that is thrown away goes nowhere – it has to land somewhere else on this only Earth of ours. One doesn't need a space to build a eco-friendly home—All one needs is a conscience and the Will. When one starts observing at everything used on a daily basis – one is bound to find ways and means to follow Das' 4R theory.
Simple things like one can do the flat/apartment interiors with re-used stuff, reusing RO water, using steel, glass, earthenware, get a new look for the sofas with cane and wood, reusing old use containers to keep some water for the birds and the dogs, etc.,you can even give away your shoes to greensole.
Need Any Help to Reduce, Reuse, Rethink any products Ask Das.