A unique Thanksgiving approach that won many hearts.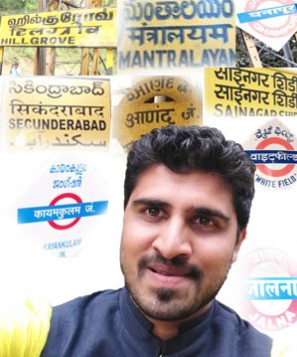 "When we express gratitude, waves of disappointment go away and tides of love rush in"
In a general sense, when we perceive some change, we either talk about it with pals or post it on our social media story page. But do we ever think of taking it far and wide? One good change, when appreciated, inspires a numerous good deeds. Voicing our gratitude and furthering small acts of appreciation drive people through a million great miles. When we crib about the negative aspects of something, we should equally be ready to recognize and appreciate its inclination towards positivity. Isn't it? This is exactly what a 27 Y.O young man from Tirupati is doing! Let's get into the story of Charith and find out what's so noteworthy about him.
Indian Railway Stations - Then And Now:
Ever walked into a railway station in your town and felt like running back? Banana peels and plastic waste, empty water bottles and half-broken chairs, rusted water taps and stinking washrooms, rattling fans and flickering tubes, cargo stacks and stray dogs, overflowing garbage and its reeked smell - the list goes. How unpleasant and irksome anything else could be!! This was the scene less than a decade ago. But today, there seems to be a great deal of transformation in this fettle. The face of Indian railways is changing from being dusty, chaotic, messy and odoriferous to being clean, convenient and modern. This transformation is a result of the Cleanliness drive shouldered by the Indian railways as a part of Swachh Bharat Abhiyan. Now, railway stations across India are standing as the icons of cleanliness and accessibility. One need not now close their nostrils and hold their lungs while in a railway station- Breathe freely and travel joyfully.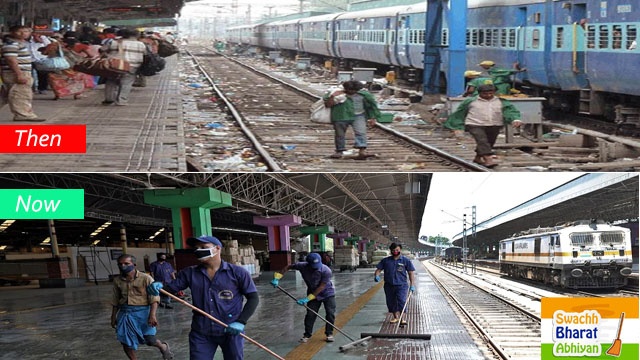 So, what Charith has to do with all this now? While everyone noticed the cleanliness of Indian railways with eyes, Charith noticed it with his heart. While everyone silently thought about the change, Charith decided to show the world the proud new face of Indian Railways. He decided to appreciate the job of Indian Railways on a louder and bigger note in a way to express his gratitude to its hard-working staff.
A Person Of Wide-ranging Skills

:
C.S Charith, a Civil Engineering graduate from Tirupati was born to C. Shantha Raj and C. Santha kumari. Right from his early childhood, Charith has been an active personality shining bright in diverse co-curricular activities like music, dance and sports. He has also represented "Chittoor" in State level Skating Championship. He has also been an active member in the College Volleyball team. This polymath is now the Deputy Manager at State Bank of India, Palakkad.
The Man Who Knows The Value Of A Little Appreciation

:
An active participant in diverse activities, Charith does surely know what a little encouragement and appreciation can do! Yes! A little of appreciation serves as a tonic to boost ones morale. It aids in an enhanced performance. Having known this, Charith who was enthralled by the transformation of Indian Railway stations, decided to acknowledge and appreciate their efforts in making the railway stations conducive to travellers. For this, he has chosen a unique style. When photographs are ruling the world and anyone can highlight anything on social media, why not choose these as tokens of appreciation?! Charith then decided to take Selfie photographs at every railway station he halted during his weekend travels. He started clicking these pictures covering the stations' "Tri-lingual boards" in the frame. The pictures not only depict the cleanliness of the respective stations but also display the workmanship of the railway staff. Charith wanted to get Trilingual boards to focus because it is only in India we get to see the names of the stations in three Languages. In a few stations we get to see these boards in four languages too. This, being a unique feature of Indian Railways alone, Charith has chosen to take pictures with these boards in the backdrop. Also, when these name boards are found in the pictures featuring the exceptional quality of the respective stations, many people felt some sense of deep connect relating themselves to those places emotionally.
Many initiatives taken by Indian railways for streamlining and beautifying the railway stations include not just providing trash bins and regular cleaning of platforms and tracks but also remodeling them in order to depict the cultural heritage of the place. Charith's photographs are taking all these to the notice of a wide range of public and the deep-rooted negative perspective about the Indian railways is beginning to change. People started recognizing and applauding the work of Indian railways.
The Journey So Far..
This Banker who says that he doesn't want to go abroad as India itself has a lot to explore, entered the railway stations of nearly 10 states so far - a couple of them in each. He has clicked pictures in around 250 railway stations and his 200th click was at the Kanyakumari station. He started this as a mark of respect towards the Indian railways but turned it into an effective campaign on Swachh Bharat initiative. C S Charith has been rightly recognized and awarded by the INDIAN BOOK OF RECORDS 2020.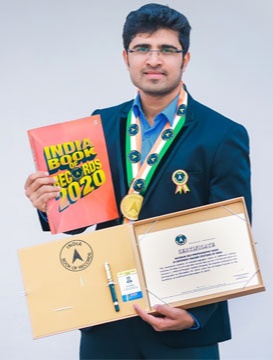 In The Days To Come..

.
Charith has covered a tiny fraction of the total Indian railway stations spanning 10 states till date. His mission is to cover all the 29 states touching upon at least two stations in each state. In his lifetime, he says, he would like to cover all the zones of Indian railways.
His Words Of Wisdom:
Charith used social media to make people aware of the outstanding work being done by the Indian railways. He used Facebook as an instrumental platform to publicize his intention. Social media and all the other networking sites, he says, have become easily accessible to everyone who likes to share their perspectives, thoughts, stories and talents. Just one upload and the person is known to the world overnight. Being such a dynamic tool to communicate, he says, it all depends on how one uses it. To reach the pinnacle of one's life or to tumble into an abyss solely relies on the way one makes use of social media. Self-discipline and mindfulness are very important while trying to gain visibility over the internet. Use it for spreading goodness, you will be lovingly remembered. Use it for something ill, you lose the essence of your life.
Our team has met a man with a happy heart and a thoughtful soul. What more do we have to say about this man of sensibility apart from patting his shoulders!! Great job Charith and we wish to see more jewels in your crown."Just look around, count your blessings, appreciate, and give thanks", – he concludes.

Follow C S Charith For Latest Updates