Moving with times and circumstances is the only way out for old biz to stay in the race. Perfect example.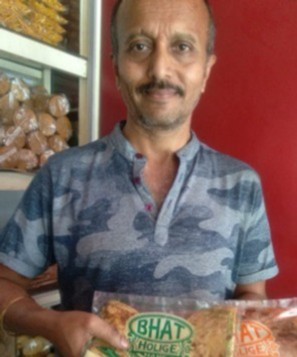 "Obattu" or "Holige" or "Bobattu" is a traditional sweet dish prepared on festivals especially on the first day of the regional new year in the southern states of Andhra Pradesh, Telangana, and Karnataka. This is a delicious sweet prepared out of atta (wheat flour or maida), jaggery, dal, and ghee. One needs to pay ample attention to the making process and preparing Holige requires patience and experience. While young people relied on mothers and grandmothers earlier to prepare this dish for them, with the onset of eateries and home deliveries, everything can be bought from outside. Thus, most of the people ordering these traditional sweets from their favourite sweet outlets. This page brings before you, the story of Srinivas Bhat who is carrying forward the legacy of his father Ramachandra Bhat, who started his career as a Chef and has become the most sought-after person to satisfy people's sweet cravings, especially the Holiges across Bengaluru, Karnataka.
A Delicious Dish Served By A Migrated Bird:
It was 1986 when Ramachandra Bhat who lived in a small village in Sringeri migrated to Bengaluru to work as a chef. Ramachandra developed interest in cooking and learnt it from his mother in his growing up years. He is adept at preparing all kinds of South Indian dishes, especially sweets. When he migrated to Bengaluru, he started working as a chef in one of the hotels when he got an opportunity to cater for a big event in the city. For this event, Ramachandra Bhat prepared fresh and delicious Holige to serve the guests. Majority of the people liked the Holige he made and from then on, he started receiving many orders. Demand increased for his home-made Holige and this made Ramachandra Bhat start a venture from home. Thus foundations for Bhat's Holige Mane were laid which is still there spreading the same authentic taste and flavours across South Indian states. "Many people praised the holige he made, and he received many more orders. He realised there was a demand for homemade holige, which prompted him to start a business from home," says Srinivas, his son. The family still continues to work out of the same outlet, and has not relocated or opened a second outlet. This 35-year-old shop is located in a small lane in Ramakrishna Nagar in Bengaluru.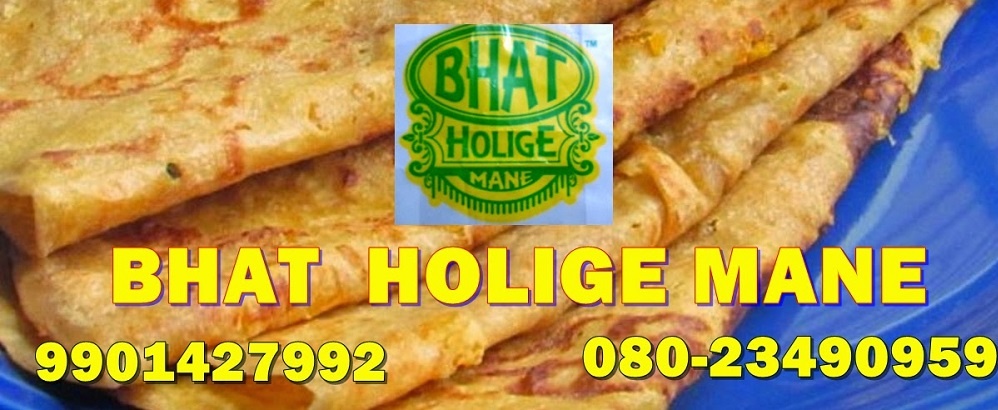 Ramachandra's Holige And Another Entreprenuer Growing With Them:
Ramachandra Bhat launched the business with two varieties of Holige he made. One was stuffed with coconut and jaggery while the other was filled with split yellow gram. With one more person as his associate, he would prepare, package and distribute the Holige to sweet outlets in the city. He also undertook private orders along with catering to weddings. Watching all this was a growing up little boy Srinivas Bhat, son of Ramachandra Bhat. Young Srinivas closely watched his father preparing fresh Holige everyday and also learnt the method of preparing them from him. He also started helping his father as he grew up. Though he didn't join his father in his business full-time, he lent his time during his leisure hours. He completed his education post which he worked with Mysore Lamps for 17 years. When the company was shut down, with no second thought, Srinivas joined his father's business in 2001. From then on, he not only helped his father expand his business but also made considerable contributions to its growth. He also introduced three new varieties of Holige.
Moving On Par With Changing Customers' Needs:
As years passed, with the change in lifestyle and with people looking towards healthier living, mindsets changed. Majority of the people started looking for foods with healthier ingredients. Instead of foods loaded with carbohydrates and sugars, people started switching to low-calorie, no-sugar foods. Thus, Srinivas moulded himself and his expertise in this direction. In 2016, Srinivas made experiments with Holige to make them appeal to the health-conscious consumers. Instead of maida, he used multigrain atta and substituted sugar with organic jaggery. The first few trials went not-so-relishing but he continued to experiment so that the changed ingredients could keep the authentic taste. Finally, after a few futile attempts, he managed to get the consistency and taste similar to the original one. Along with the ones stuffed with coconut and jaggery, he also made new varieties which were stuffed with dates and dal. Thus, to relish the tastebuds of the consumers who asked for the sugar-free and millet-based versions, Srinivas came up with healthier options of Holige. "While we also make the traditional type of holige, five years ago, we noticed that customers were curious to know if we had a sugar-free version or a millet-based version. They wanted to eat traditional sweets, but stay healthy at the same time. So we took up a challenge to make holige from atta instead of maida," says Srinivas Bhat
And, the dish has zero preservatives.
Upgrading With Technology:
Srinivas, over a period of time, understood that innovating new recipes doesn't alone bring in huge customer-base and he also has to find ways to reach new customers. Those who are associated with Bhat's Holige Mane from a long time and those who hit the outlet with word of mouth publicity are to one side, there is still a huge consumer base beyond that. For this very reason, Srinivas decided to market his products online. With growing competition, he thought, it is necessary to take the help of technology to stay in the market. Thus, in 2019, with the help of his niece Savita BS, an SEO analyst, he launched a website. Savita takes care of the website as well as handles the orders and deliveries. After the business went online, Savitha says that the business scaled up. "Through social media, we were able to create awareness about our products and scale up orders by 30%.", she says. For two years now, they started to receive several enquiries for franchises, and orders from Chennai, Delhi and even the USA. "Shipping is limited only to cities located South of India. This is because holige has a short shelf-life, and the ones with coconut filling can spoil faster, owing to hot weather.", Savitha explains.
Well, this is surely a success. When a business understands and upgrades itself according to the tastes and preferences of the customers, catering to their health and well-being as well, then it surely is a success. Congratulations to Srinivas Bhat who has not only taken up his father's role but has contributed to it all that he could from his side. Had the changes not been made according to the changing times, the flourishing of business wouldn't have happened. This story of Srinivas is thus a perfect example of inviting the modernisation while keeping the authenticity of traditional doings alive.

Know More About Bhat's Holige Mane