Saluting the Brave Hearts with the Soils of India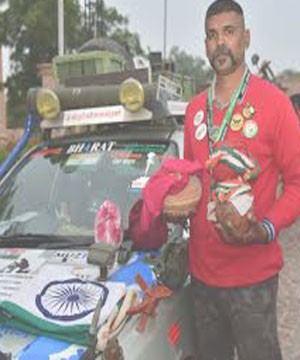 "Patriotism is not a 15th August's celebration or a 26th January's long speech. It's an emotion that says, "Nation First".
When the nation heard of the tragic incident that took place on 14th February 2019 in Pulwama wherein 40 CRPF personnel were martyred in an attack by the terrorist group JeM, it went into a state of shock. Condolences poured in, demands to take immediate action, and destroy the terrorist groups peaked, candle rallies filled the streets. But one person sitting in the airport wondering why his flight got delayed, has come across the news over the television had an altogether different emotion running inside him and his mind weaved divergent thoughts. "What if the martyred were my family, my close friends? Do I just send condolences over social media? Do I just light up a candle and sit in my comfort zone?" The answer to his mind's question was, "No". And there started a unique journey. A journey to salute the brave hearts and to tell their families that "We are with you". The man is a 39-Year-old, Bengaluru based musician, Umesh Gopinath Jadhav.
On A Firm Mission :
Gopinath decided to pay homage to the CRPF personnel in a unique way. He decided to travel to each of their homes, meet their families, speak to them, tell them that the whole nation stands with them, and finally collect soils from the place of their birth as well as from the place of their cremation. He decided to take these soils to create India map at their memorial in Pulwama exactly after one year i.e. on 14-02-2020. Not only this, he initiated "BharatkeVeer" campaign to spread awareness among present-day youth about India's brave children and instill in them a zeal to serve for the nation's cause. His campaign was endorsed by CRPF with a promise to extend him all their help.
A Crowd-funded Journey :
Gopinath started his journey on 9th April 2019 - Valour's day. Starting from Karnataka, through Kerala, Tamilnadu, Goa, Pondicherry, Madhya Pradesh, he travelled 28 States and 8 union territories covering 61,000km on his self re-modelled car. He has not taken sponsorship from anyone for this travel. He spent his nights at filling stations and was fed by strangers at roadside dhabas. His car was fuelled by random benevolent drives. Who wouldn't support when the cause was such a noble one? Thus he crowd-funded his journey and also collected money for the families of the personnel.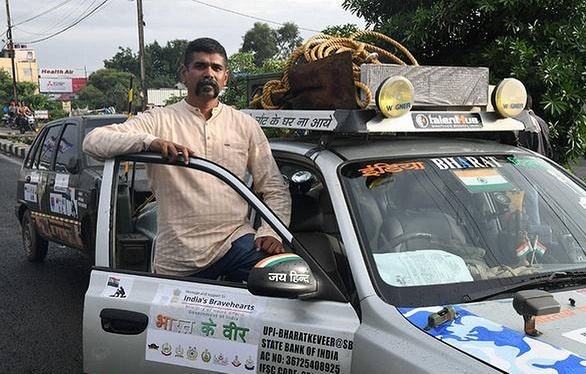 Cherishable Take-away:
During his visit to the martyrs' families, he received immense affection in return. He received a military phone, an ammunition box, two olive green Jerry cans and a greasy leather water bottle from the paramilitary and army personnel he met on his way as tokens of love. The families of martyrs wrapped the soil filled earthen/brass pots with pieces of red or white cloth and handed over to Gopinath. Half burnt candles lighted while paying homage to their sons were also given to him. These half-burnt candles, he decided, to light up at the centre of the soil map on 14th February, 2020.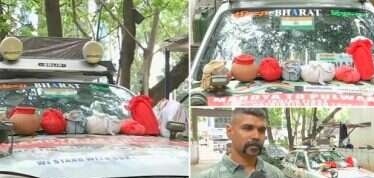 An Ideal Motive :
The principle motive behind doing all this is to spread a notion that though we all hail from different soils, we still belong to ONE INDIA. "Independence is not free, it costs us soldiers", a slogan on his car reads. While to tell the families who kept the country first that the nation stands with them is one reason behind this journey, to ignite in the youngsters a zeal to serve for the nation is another reason. This man has really redefined patriotism and our team salutes this patriot.