Google Awards this Teen for her Artistic Doodle.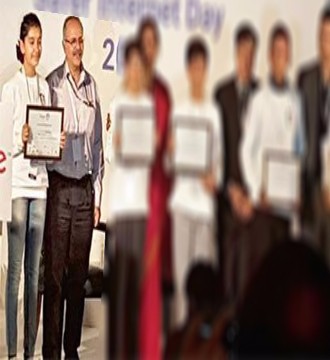 Nikita Garuda
Her parents found her scribbling on paper, walls, her school bags etc., and her teachers too felt that she was always with a pencil doodling and trying to draw what she saw or just let her imagination wild.
Her grandparents and parents played a vital role and flooded her with drawing books, paints and allowed her to enjoy her skill.
She started participating in drawing competitions and have a few prizes to her credit. Making posters for her friends, illustrations, birthday cards and anything that involved art she would happily volunteer.
She enjoys studying and also feels that education every child must finish. Takes her studies seriously. Its always good to have a hobby and pursue it passionately.
An opportunity KNOCKED. Winning an award from Google does'nt happen every day. Google through Web Rangers initiative invited some schools in Bangalore and other cities to throw in their creative talent. This revolved around creating awareness on cyber crimes amongst the youth.
Out of the 1000s of entries from across the globe, five Indians were chosen and Nikita was one among them.
She created a poster for a "Safer Internet Day" which won her the AWARD.
Nikita said,
I never imagined that I would win the competition. I just participated without any expectation and I am happy and excited to get an award from Google
She was even more excited when the award was a TABLET and the Certificate from Google which she will treasure forever.
Proud to have you on board.