A true believer of "back to the roots" resuscitating culture in goenkers.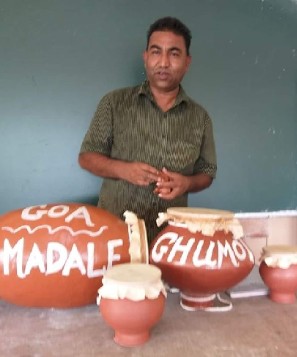 There is no doubt that Goa is famed because of its breathtaking beaches, and on the most renowned Island, Divar, a calm, small roadway slightly sloped and bordered by Portuguese-style villas in dazzling colours leads to an immaculate White Home. Goa is additionally acclaimed for its Indo-Latinic celebrations, fairs, carnivals and fest. Goa is the destination of melodies, dancing, and other cultural activities. The pleasant porch, a balcao, plus sat Goa's greatest Goemcho Festamkar Marius Fernandes in his signature plaid outfit greeting everyone will be the next element to share that will certainly draw your eye. In the last 19 years, Marius nicknamed the "Man of All Fest in Goa," has worked diligently to reunite Goenkars with their heritage and rejuvenate Goan culture via festivals and concerts. Marius's popular event was the 'NRI-NRG-NRD Carnival 2019', which ended around Dec 28, 2019, at Divar Island, Goa, and drew Semi Goans and Non-resident Divadkars for a carnival of free live concerts, documentaries, seminars, and plenty of chat over delicious Goan cuisine! This event propelled Goemcho Festamkarto to extend his efforts.
Mother instinct drove back to homeland...
Marius Fernandes, a native of Goa, was brought up in Europe but was born in Africa. Marius' mom, Antoinette, is liable for his profound love for Goa. Having moved from Kenya to Goa in his teens, he said, "I should thank my mother for letting me learn my native language and comprehend the Goan culture." When his mother discovered that the steamboat ship SS Haryana was going from Mombasa port in Kenya to Mormugao in Goa, she opted to embark on board with her children without skipping a beat. His mother desired that her children return to their hometown to enjoy Goa's riches and embrace its traditions. While attending the high school on Divar Island, he spent five years as a teenager. This touch of Goa offered Marius a lot of liberty; he enjoyed cultivating friendships and, as a teenager, would arrange cultural events for neighborhood children, offering them a flavor of Goan culture. Eventually, Marius had to move to Europe with his parents due to his dad's relocation. Marius spent the bulk of his adulthood in London, where he began to work, got engaged and had a family, and carried away an 'amazing life. "
What he chose drop of a cap?
In 1976, Marius took off to England, and soon, at 20 years old, he started working for British Telecommunications. During those years in England, notwithstanding, he decided to get back to Goan in his 40s and offered his children, Gemma and Ashley, to partake in the Goan culture he adored with his entire heart. In this way, on his 40th birthday celebration, Marius Fernandes chose to return to his territory, Goa. In 2000, he and his family moved into his ancestral house in St Mathias, Divar Island, after leaving British Telecommunications after 20 years. What's more, there was no thinking back.
The Call of His Land...
Marius understood that Goans were attempting to relate to and be glad for their way of life, their foundations in the influx of outer impact that has grasped the state. There has been a transition period in Goa, and the blending of cultures and backgrounds has made it more challenging to maintain Goan culture. Likewise, the couple of celebrations held were more a showcase of abundance and force by 'halls' and not a big motivator for Goa. During his visit to Divar, Marius experienced a town fest, local gathering. Celebrations like Bonderam with banners, Patekar (a fair where the adolescents camouflage themselves with papier-mache covers and ensembles), and many more. These events planted that seed that developed into a tree that is no longer there after he got back to Goa and set out to reintroduce ethnic folk songs, dance, cuisine, rituals, and so forth the cultural lifestyle of Goaenkers.
The barrier to be jumped in a race!
It took a while for Marius to persuade the villagers of the importance and necessity of conducting modest village festivities devoid of the financial interests of driven organizations. Marius said, "My celebrations are totally for anybody and everybody." Initially, gathering participants, a performance space, staff, acquiring authorization, and more was challenging. However, as the term amplifies and individuals discover how much happiness in unity the celebration helped bring, evermore individuals began attributing in various ways – by delivering food, beverages, seating arrangements, advertisements, and volunteers.
His mantra - No Sponsorship, No Political figure, Nobody as Visitor, Zero Liquor, devoid of Prizes, a big no to Plastics, Neither Competitive environment.
Bringing together culture and fascinated onlookers
Then, Marcus Fernandes realized that it was necessary to take action now before it is diluted, devised the concept of conducting street festivals" to bring spectators together and reacquaint them to their roots. Celebrations are a unique way to gather individuals in large numbers and develop a relationship through a common theme. Marius has coordinated celebrations for everything in Goa in the past few years, going back to Goemchi matti. Patolleanchem Fest, for example, combines authentic music, dance, and cooking; Poderachem Fest, about dough punching (power); and varieties of Goan bread; and much more. Ramponnkaranchem Fest praises the ramponnkars - the anglers who bring fish for their children; and some more. He has seen the energy with which individuals met up and partook in these celebrations. They left no stone unturned to assist and be essential during these celebrations is almost as if they were waiting for something like this to happen.
Future goals to achieve
Marius has always strived to organize cost-effective events that are environmentally sustainable, multicultural and engage community helpers. Goa is being saved by these festivals, which have successfully uniquely touched the hearts of Goans. He has been addressed by Goans and across the world who need to reproduce similar celebrations in their spaces who want to mimic similar celebrations in their communities. The goal of Marcus Fernandes is for these celebrations to go across the globe to revitalize and celebrate one of Goa's core motivators -its cuisine, beverages, songs, motions, sentiments, and traditions!