Entrepreneur promotes goat milk skin care homemade products, created a huge demand.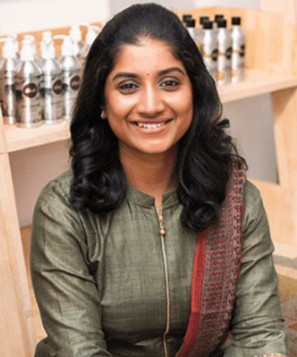 "There are so many "skincare" products in the market today making it difficult for you to shop. Many of them are loaded with harmful chemicals, which create adverse effects on human skin. But, a lot of manufacturers continue to make them. Simply because they're cheap and effective. We seek to change that" Good. Looks like some brand promotion? Not really though. This story brings before you, the entrepreneurial journey of a woman from Coimbatore, who started off her business post her mother's demise, keeping in mind, her skin concerns.
Mother's Problem, Daughter's Solution:
Kruthika Kumaran hails from Coimbatore, India. She founded Vilvah, an online cosmetic brand that's giving solutions to skin problems since its inception in 2017. The prime reason behind Kruthika starting this venture is her mother. Kruthika's mother had sensitive skin and has suffered skin problems for more than a decade. She tried several skincare products for no good. They made her skin condition worse. "My late mother is the reason for my path to creating my own natural soaps. It was her wish for me to use safe products that inspired me to learn and do what I do today", says Kruthika. Kruthika pursued an online diploma course in natural cosmetology and decided to venture into a skincare business that becomes the one-stop solution for all skin concerns.
Experimenting And Analysing:
Kruthika comes from a family that's into agriculture. They owned a farm called the Vilvah Farm in a village called Kasipalayam near Coimbatore. They had goats and it is from where Kruthika started her journey. She started experimenting with making soaps out of goat milk. Kruthika's daughter also suffered from eczema and to check whether goat milk turns to be effective, Kruthika, after numerous trial and error steps, came out with a recipe that suited to treat her daughter's condition. What worked on her family, Kruthika started to sell it to the customers. The word spread across eventually and Kruthika's soaps began to gain popularity. A couple of goats in their farm rose in number and today, milk is taken from countless goats they started rearing which is further used to make different goatmilk products. Vilvah started as a bootstrapped company in 2017 with an initial investment of Rs 10,000. "On initial days, the brand spread mostly through word of mouth and our customer base started going organically. Consumers believe in quality products and once they are satisfied, there is no turning back and with the help of social media, the word spread fast. They believe in our products, our transparency and our honesty", Kruthika said.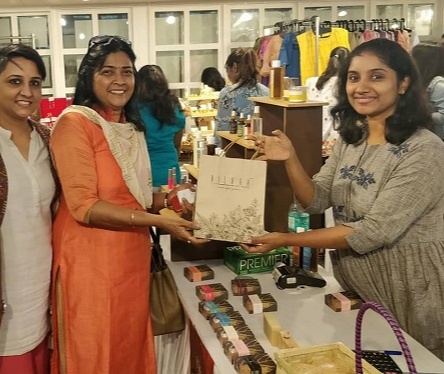 The Core Five:
Kruthika says that skin is the most significant part of the body and needs utmost care. She says that it is for this very reason that she introduced Vilvah as a brand that is a perfect blend of herbal, ayurvedic, certified organic, and Ecocert or cosmos certified natural and naturally derived ingredients. "At Vilvah, we have an in-house formulation design policy", she mentioned. She further says that Vilvah stands on five major pillars. They are:
Natural score - to ensure the natural purity
Toxicology profile - to ensure safety.
Effectivity - Vilvah claims to use clinically proven natural or naturally derived ingredients, for proven product efficacy.
Sustainability - To ensure biodegradability. "All our preservatives, naturally derived surfactants are the ones which are approved by the Ecocert certification body", she explains.
Cruelty-Free - "We are completely against animal testing and every ingredient which goes in VILVAH product is not been tested on animals ever", she assures.
What started as a family brand has now been growing into a large-scale multi-city brand attracting customers from India and abroad. Kruthika says that they closely work with small scale and marginal farmers who follow organic and sustainable practices and source ingredients like Goatmilk, Coconut oil, Sesame oil from them. "Our products are handmade with only the finest and freshest ingredients. Our concoction consists of natural and organic agricultural produce, carrier oils, essential oils and butter", she adds. Kruthika says that their products have NO sulphates, silicones, parabens, artificial fragrance, harsh chemicals, Glycols, and GMOs - "Only pure love", she adds. While most brands don't disclose their ingredients, Kruthika says that they are committed to being transparent and disclose all the ingredients both on their website and on product labels. Most of its products are chemical-free, but Vilvah does use a preservative on eye creams and body polishes, which are again safe and have a lesser shelf life. What started with an investment of Rs.10,000 is now clocking a turnover of Rs 15 crore with its products being available on e-commerce websites such as Amazon, Flipkart, and Nykaa among others with a wide range of products that include hair, skincare, and other beauty products. Vilvah has also come up with a mosquito repellent containing citronella and lemongrass, making it safe for children.

Even though we have introduced different skincare products over time, the classic Goat milk soap will always remain close to my heart. I have always dreamt about creating a clean and sustainable skincare range and vilvah is a complete family project of mine. My husband Mr Kumaran and my7-year-old daughter (yes, she loves working in vilvah apart from her school time) are a constant source of support, says Kruthika with a smile beaming on her face.
A Long Way To Go:
Vilvah's team operates from a small facility in Coimbatore and Kruthika is planning to move it to a new 40,000 sq. ft facility to place it in a brand new green building. Speaking about the future product range, Kruthika said,
"We are looking to launch more innovative products that will be suitable for all skin types and great for the environment to adopt more sustainable practices. We want to be a pioneer in goat milk skincare".
Her Idea Of Successful Entrepreneurship:
For becoming a successful entrepreneur, more than educational qualification, Kruthika says, innovative thoughts and passion are much more important. "Startups are going to be the future irrespective of your educational qualification. I strongly believe your educational qualification won't enrich your entrepreneurship skills but Innovative Ideas and executing the ideas in the right way do set you apart", she says.
Follow what Kruthika advises and if you have innovative ideas rolling in your mind, go for it. The world is all yours when you do the right thing.

Know More About Vilvah Store