German woman fell in love with the Holy cow ended up running a Gaushala. Love beyond boundaries.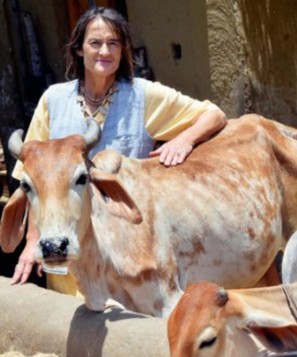 In India, many people milk cows and abandon them as they can't afford to take care of them in old age. Some cows fall sick and become immobile. "On one occasion, I saw a young bovine lying on the road for its fate. Its legs were fractured. I helped it".
A 'Goshala' in Uttar Pradesh has thousands of sick, injured, abandoned, and blind cows along with calves who lost their mothers. This Goshala is being run for over decades by a German woman Friederike Irina Bruning. This story is about who came to be called as Sudevi Mataji, an animal rights activist, the founder of Radha Surabhi Goshala, the recipient of the Padma Shri award, and of all, an amazing human being with a kind eye for animals.
The German Tourist Who Fell In Love With Indian Cows:
Friederike Irina Bruning was born in 1957 in Berlin, Germany. In 1978, when she was 20 years old, she came to visit India as a tourist after completing her graduation studies. She went to Radha Kund in Uttar Pradesh and was highly influenced by the way of life there. She became a disciple of Guru Srila Tinkudi Gosvami and upon neighbour's advice, she helped a cow. Ever since then, her love for nurturing the cows grew and she continued the holy work. "I came to India as a tourist. I then read the holy Bhagavat Gita. It was then that I realized that without a mentor, it is not possible to achieve salvation. Somebody asked me to visit Vrindavan. After arriving at Vrindavan, I went to Radha Kund and decided to stay there. With the advice of one of my neighbours, I started helping the cows. I bought several books on the welfare of cows", she said. Friederike also leant speaking Hindi.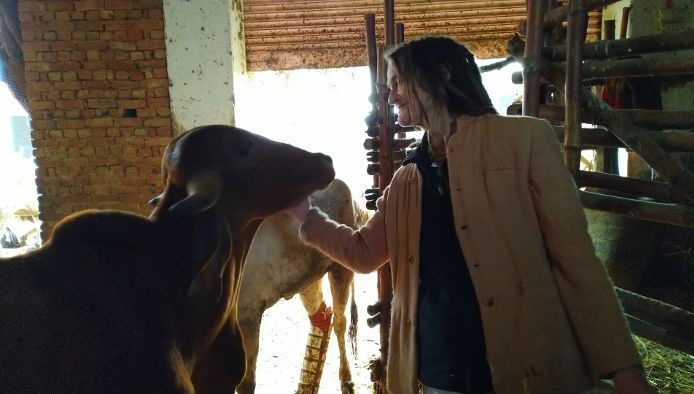 Impressed And Influenced By Indian Living:
Irina had developed great respect for Indian way of life and the teachings of the Bhagavad Gita, Upanishads enlightened her. She believes that food has three categories - Sattva (pure and light), rajas (active and passionate), and Tamas (heavy, gross, and violent). As meat falls into the category of Tamas, she gave up meat consumption. She devoted her life completely for the welfare of the abandoned cows.
How Did It All Start?
When Irina landed in India as a tourist, she observed closely the living conditions here. Apart from anything else, the plight of stray animals moved her. She came across a sick, abandoned cow and she gave proper food, care, and medication to it. The cow started to do well in no time. Ever since then, one cow became 10, then 100. Beyond that, she was left with no space to accommodate more abandoned cows. So she rented a three-acre plot and built a shed to accommodate cows. She started Radha Surabhi Goshala in 1996 which was spread across 3,300 sq.yds. There, she takes care of sick, injured, and starved cows, gives them food and shelter, along with required medical care. In the Goshala, the cows that require special care have a separate place for themselves. Blind and severely injured cows, on the other hand, are kept in a separate enclosure. Currently, the Goshala has 90 workers and close to 1800 sick cows. The Goshala is purely for the welfare of the animals and not a place of commercial importance. The cow milk is also not sold while milk is bought from outside to feed the calves who lost their mothers.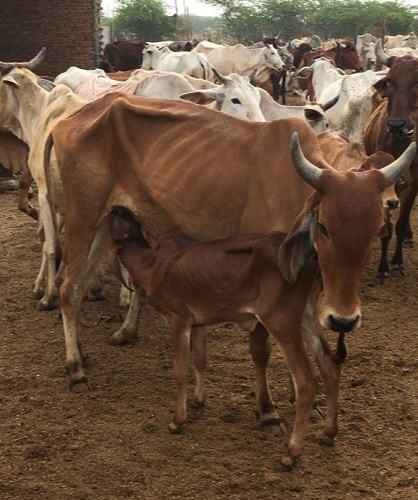 Recognition To The Selfless Service:
Irina, who dedicated her complete life for the welfare of animals often tried to pool up money from her ancestral property in Berlin. She also receives funds from people but says that the government has not intervened till date. Sometimes, she says, it becomes difficult to nurture and provide medical treatment to sick cows due to a lack of funds. On the occasion of 71st Republic Day, she was honoured by the Indian government with the fourth highest civilian award, the Padma Shri.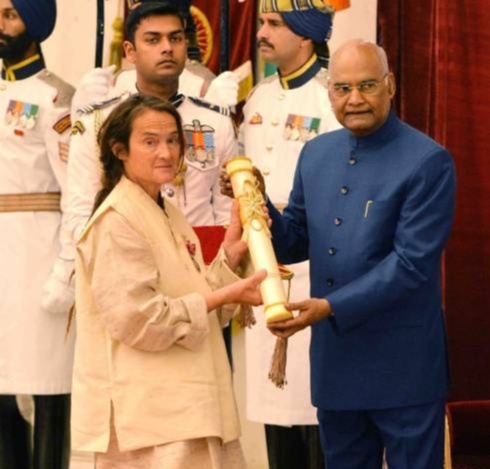 What an amazing story that crossed borders and came to Indian land. Thanks to Irina who is fondly known as Sudevi Das or Sudevi Mataji today, for proving that love goes beyond boundaries.

Know More About Her Work

Support Her Work