She donned the lawyer gown at 50 to fulfill her childhood dream.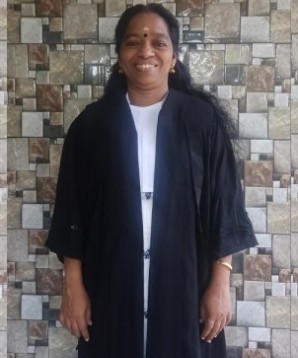 She donned her royal black Lawyer gown years after giving birth to two children proving that childhood dreams don't shatter with age, financial constraints, marriage and child-bearing. Becoming a lawyer was her dream. The financial position of the family left her helpless and though she had the opportunity to pursue higher education, she couldn't opt for the course she wanted. Meet V Jayasree, the lady with immense perseverance who has finally become what she always dreamt of being - at the age of 50.
Broken Dreams but Unbroken Hope:
V Jayasree became the proud daughter of Kerala when she made the news headlines by becoming a Lawyer. What's so great about that? There are many Lawyers out there!! But Jayasree is different. Though at several points in her life, she was stopped from pursuing her dream career, she finally achieved it in her half-century of life. Jayasree, a native of Kuttichal is a postgraduate who wanted to take up LLB but her family's financial conditions didn't allow her to. She had to take up a job as an accountant in a private firm and support her family. Jayasree was later married off to Gopakumar who is a carpenter. Even after marriage, Jayasree could not dare to pursue LLB as she had to continue working to support her husband in raising two children Gokul and Gopika.
Sacrifice Recognized And Supported:
Jayasree's sacrifice at every point in life didn't go in vain. Her husband supported her so much and always encouraged her to go for further studies. The growing up of their two children into matured and understanding individuals who also understood and supported their mother's dream gave Jayasree an opportunity to take up her passion. In the year 2017, she joined the LLB evening course at Kerala Law Academy, Peroorkada. Her class started at 6 pm and by then Jayasree finished her day job. As there was no transport facility connecting Kuttichal to Peroorkada, her husband waited for her at college and both used to drive home by 9:30 pm. Thus, her family's support in such a challenging journey made her juggling between family chores, day's job and evening classes manageable. She secured the third rank in the LLB examinations of Kerala University and ironically, came to know about her results two weeks after they were declared. "I never expected a rank. However, I gave my 100 per cent," she says. As a part of her course curriculum, they have to take up chamber work which she took up under lawyer R Vinod. Currently, she is practising as a junior lawyer under him in the district court, Vanchiyoor, Thiruvananthapuram.
My patience and hard work paid off, says Jayasree.
Hey! You're A Lawyer Now, Jayasree!
Jayasree wants to become an independent criminal lawyer in the days to come. "A lawyer should be sincere and work as an agent for the client. I want to do my job truthfully and attain justice," she says. Jayasree believes that with determination, hard work and support from family anyone can achieve anything. The only thing is not to stop dreaming ever and continue working hard to achieve the desired goal.
Thanks, Jayasree for giving hope to so many women out there who are sitting dejectedly having lost their opportunities because of various reasons. Hello ladies!! Endurance and perseverance are all you need! Just keep dreaming and working hard.