Statue and a Road named after this freedom fighter. We celebrate Independence because of such brave souls.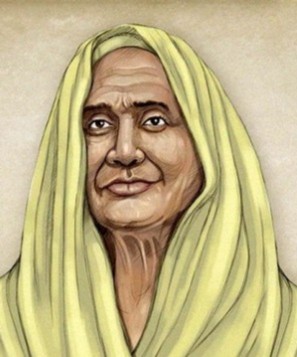 She didn't care for her frail body, ageing bones or wrinkled skin. She just went ahead with one goal - Indian Independence. She was arrested, punished not once but several times but she didn't stop going forward. This is the story of India's one of the greatest yet forgotten freedom fighters, Matangini Hazra.
A Child Bride:
Born in a poverty-stricken family that lived in Hogla village of Midnapore district of West Bengal on 19th October 1870, Matangini Maity did not even receive primary education. She was compelled to become the child bride of Trilochan Hazra, a man in his 60's. She was just 12 years old then. Her husband died six years after their marriage and Matangini became a widow with no children. After her husband's death, she went back to her maternal home and started helping the needy of her village for several years.
Gandhi Buri:
It was 1905. Matangini was attracted to the freedom struggle and started to actively participate in various protests in her area. She was inspired by Mahatma Gandhi and began spinning yarn and wore khadi clothes. She followed his principles of non-violence. People fondly started calling her Gandhi Buri (Old Lady Gandhi) for her commitment to Gandhian principles. Time fled and on 26th January 1932 which was designated as the Independence Day during the freedom movement, men in her area conducted a match to spread awareness about the political scenario in the country. 62-year-old Matangini joined them and ever since then, she decided to lend her hand in India's struggle for independence. Matangini used to actively take part in prominent and huge movements like the Quit India and Non-cooperation movements. She participated in Gandhi's Civil Disobedience Movement, the Salt Satyagraha in specific, where she has taken part in salt manufacturing at Alinan. She was arrested by the colonial government for violating salt laws. During Salt Satyagraha, she also secretly slipped into the Tamluk Court premises and hoisted the Indian National Flag for which she was arrested. She was made to walk a long distance by the authorities - something that was beyond her physical ability at that old age. However, this didn't stop her from fighting. She participated in a movement in support of the abolition of the chowkidar tax. While she was marching against the Governor's decision to punish all agitators, she was arrested and imprisoned for six months at Baharampur jail. After her release, she became an active member of the local unit of the Indian National Congress. When the smallpox epidemic burst, she relentlessly nursed the victims.
The Day That Echoed 'Vandemataram':
One day in the August of 1942, local congress workers set to besiege various police stations and government offices in the Midnapore district. Matangini who was 73 years old became the leader of the movement yet again. On 29th September, she led a contingent of over 6000 supporters to capture the Tamluk police station. Their procession reached the town outskirts where they were stopped by the Crown police who tried to dissolve the group by imposing Section 144 of the Indian Penal Code. Matangini stepped forward to appeal to the police not to shoot at the crowd but she herself was hit by a bullet. She didn't fall or go back but kept moving forward holding the tri-colour high. Her lips continuously chanted 'Vandemataram'. She gave her life up to the third bullet, while for every shot her Vandematram chant grew louder while the tri-colour went higher. She breathed her last with tri-colour on her hand, never letting it touch the ground.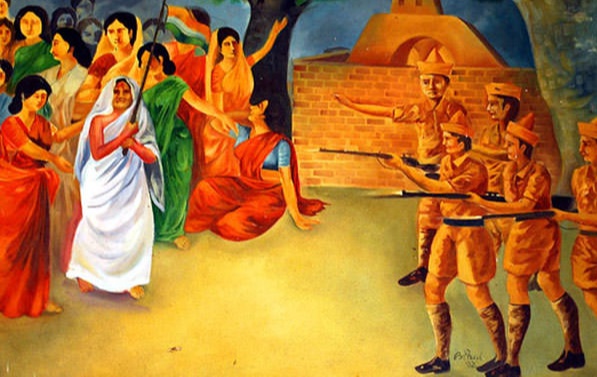 The First Woman Freedom Fighter To Have A Statue:
Through stories of her brave struggle for independence were never written in books for school students to know about her, though she remained an unsung hero in the history of India, Matangini will always be remembered every time there is a discussion of Indian Independence. A statue of hers was erected in the same spot where she breathed her last in Tamluk. Indian Postal Department released a five rupee postage stamp with Matangini Hazra's facsimile in 2002 as a part of series of postage stamps released to mark 60 years of the Quit India Movement. Also, a major road in south Kolkata is named after her as the Hazra Road.
What a story we have missed all these years. Never late! Why don't we tell our children stories of brave souls like these so that they understand what took it for many people to gift India the phase she has today!