Tribal IAS woman officer is the Assistant Collector. She has lead the way for others to follow.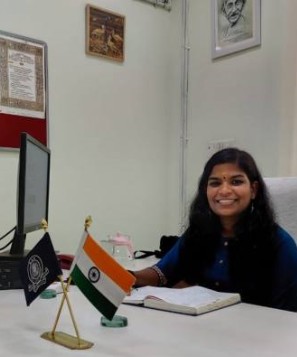 Achievements and achievers are not born out of luxuries. One must bite every hard rock that comes their way. Sweat tastes sweeter at the end, after all the turmoil. Sreedhanya Suresh is the epitome of this statement and proves why luxuries and resources always don't seem to be significant in the path to success. You don't need a cosy place to stay for carrying out your studies without disruption. All you need is grit, determination and the zeal to accomplish what is aspired for. This story brings before you, Sreedhanya Suresh, the first woman from a tribal community in Kerala to crack the civil services exam.
Humble Background:
Sreedhanya Suresh belongs to Ambalakkolly tribal settlement at Achooranam in Wayanad District. They belonged to the Kurichiya tribe which is considered the second-largest tribal community in Wayanad district. Her parents Suresh and Kamala are daily wage labourers. They were into trading bows and arrows in the local market. The family of six with four children and parents, lived in an unfinished house with no basic amenities. To raise their children and feed the family, Suresh primarily depended on the MGNREGA scheme. Whatever the conditions of the family could be, Suresh and Kamala ensured that their children are educated. Their major emphasis on education has what helped their children stand in good positions today. Sreedhanya's elder sister is a government servant and her younger brother is a polytechnic student. Sreedhanya was a good student since childhood. She went to Nirmala High School at Thariyode in Wayanad, and secured her graduation in Zoology from St Joseph's College, Devagiri in Kozhikode. She went on to pursue her post graduation in Applied Zoology from the Calicut University campus. She then went on to prepare for the civil services exam and cracked it in her third attempt.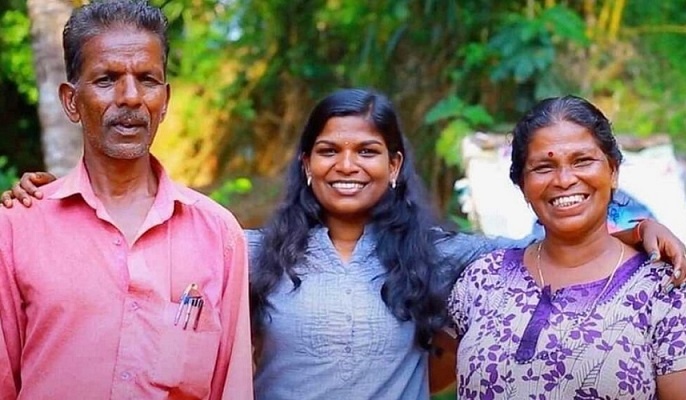 The Beginning Of The Career And Choosing The Civils:
After completing her post graduation, Sreedhanya secured a job as a Clerk with the state government's Scheduled Tribes Development Department. She also worked as a warden at an Adivasi hostel in Wayanad. She also rendered her services as a Project Assistant in Scheduled Tribes Development Department in Wayanad in 2016.
During this time, she once got an opportunity to interact with the Sub-Collector of Wayanad, Seeram Sambasiva Rao who encouraged the girl to take up the IAS exam. Sreedhanya too got much inspired by his words and made up her mind to become an officer in the Indian Administrative Services. She went to Thiruvananthapuram for IAS coaching. That's how, a girl from a humble family in a tribal setting walked towards her biggest dream. Preparing for an exam in which questions can be from anything under the sky, Sreedhanya's journey wasn't so easy. Financial constraints, lack of resources were the major hurdles but the girl never complained. Only she knows the pain when she had lost two sacks of books during the Kerala floods. The girl with grit didn't wither and the only thing she had in her mind was to the crack the exam come famine or fall.
The Trumph:
When the 2018 UPSC results were declared, Sreedhanya was elated beyond words at her success. She secured an All India Rank of 410 in her third attempt and became the first tribal woman to achieve this feat. "I am from the most backward district in the state. There are no tribal IAS officers from here even though there is a considerably large tribal population. I hope this will be an inspiration and motivation to future generations to overcome all hurdles," she said. She was congratulated by the Kerala Chief Minister apart from various other big heads. After finishing her training at the Lal Bahadur Shastri National Academy of Administration, Mussorie, she took charge as Kozhikode's Assistant Collector. Coming back to what she calls as her second home and working under her role model, the District Collector, Sreeram Sambasiva Rao, Sreedhanya says that her hard work paid off. "Kozhikode is like a second home to her. I studied here and there are many factors here which compelled me to think about a lot of things. I am also delighted to work with the man who gave wings to my dreams", she said. Taking about taking charge during the pandemic time, she says, "It is a great responsibility to take charge during the COVID-19 pandemic. This will allow me to understand and learn the administrative field more deeply,". Sreedhanya said that she will work towards ensuring the land rights of the people, women's safety and empowerment and also towards the conservation of the environment. She also said that bringing in some sort of financial security to people is also in her priority list.
Advising youngsters, she said that education is the only way to bring change in lives. No matter what the circumstances are, she said that one shouldn't keep their aspirations on the lighter side.