Software engineer who embraced Art receives a Bid of 5 Lakhs for her first piece.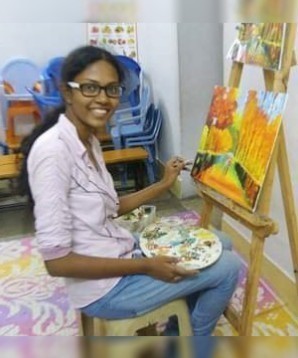 Emotions and thoughts have no tongue to express themselves. When the heart has so much to speak but falls short of words? When the mind has millions of words but lacks a hearing heart? Here's a girl who is an extrovert and shares her heart out with people who she is familiar with. Like many of us, at times, she lacks the language to express her thoughts and emotions. Then what does she do? She embraces art. She found solace in the arms of art at a very tender age of 10 and not just one art form, she became the most loving address to different types of art forms. She is Sai Sirisha and this is her story.
An Art-Loving Engineer:
Hyderabad-based Sirisha is an alumnus of Kendriya Vidyalaya and she graduated in Engineering from St Martin's Engineering College in 2020. Even before she finished her graduation, she got placed in an MNC and worked for one year. Recently, she got placed in Amazon and is now working as a Software Engineer. Born to M.B. Prasad who is a Bank manager and M. Sree Devi, a retired Principal, Sai Sirisha is making her way through her set path and has not left the art behind even after being immersed in cursor clicks and squared cubicles. Sirisha never left any stone unturned. The job she secured was not a sip of hot chocolate to her. She had to pour in all her mettle and struggle for three years before finally getting shortlisted for the summer camp organised by mission R&D in IIIT. It is this camp that gave her real-time coding expertise. She worked very hard for around 15-20 hours a day and learnt real-time software coding. Once she had finished the camp, she thought she would be placed in a good software job but things didn't work her way. She remained jobless and hadn't cracked any interview until November. Waves of depression greeted her leaving her at the lowest point of her life but February 2020 placed her in one of the top companies, Amazon, as a software engineer and this interview, she aced on the same day when her father was in the ICU owing to a heart stroke. The boldest girl - isn't she?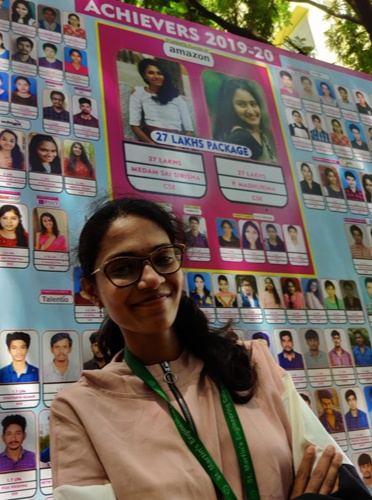 Aunt's Gift Brought The Artist Out:
Sirisha's pencil could hardly sketch a flower initially. She took most of the pride when she just sketched mountains and the sun. But one day, when her aunt gifted her an A4 size spiral notebook and a box of oil pastels, colours of art flew inside her and she was amazed to look at the array of shades. This amazement dragged her to knock the doors of art classes to learn the basics of shading and oil painting. She was in her 13th year by when she has already won the state level drawing competitions thrice.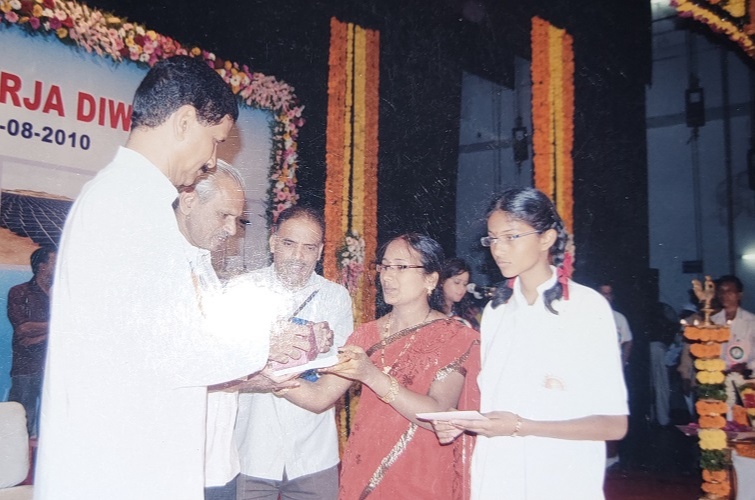 At the age of 14, she decided to explore canvas paintings. She then embraced pencil sketches and then learnt oil painting on canvas. She then learnt doing knife paintings on canvas. However, this quick learner and doer found the knife paintings and oil paintings too boring as they took longer to dry. So her fingers hugged the charcoal pencils to sketch still life objects. She has also danced her sketches on canvas using charcoal sticks. After sketching using acrylics and watercolours on canvas, her eye fell on Mandalas. She started doing various kinds of detailed mandalas.
I have many more art forms to explore. Every time I take up a new one, I fall in love with art all over again, says Sirisha.
Art Is Her Saviour:
To Sirisha, art is not just a past time. Art is her saviour. Whenever she fails to express or exhibit her emotions, when she is angry or frustrated but can't speak out, whenever she is sad and blue but can't cry it out, she picks up her sketching tools and there you go! A masterpiece that reads her mind is ready. With art, she learnt being patient. Art turned the short-tempered girl into Ms.Cool. When she was asked in the interview about how she could connect art with coding as both form two ends of a stick, she replied saying, "To create a masterpiece, you'll need a hell lot of patience and so is the case with writing a code". And BOOM! The interviewers are impressed.
An Entrepreneur Who Tasted Setbacks:
Sirisha created a business page on Instagram with the suggestion of one of her friends. She started selling her artworks and also stared taking customised orders. However, like every other business pitfall, she also has faced some with a few people not paying her after receiving the artwork and a few people even after agreeing to the terms and conditions, rejecting the artwork just saying that they didn't like it. She incurred losses as well but we all know that amazing journeys don't stop because of tiny speed breakers on the way. She sold out close to 50 portraits so far and has got two goddess mandalas on order. Her first work got the highest bid of 5 lakh rupees but she denied it because it was her first artwork and kept it as her emotion without thinking of selling it.
Also, I'm not currently working on 30 mandalas order, I meant I got 2 goddess mandalas order and have sketched 30 mandalas till date.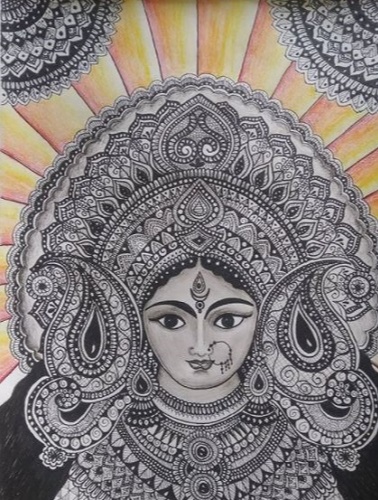 A Vibrant Achiever:
Sirisha's mother Sree Devi recognised the girl's aptitude for art and encouraged her to participate in every competition, small and big. Sirisha, in 2010, won third prize in state level drawing and painting competition organised by AP's forest department. In 2011, she bagged the first prize in state-level competitions organized by the AP government on renewable energy resources on the occasion of Rajiv Gandhi's birth anniversary. The same year, she won the consolation prize in the competition organised by Global Art painting in view of the Save tigers project. She also won state-level 3rd place in essay writing competition organized by AP govt on the occasion of Rajiv Gandhi's birth anniversary in 2012. She is also an academic achiever. She has received academic awards for being the topper in 1st and 3rd years of her graduation. Not just in academics, writing and art, she also has cleared the NCC 'C' certificate very recently. So, this pro at art and academics is also an NCC C Cadet. She owes all her success to her mother who, she says, walked her through every phase of her life to date.
What's In Store For The Future?
Sirisha says that she has never thought of what to be done tomorrow. Her only aim is to explore many more mediums and art forms like sculpting, architecture, interior designing and pottery. She tells all the young and budding artists that when one does something with extreme love and dedication, one shall find inner peace.
A Long Way To Go:
This super-duper talented artist and the brainy engineer just needed a sheet and graphite lead to getting the universe into the palms. How beautiful it is to know a person who took to art to create inner peace, used art as a means of self-transformation and emerged as a wholesome artist! Not just her rewards but also her transformation journey has something great to speak today. May her works inspire, awaken and lead.
Follow Her For More Updates