Hunger and Poverty must end by 2030 commits "Feeding India" who serves 9 million meals every day.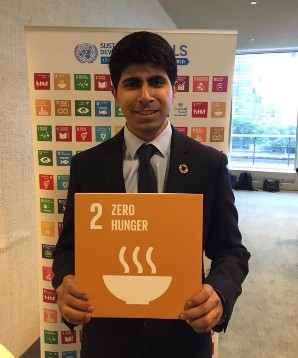 Pathetic situation.
Food - Food wasted everywhere not a morsel for the 20 crore Indians who sleep hungry every night. This young 24 years old's concern provides food for thought to every Indian. Ankit was attending a wedding where more than 1000 guests were invited and carefully observed that there was so much food left over. We are sure each one of us has faced a situation like this and can easily relate to. He had a quick chat with the caterer who told him that they normally dump the excess food which could actually feed more than 5000 people. It immediately struck him that he could provide the same to the needy instead.
Pondering.
He wasn't able to put away the thoughts of hungry children and it would subconsciously remind him all the time. He started talking to himself and a few friends but didn't seem to see how he could do it. The problem of so many sleeping on an empty stomach doesn't lie in the lack of food BUT in the management of surplus, wasted or leftover food reaching the needy. Being the change made him come up with a feasible and a workable SOLUTION.

Test himself.
Sometimes thoughts, passion, ideas can be frivolous but Ankit wanted to put himself to test. One night after a wedding, he and his friends collected the surplus food from the caterer, packed them into boxes and bags and drove around town at an unearthly hour at 3 am, calling up homes and finally found a home with 100 people and were too excited that they cleared their first hurdle.
Crystal Clear Goal
With a crystal clear vision and a goal, he ventured out. His first TO-DO list was to quit his lucrative corporate job in Delhi and he put down his papers in 2014. This was without his parents' knowledge as he didn't want them to think that he was whimsical. Second, during the 2 month notice period he started surveying and researching on the waste & surplus food, quality and quantity, identifying organisers of social events, weddings, Restaurants, needy homes, and orphanages, channelizing the distribution etc., Simultaneously launched his NGO "Feeding India" and without really a concrete plan or an agenda. He was sure that he wouldn't face a problem finding volunteers as he was working towards a great cause.
"Feeding India"
From a 100 in a matter of three years, Feeding India is now catering to more than 9 million meals covering 45 cities, through a strong volunteer force of 8,000. These volunteers collect the surplus food and distribute to the needy. At the brisk rate that they are going, Ankit surely will hit his final goal of making a "Hunger Free India" by 2030. He is not perturbed about the revenues or the operational costs; as a good cause will always find its way out.
Awards
Recognised and bestowed with a "Young Leaders Award" by none other than Her Majesty the Queen at the Buckingham Palace, London. He has won more hearts and smiles than awards.
Let's make it happen
Every Indian has a giving heart and feels for the poor. It is sometimes the time, sometimes not knowing what to do and where to go. Here is a great opportunity to lend a helping hand to this great young man's initiative. If anybody wants to connect with Ankit, you can reach him on www.feedingindia.org,

contact@feedingindia.org

9871178810.