Farmers earning extra income and Delhi's air quality improving, take a look at this innovation.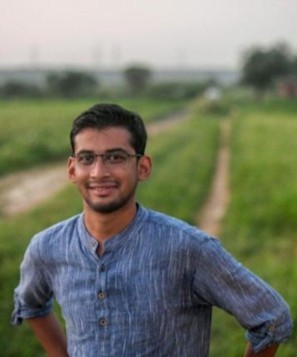 Are you a farmer and are you burning the crop waste after harvest? Wait.. Don't do that anymore! Not only that this act causes serious environmental pollution, it also deprives you of enjoying the lucrative benefits that Takachar offers you. Confused? Let me take you through the story of Vidyut Mohan, whose innovation is aimed at helping farmers find profitable uses for their crop waste. The winner of the Earthshot Prize, a million pound, Vidyut Mohan has got a lot to offer the farmers as well as to Mother Earth.
The Earthshot Environmental prize was introduced by Queen Elizabeth II's grandson Prince William, to reward the efforts of eco-enthusiasts to save the planet in the face of climate change and global warming. Each of the finalists for the Earthshot Award chosen by experts from more than 750 nominations is extended support from leading private sector businesses to develop their ideas. In 2021, when the names of the finalists for their contributions towards the five U N Sustainable Development Goals were announced, the list saw the name of Vidyut Mohan, a 30-year-old eco-enthusiast from Delhi, India.
The Delhi Entrepreneur's Quest To Finding A Solution:
Vidyut Mohan who was brought up Delhi came face-to-face with the effects of the deadly smog emitted because of burning the straw or stubble - the crop waste after the harvest. Vidyut, who has always been passionate about clean and accessible energy solutions as well as creating income opportunities for the downtrodden, started to decode answers to the questions raised on the increasing imbalance between the economic growth and climate change in developing countries. After he conducted research for his Master's thesis at TU Delft, he came back to India and worked with the rural communities in the Himalayas. There, he helped convert pine needle waste into a profitable charcoal-based product. Here is where he gained experience and knowledge in converting farm residue using technology. Vidyut is a fellow at the School for Social Entrepreneurs India and was also named as an UNLEASH Energy Talent in 2017. Vidyut, who is also a 2019 Echoing Green Fellow, directed his work to convert farm residue using technology and support farm-based livelihoods simultaneously. His passion gave birth to Takachar in 2018, a company that recycles agricultural waste and transforms into marketable products.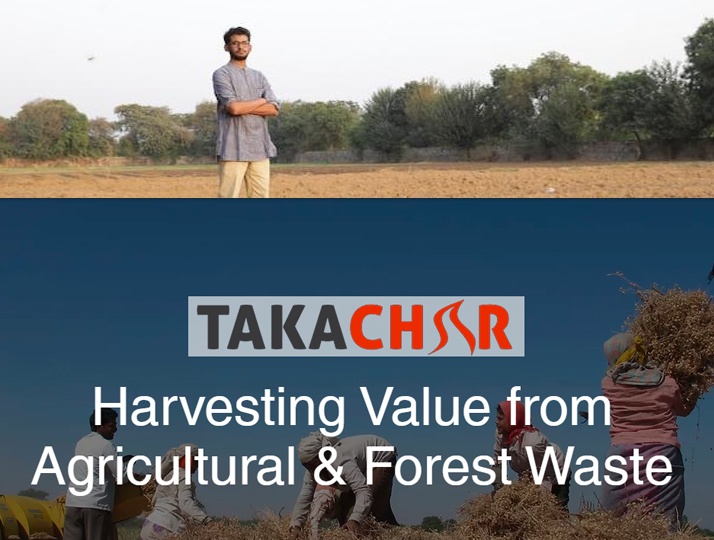 At Takachar:
At Takachar, rural farmers are given an opportunity to earn alternative income by converting their crop residues into useful chemicals like activated carbon (AC). This puts an end to burning the crop residue and also results in the manufacturing of biomass-based activated carbon replacing the fossil-based AC. By using small-scale, low-cost and portable biomass upgrading equipment; incorporating a concept called 'oxygen-lean torrefaction', the conversion of waste into solid fuel, fertilizer and other speciality chemicals is done, thereby reducing the carbon emissions resulting from the burning of crop residue. By the process of torrefaction, moisture and volatiles are removed from biomass and bio-coal is left behind. Further, the torrefaction reactors turn small pockets of biomass into products which can be re-used in agriculture. The process taken up by Takachar reduces the cost of logistics of hauling loose, wet, and bulky biomass. Charcoal is made from the rice husks, straw and coconut shells purchased from the farmers, thus creating extra income for them. Ever since its inception, Takachar has worked with around 5,000 farmers and processed 3,000 tonnes of crop residue. The amount of crop and forest residues that are being transformed into profitable products by Takachar is increasing every year.
Vidyut Mohan was awarded the "Young Champions of the Earth" 2020 award by the UN environment agency for his work to reduce air pollution associated with burning crop residue and also helping farmers increase their income. According to the UNEP, "by 2030, Takachar will impact 300 million farmers, create USD 4 billion/year equivalent in additional rural income and jobs, and mitigate one gigaton/year of CO2 equivalent". Wow! We see that working already! We wish Vidyut Mohan and his team great success in their path towards a cleaner and better earth.

Know More About Takachar

Follow His Work