An offer to feel refreshed to those who failed Class 10. Kerala entrepreneur has a big heart.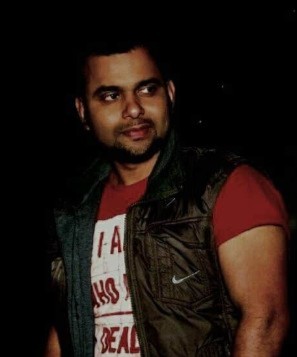 When Class X results are announced, sometimes, I feel like not tuning into any of the TV channels. The kind of announcements made about the toppers, their schools and their scores literally make me feel hopeless about humanity. Well, I don't deny the fact that there is consistent hard work and effort of students along with their parents and teachers. While their success should be shared with pride, it shouldn't go to an extent where it causes distress to those on the other side of the wall. When their ranks and scores are repeatedly telecast with loud music and announcements several times in a day, what would be going on in the minds of those who couldn't clear their exams for some reason? They get depressed, parents become dejected and they might show their dissent on the child, and the result? How many news articles have we been reading for years now about the students who are taking extreme steps because they failed in the exams? It is significant that we concentrate on the ones who need some positivity. All they need at that point of time is an assurance that life doesn't end with failures and there's a lot more to it. They need some breathing space away from the noise of results. That space gives them the most needed thought for better performance in future. When they are provided that space, they get a chance to introspect where they have gone wrong and can very well build themselves for the next time. That's what Sudhi Kodaikanal of Kodaikanal, India, has been trying to do. Some stories inspire us in such a way that we wouldn't even have thought in that direction ever.
Sudheesh K hails from Vadakara in Kozhikode. He is an entrepreneur and has been living in Kodaikanal since 2006 with his family. He has always been disturbed by how children are often compared to others in terms of everything – be it academics or co-curriculars. Sudheesh completed his Hotel Management course in 2003 after which he started his career at a resort. Sudheesh, though not an extremely rich businessman, is well-off in his way. From whatever he has, he wanted to do something about the way students are made to undergo stress at the time of results.
Offering His Homestay For Free:
If students who are going through distress are given time to isolate themselves in a serene place along with their families, both children and families get to spend some good time away from the societal pressure. It is there that families get a chance to speak to and motivate their children personally. In order to extend moral support to students who failed Class X exams, Sudheesh decided to offer free tourism facilities to kids and parents of Kerala. He shared this offer on social media and said that the place will help students feel refreshed. "The place is silent and away from all craziness. It is the ideal place to get away from all stress and get refreshed. It isn't like old times, during my school days. Then, a failure would be taken in its stride. Now, students are under tremendous pressure. And passing the tenth standard is a matter of prestige for the family. A little bit of time away from this stress can work wonders for the kids and their parents," he said. Sudheesh also arranged counsellors to provide guidance to children. He has three homestay properties each of which has a maximum of five-six bedrooms. He thus offered them for free. He also requested his friends to open up their properties for free for students when the results were out. "I am not a big shot but I would like to accommodate every genuine student from Kerala and his/her family. I have also sought help from my friends who have similarly agreed to open up their properties for these students," he said. As soon as Sudheesh posted this offer on social media, his phone kept ringing day and night.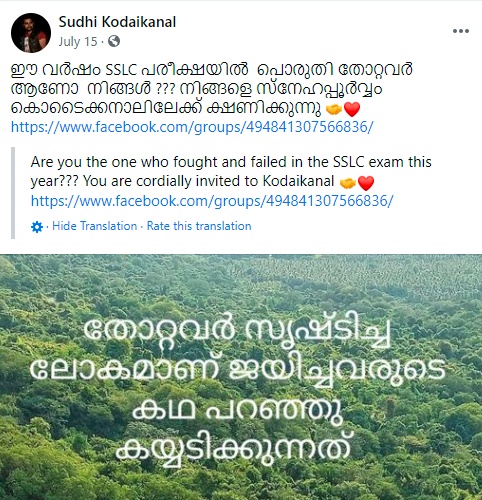 He has received numerous enquiries. He said that he received close to 500 calls and they kept coming even during the odd hours. He tried his best to answer them all and have also counselled the students. "I am not able to manage the barrage of phone calls. Some even call me at 1 AM or 3 and 4 in the morning. I try and console them that this is not the last exam they'd be taking," said Sudheesh. After the results were declared on 14th July, 2021, Sudheesh kept this offer open up to 31st July. He did not do this for publicity as he hasn't even mentioned the name of his homestay in his Facebook post. He said that the students should produce their Class 10 Certificate and should come along with their families for the stay.
What a cool idea! Hats off to Sudheesh whose idea is providing solace and time to think about the further plan of action. We wish students and parents use this opportunity in a positive way so that people like Sudheesh find it motivating to bring to the forefront, several positive initiatives like this.

Follow His Work