From a factory worker to Army Officer, the story of a Bihar man is inspiring. Hard work has no substitute.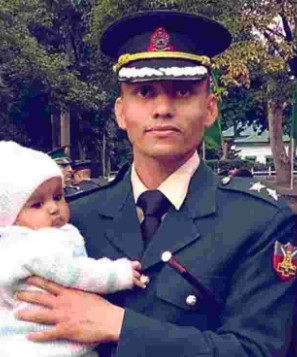 Success in life lies in determination and hard work" when Sudha Chandran said these words, I felt that they are true in her case. But going forward, when I got to see too many living examples adding spine to this statement, it gave me an affirmation that it's a universal truth. Recently, while I was flipping the pages of the newspaper, I came across a piece of news about the IMA passing out parade. Something interesting caught my eye and that's what has become the story of this page today. We bring before you the story of sheer grit and determination, the successful journey of an IMA pass out of 2020, Lieutenant Balbanka Tiwari.
On December 12th, 2020, the Indian Military Academy organised a passing out parade for its fresh graduates. In the parade, there was a 28-year-old epitome of confidence marching ahead with infinite dreams of serving the nation. While his mother, wife and his four-month-old daughter watched him, he waved smiles. However, behind the royal smile, there was seamless sweat that flowed from the vicissitudes of his teenage years.
The Years Of Sweat-shed:
Balbanka Tiwari, a resident of Arrah, Bihar hails from a financially weaker farmer's family because of which he had to venture out into the working arena much ahead of his age in order to add some extra cash into his family's small piggy bank. Tiwari was 16 years old when he left his hometown Arrah as soon as he graduated from high school to look for a job. He reached Rourkela in Odisha and joined as a worker in a factory where he cut iron springs and rods. He toiled hard for 12 hours every day and earned between Rs.50-100. He later worked at a Namkeen factory.
Working But Didn't Quit Dreaming and Trying:
Though Balbanka worked his bones out in the factory, he didn't give up on his dream of joining the Indian Army. He continued his studies and took tuitions to achieve his goal. His first milestone was achieved when he cracked the entrance exam of the Electronics and Mechanical Engineers (EME) Centre of the Army in Bhopal in his second attempt. He graduated to working there as a Sepoy in the following five years. During this time, he prepared for the Army Cadet College exam and cracked it in 2017. Thus, he raised his position from Sepoy to an Officer.
Sepoy Turned Into An Officer:
Balbanka finally graduated from the Indian Military Academy, Dehradun on 12th December 2020.
"I am so happy I will serve the nation as an officer. My father will pick up the newspaper in the morning and will likely tell everyone around that I made our village proud.", he smiles.
Tiwari's mother was overwhelmed with joy and her tears spoke everything about her son. She recollected how much her son went through right from his teenage years to support the family. His wife looked extremely happy and proud when Balbanka saw their four-month-old daughter for the first time that too on such a historic moment.
Dreams won't come true by fluke or when Aladdin's magic lamp is rubbed. One has to shower their honest efforts in making their dreams come true. Lieutenant Balbanka Tiwari's story is an outright example of the same.