Middle-men always benefit while the farmers remain helpless. This F2C biz is a boon to farmers.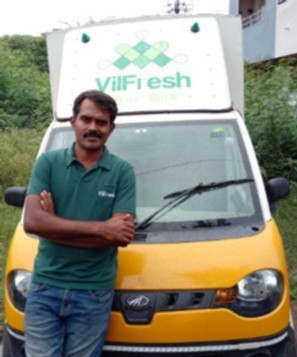 Selvakumar Varadharajan was a class 6 government school student when he argued with the mandi guy about the injustice his grandfather was being subjected to. Selvakumar's grandfather was paid Rs.60 for a basket of 15-kilo tomatoes. Selvakumar, who accompanied his grandfather regularly to mandies observed that the middlemen are paying less to the farmers while these tomatoes are sold at Rs.10 to 12 per kg to the customers. He then convinced his grandfather that he would sell the tomatoes himself while on his way to school. He used to start at 7 am and by 8:30 am, he used to sell around 30-40kg of tomatoes making close to Rs.400 per day. The old farmer who never got above Rs.150 ever for the same quantity, filled with joy looking at his grandson's salesmanship. He gave Selva around Rs.40 as his share.
"By the end of the month, I would have collected more than Rs. 1000," recollects Selvakuamar.
Well, who is Selvakumar?
He is the son of a farmer who hails from Tammampatti Village in Rasipuram, Salem district. He is the founder of Laymen Agro Ventures Pvt. Ltd. that works with farmers in and around Coimbatore and supplies quality milk and fresh farm products to the city population.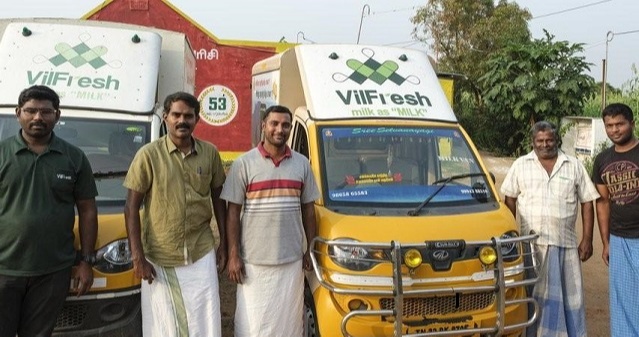 Born into an agricultural family, Selvakumar secured his Bachelors' Degree in Corporate Secretaryship in Coimbatore and finished Masters in Finance and Control from Bharathiar University. He also secured his M.Phil in Management from Periyar University. As soon as he finished his Post Graduation, Selvakumar started searching for a job and moved to Bengaluru in 2013. He joined the Accenture BPO as a Data Validation Associate but quit the job very soon as he didn't find it comfortable. He later took home tuitions and taught at a coaching centre for one year. For the next five years, he worked at ICFAI, National College as a Faculty in Finance and a Placement Coordinator. In 2009, he also co-founded a Business school 'BSBS Business Academy' but he sold that to his partners in 2013 after he decided to leave Bengaluru. He got married to Sharmila, who was a Business Analyst at TCS. The couple were blessed with a daughter, Shringa in 2012 and at that time, Sharmila quit TCS.

Experience That Germinated An Idea:
Sharmila was highly disappointed with the quality of dairy products especially milk they got for their daughter in Bengaluru. Even Selvakumar's parents who have an agricultural background were not happy with the products and could easily make out the difference in the quality. This seeded an idea in Sharmila's mind and she persuaded her husband to venture into a business that connects farmers with the consumers. That means, the products from the farm directly reach the consumers where there shall be no scope of adulteration. This gave rise to Laymen Agro Ventures Pvt. Ltd. in 2016 with an investment of Rs. 30 lakh, the duo decided to launch their venture in Coimbatore because of its closeness to the villages from where milk and farm produce can be sourced. What started with a business of Rs.8 lakh in its first year, today brings fresh agro-products from villages to urban population procuring an average of 1,800 litres of milk per day from around 100 farmers and delivers it under the brand name VilFresh (Village Fresh) to customers in Coimbatore witnessing an annual turnover of Rs 4.1 to 4.3 crore in FY 2020-21.
Layman Agro Helps The Laymen:
Selvakumar decided to be fair to the farmers through his venture.
"I always felt that farmers buy their inputs at a retail price and sell their output at a wholesale price, which is an unfair ecosystem. We just wanted to reverse it. Now, we provide the inputs needed by them at a wholesale price and buy their output at 40 per cent higher price than the market rate.", he explains.
Layman Agro Ventures helps farmers make a decent income by keeping the middlemen at bay and has also created employment for rural youth who earn up to Rs 37,000 per month through reverse migration. With more than 2,000 subscribed users, VilFresh products reach more than 100 apartments in Coimbatore. Their products are also supplied to star hotels like Marriott, and ITC Welcome. Selvakumar partners with around 100 farmers from the villages within a radius of 15km from Coimbatore. VilFresh customers, to order their products, use WhatsApp to communicate with the supplier.
Laymen Agro Ventures has also launched a VilFresh mobile App that can be downloaded from the play store.
The Source Of Livelihood - Employment Generator :
Layman Agro Ventures also sell idli/dosa batter, home-made curry powders that are procured from four women micropreneurs and 10 women homepreneurs spread in and around Coimbatore.
"The idli/dosa batter is made the previous night and reaches the customer the next morning with the time of packing printed on it, which we can proudly say is the first of its kind," he says. The company has women who make pickles, curry powder, chocolates, fried snacks, and even bake cakes at home on its board. So, along with farmers who produce milk, fruits, greens, vegetables, honey, and eggs, women who make idli/dosa batter, bread, paneer, butter, ghee etc at home also find their source of living through Layman Agro. The venture uses four Mahindra Jeeto leased vehicles and 40 two-wheelers - 14 of which are VilFresh-owned and the rest are leased. While the drivers of the Jeeto vehicles earn around Rs 37,000, the last mile delivery is taken up by city college students who are paid between Rs. 4,000 to 7,000 a month. These students get placements through Selvakumar's VilFresh Career Forum once they finish their education.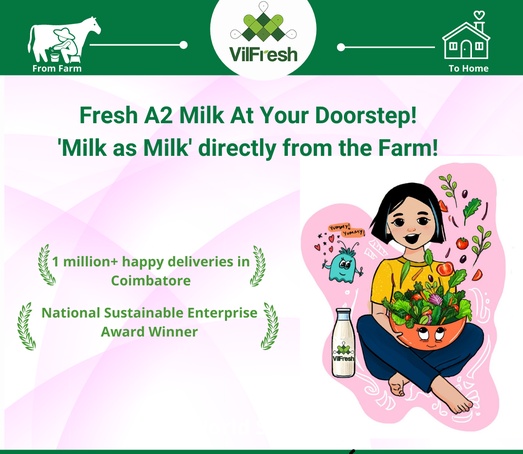 The Future Goals:
Selvakumar, who is presently operating his venture in Coimbatore plans to expand it to Tirupur, Trichy and Madurai in the following years. How well is the empire built that not just benefits Selvakumar's family but is taking other's lives to a next level in every way - be it because of its fresh farm products, or be it because of their loyalty and fairness to the farmers. Be it in empowering women or creating employment opportunities for the youth - Woah! This venture is an all-rounder. We wish this would achieve great success in the days to come.

Follow His Work