Juices served in the fruit shells with coconut leaf straws and varieties like never before.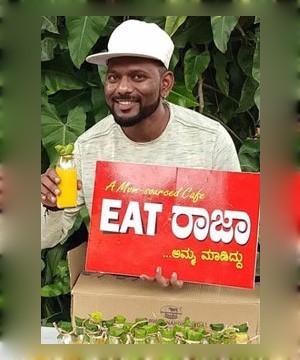 The proof of the juice is in the drinking.
You will surely fall in love with this unique, zero waste Juice Shop. One stop for all kinds of juices you would love to sip. Not just the traditional varieties of juices, you will be served with something that you will be amazed to see and thrilled to taste. Check out this special Eat Raja juice bar in Malleshwaram.
Variety Is The Spice Of Life:
Truly said!! Variety adds spice to the boring routine. Having dissolved this fact into every drop of his blood, Anand Raaj, a famous Radio Jockey hailing from Bangalore, redesigned his father's juice point. And there you go!! There arose a bombastic change in the menu card.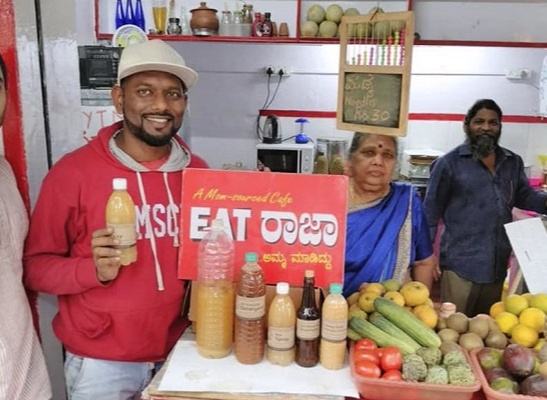 Along with the regular fruit juices, the menu showed a range of never-before juice options. Chilli Guava, Pine Melon, Sun Melon, Pink Dragon juice, Cucumber Lime, Papaya milkshake, bitter gourd, bottle gourd, capsicum, chilli and many to pen. It's your choice if you would like to add sugar into the juice or you can choose to relish the original taste of the fruit cutting down on the sugar.
Now let's look into how the juice is served!!
Uniqueness at its apex, this juice bar has a special way of serving the juice. Order watermelon juice and you will not get it in a glass!! Then how? You will be served the juice in a watermelon shell. What you read is absolutely true!!
First time in India, Bangalore's Eat Raja juice point serves juice in watermelon, muskmelon, sun melon, guava, apple, carrot, pineapple, cucumber,bitter gourd, bottle gourd, capsicum, chilli. The shells of the fruits are nicely carved into cups and thus the juice is served in such natural and colorful cups rather than the regular plastic cups.
How To Drink??
Okay!! The juice is served in the fruit shells. How is it consumed? Well!! They have straws made of coconut leaves!!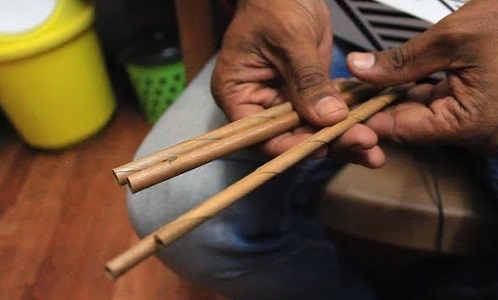 ZERO-Wastage Policy:
When we say that this juice bar follows the zero wastage policy, you might be wondering what would happen to the shells of the fruits after the juice is consumed. Well. Anand Raja has an innovative approach to this. He feeds these fruits shells to the animals. BINGO!! Also, the peels of citrus fruits are converted into bio enzymes and thus are used as dish washers and floor cleaners.
And guess what!
Take a CUP along with you and enjoy some of their best juices at just Rs.20. Solve the puzzles given by Anand Raaj and get to relish his ecstatic juice range.
Decades Legacy:
This juice bar is not a young start-up. It was born in 1970s and was formerly known as Karnataka Travelling Centre and Fruit juice. Over the years it moulded and recrafted itself to become what we see it as today.
Taste Food from the Mom's Kitchen:
Not just the juice, here at this Eat Raja Caffe, one can get to taste local South Indian Khana ranging between Rs.20 and Rs.100. Now who are the menu queens? None other than the expert mothers from Malleswaram. So now this serves as an entrepreneurial opportunity to those cooking queens. Wonderful part of this is that you can pay just half the price, if you get your own DABBAS (boxes) to collect the tiffin.
So, what are you waiting for?
If you wanna give some pampering to your taste buds with no water, no sugar and full of love juice, drag your feet to Eat Raja. Juice shops in Bengaluru are in fact learning to reduce waste and even offer varieties of juices.

Get the Directions to Eat Raja Juice Shop
Address: EAT RAJA No.320/2, 14th cross, Sampige Rd, Kodandarampura, Malleshwaram, Bengaluru, Karnataka 560003

Follow EatRaja For More Updates

CheckOut More Updates

Checkout His New Videos