Stimulate the Reading interest in children through simple narrations of complex stories.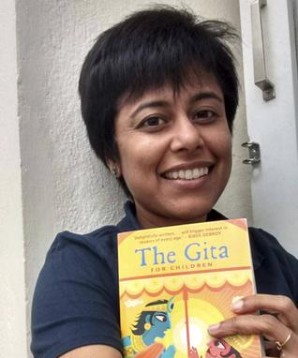 A Computer Engineer's Mission To Brighten up The Lives Of Children
To make future generations open to free spirited learning, there is a dire need to gift them the true essence of originality. Books are undoubtedly the best keys to unlock the doors of darkness, to walk towards light. However, many enlightening books are shackled by complexity making it difficult for children to understand and absorb their essence. Because of their complex nature, children do not even choose to pick them up for reading. When these complex concepts are simplified, they become accessible to children helping them absorb the juices of their entirety.
Here comes an instrumental hand that is working on presenting the young generations the true essence of everything around them, introducing to them the roots of their culture and belief systems, gifting them the aroma of adventurous fiction, instilling in them the seeds of imagination and creativity through her writings. She is ROOPA PAI, the Children's author, Freelance Journalist and the Co-founder of Bangalore Walks.

Who Is ROOPA PAI?
A computer engineer by chance, Roopa Pai is an author by choice. She finished her engineering degree and moved to Delhi after her wedding. Her passion for writing drove her towards writing for a children's magazine called TARGET. She moved to London where she has written for TRAVEL TRENDS magazine and was also commissioned by the British Tourism Authority to cover hotels and accommodations for the Indian tourists across the U.K. She later moved back to Bangalore and continued her journey as a children's writer, also establishing herself as a travel guide with Bangalore Walks co-founding the same.
What Turned Her Into A Children

'

s

Author?
Roopa was an ardent reader who discovered the magazine Target in her teens which had catchy stories depicting diversified Indian culture. This drew the eye of Roopa and she understood that the childhood in a country like India is more unique and special compared to that in the other western nations. She then decided to write stories holding Indian flavor to Indian children. After giving up her job as an engineer, she perched as a writer with Target.
The Creator Of Big Indian Series
:
One fine day, the publisher at Hachette India, Vatsala Kaul-Banerjee, having recognised the talent of Roopa in turning the complex ideas into simple ones for children, approached her to write a fantasy series for children. Then there emerged the Taranaut series.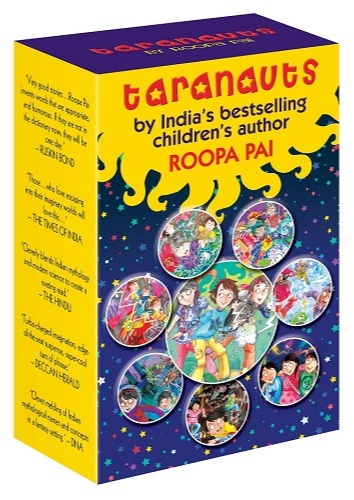 Click here to Buy the Taranauts series.
Roopa also took it as her duty to let Children understand that there is nothing purely white and purely black. She wanted to consciously infuse in them the grey areas of every concept. To put it simple, children should understand that there are no bad people in the world. It's all the circumstances that turn them into what they are and that they can be given a chance to become how they supposed to be. She also chose to work upon breaking the stereotypical mindsets and ideologies imposed upon children through this series.
The Gita:
"What about a Gita for children?" This unexpected question from Vatsala triggered a HOW question in Roopa's mind and she suspected her credibility for the task. After a few internal and external conflicts with the thought, she approached her husband's aunt for help who had explained the entire Gita to Roopa. Roopa finally sketched how The Gita is going to be for children-joyful, uplifting and easily accessible. She finished her writing process and for acknowledgement she sent the manuscript to Indian economist, author, bureaucrat and Indologist Bibek Debroy. His remarks gave a sigh of relief to Roopa. "'This must be published.", he said. The Gita for Children became the best seller. The Gita for children is a self-help book more than a holy book that mainly focuses on how to live joyously in the world.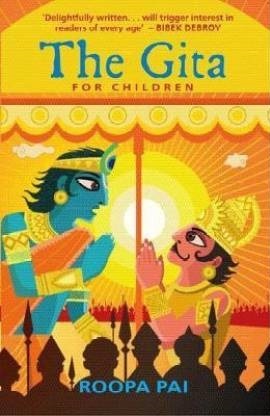 Simplifying The Ancient Scriptures :
The Vedas and Upanishads for Children is another marvel that leaped out of Roopa's pen. In this, she embarks children on a trip to greet the ancient thinkers and philosophers. The main objective of this book is to introduce children and the youth to that period from where the present culture and belief system have emerged. It gives them a knowledge of self-identity also helping them attain a broader perspective of the outside world. She says that the ancient scriptures are entirely secular and not about God at all.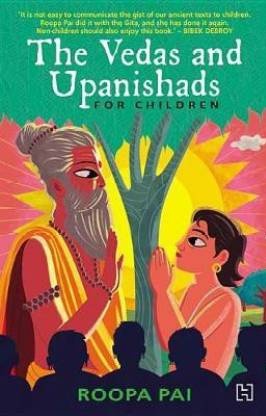 Children, children and only children
:
"What If the Earth Stopped Spinning?" , "So You Want to Know About Economics" and 20 such published childrens' books - the main idea behind all these is the same - to make complex aspects easily accessible to children. She was nominated for the Femina 2017 women award for her literary contribution.
A Takeaway
:
Not just writing for children, Roopa aims at giving the children the joy of reading and thus her brainchild, BOOKFIELD is born with the supporting hands of alumni of College of engineering, Trivandrum. BOOKFIELD has collection of books, computers with suitable learning content, board games and a craft corner for children. It is open to children under 15 years of age.
When children are guided in the right direction, future takes life. Kudos to the woman who is consistently working on this to help children flourish in every possible way.

BookField for more Updates