Not one or two but thousands of Pictures capture are so unique that she finally gets noticed.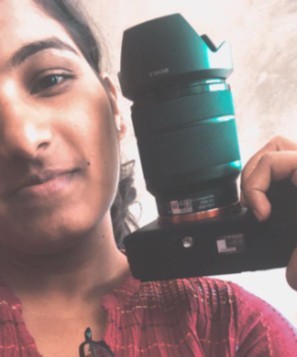 "There is a pair - girl and a boy, they could be friends but lovers, lovers but friends, friends to be lovers, friends but not lovers, friends who can't be lovers and the friendly lovers. Just stop brushing your opinions on any kind of people, they are only what they are!" How beautiful these lines are! Just above these lines, there's a beautiful picture that shows a boy and a girl sitting next to each other. As soon as we see a boy and a girl together, we form opinions. We think they are lovers, we give them grim looks and throw embarrassing expressions at them. But how well this picture is taken conveying that a pair need not be what we think always. "Let them be what they are!", it says. When Telangana's Vyshnavi Reddy Mittapelli holds her camera, she lets her captures speak what's right and just what's needed. An engineering student who has immense love for photography is creating waves in the photographic waters.
Girl From The Countryside:
Born to Jayanth Reddy and Varalakshmi into a farmer's family in a village called Laxmipur, Jagityal district of Telangana, Vyshnavi Reddy Mittapelli grew up in a place that's filled with serenity. Waking up to the kiss of fresh air, tapping feet in the cool flowing waters, celebrating the goodness of green cover, taming the cattle, smelling the wet soil and smiling with the smiles of innocent people - all these are what Vyshnavi experienced as a child. Vyshnavi grew up in a small village that housed people with advanced mindsets. She is currently staying in Hyderabad and is pursuing her final year of Civil Engineering course at Gurunanak Engineering College.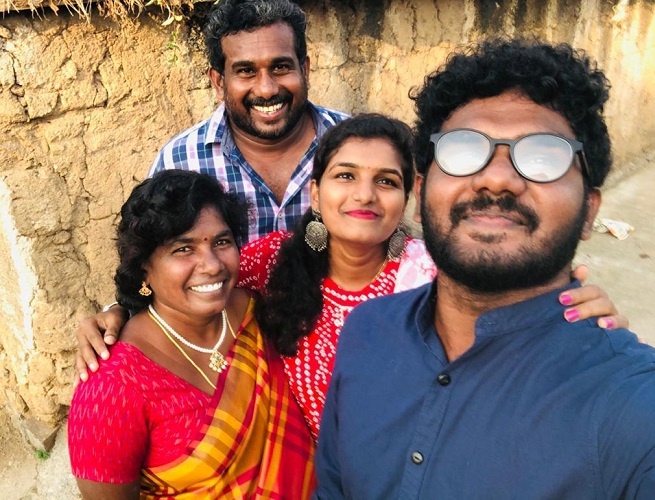 Photography - A Means To Capture Memories:
Vyshnavi was drawn towards photography when she noticed how moments captured can become sweet memories bringing smiles to people's faces whenever they are revisited. Moments cannot be re-created but memories can be preserved when they are beautifully captured. Vyshnavi fell in love with photography for this very reason. Initially, she started with clicking and locking people's smiles in her camera with an aim to give those best moments a tangible place to stay. As she went on capturing people's emotions, she started to feel fulfilled for the reason behind being their smiles. People would go back to those significant moments through the door of her photography and smile - this gave her bliss. What started with capturing people's smiles and preserving memories, slowly took the shape of telling stories through pictures. Realities of life found their place in her photography. She started to share, question, empathise express grief, satire and roar through her photography. A proud shutterbug with close to a thousand pictures in her bag today, Vyshnavi has a story to tell with each of them. From nowhere to where she is today, she says, "Everything in between has shaped me into the person I'm today".
When Pictures Have A Lot To Say:
When a baby in her pink bathrobe sits in front of the mirror admiring her beauty, Vyshnavi emphasises that beauty is all about little things. "Not every time moms go mad when their kids ruin the kitchen platform. They enjoy it instead before the little one grows up" - a perfect picture where a little girl is seen smiling after defacing the kitchen steals your heart. You shouldn't miss on her page, the picture of a small boy using his four limbs to crawl who remains to gaze at an old man's three legs (two legs and a stick) which clearly speaks about the cycle of life. A picture that shows the pain of a girl being molested, dips your soul into shame for being an atom in this society which says, "women get raped, but not men raped them". When you see that a simple picture of a boy playing hide and seek has so much to tell about life, you can't stop clapping at Vyshnavi's frame of mind. "The weight of the stories she carries makes her bend into a curve", says a photograph that locks the wrinkles on a granny's skin - just slip through the waves on her skin and you are sure to go hug your granny the next minute. What more and how much more do I write about each and every pearl she studded on her Instagram handle? Allow the honey dripping through her captures to sweeten your soul - Find her magic in Instagram reaching out to "thepixelvoice".
Recognition Follows When You Follow Your Love:
Vyshnavi is still carving her identity as a photographer. When Under 25 GNI featured her story, it took her confidence to the next level. When she was given the first wedding photography assignment, her trust in herself grew a million times stronger. Having 3000 people following her on Instagram, she knew how well her work is being lauded and takes it as her responsibility to keep the love going. All this doesn't weigh her head but surely weigh her shoulders adding more fire to her burning passion. It's not about perfect shot always, but it's about being candid.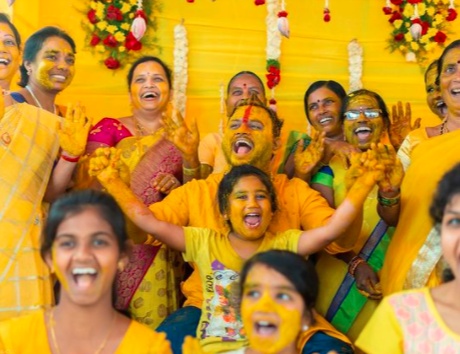 Grateful To All The Support:
Vyshnavi, who says that she doesn't own a camera to date owing to tight finances, thanks to her friends who support her by lending their camera for every photo shoot. "I'm so lucky to have my co-photographer friends who encourage me by lending the camera for every shoot, and allow me to explore the world better through the lens.", she says. She doesn't fail to name those who have always been with her to date in her journey. "Special thanks to my amazing models Bhuvna, Navya Naidu who made the page beautiful and who consistently promote my page on their social media platforms. I also thank my co-photographers Mani Kanta, Rishi Preetham, Sri Harsha and Shiva Narayana who lend me their camera and allow me to explore better by showing a path every time I had self-doubt. All my friends Nikhila, who writes for my page,
Ashritha, who encourages me and holds my back, Sahithi, who believes I have great potential within me has been my superwomen. Their support and help have taken me to a place where so many people feel proud looking at me today.", she puts it with humbleness.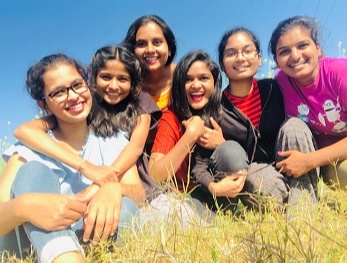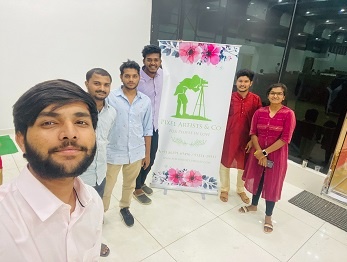 Follow Your Passion:
Vyshnavi, who looks forward to setting up her own wedding company and wants to stand as an inspiration to other female photographers who deserve better recognition, advises everyone that following passion is very important. "Once you do what you love, you'll inevitably fall in love with what you do. It is all interrelated. Though it doesn't seem like a cakewalk, you'll keep growing at each step consistently.", She says. This budding photographer who wants to capture stories from around the globe asks youth to dream of infinite possibilities. "Tell the stories you always tell and give people another reason to smile.", She concludes.
If at this very age Vyshnavi could accomplish so much as a photographer, we are sure what she could do in the years to follow.

Follow Her Work