Dubai born Indian sings in 102 languages to spread The Melody Of Music.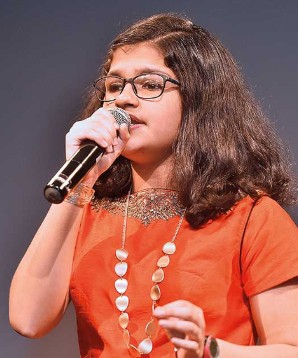 Art is a way of life. Not only does it enrich the beauty of living but also ensures the physical and mental well-being. Art is an emotion that mirrors the lifestyle and culture of a place. Music is one such Art form. If this music is used to lift the spirit of different nationalities? If one voice reflects the tones of various continents?
SaReGaMaPa!!!
Let's tune to the world of Sucheta.
It was 25th January 2018. The walls of the Indian Consulate auditorium in Dubai were amusingly looking at the unique Indian genius, the 12 year old singer Suchetha Satish. We have seen singers exhibiting versatility. But the uniqueness of Sucheta is that she is a multilingual singer. Multilingual, it's not four, five or ten languages. She sings absolutely in 102 languages. Yes!! 102!! Born in India to Dr.T.C. Satish and Sumitha Ayilliath and being brought up in Dubai, this musical masterpiece also has her sway in dance.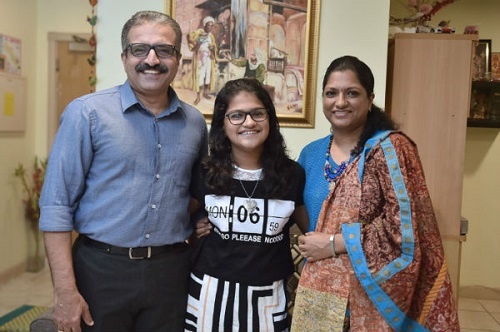 Universal Language
Music is said to have known no boundaries, so is Suchetha's determination to sing in multiple languages. It all started when one of her father's friends visited their place and had sung a Japanese folk song. This attracted Sucheta and she picked up the language, learnt the song and thus the journey to embrace music in different languages began.
A dive into her little world:
This little grandmaster who loves to read extensively, enjoys art and craft and is enthusiastic in learning new languages. Started receiving the training in Carnatic music at the age of 4, she has also appeared for the level 3 examinations in Hindustani music. Her fingers roll excitingly over the keyboard and guitar as well. She sings in Indian languages like Hindi, Sanskrit, Malayalam, Tamil and 18 others. Her first foreign language song was in Japanese and later she set forth to sing in Arabic, Tagalog, German, French and 73 different other languages.
If we love what we do, nothing seems arduous. Certainly, the passion for singing in multiple languages has made learning a happy-go-lucky activity for this young girl. She finds it a little difficult when it comes to learning songs in German, French and Xhosa. But her passion towards reaching her milestone made it a bed of roses for her. In this process, her mother helped her choose the songs that are presentable. It's impossible to carry the exact feel of the song to the listeners without knowing it's meaning. So, it's very important for Sucheta to understand the language thereby the meaning of the song to provide it, its true essence. The songs that Sucheta renders sprinkle the traditional fragrances of different continents. This super champ who considers Lata Mangeshkar and Shreya Ghoshal as her role models is aspiring a career in medicine like her father.
This little champ who broke the record of Ghazal Srinivas is now giving a message to the world that -
"When you treat something differently, it leaves an everlasting imprint"

Follow her