Kid who fought Bullying received the Global Child Prodigy Award. Here's why.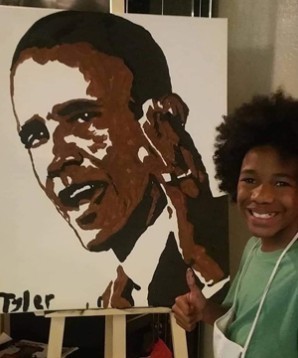 When a kid is bullied by his friends, he runs to his parents and seeks comfort in the lap of his mother. Father assures the child and sends him back to the school after speaking to the school authorities. The kid then goes back to school but then if the bullying continues, he stays back behind his parents again. This is something that happens to almost every kid at some or the other point. But Tyler Gordon didn't run back to his parents when he was bullied by his fellows. He stayed. He persisted. He fought back not with his muscle but with his skill. Today when he became the Global Child Prodigy, all those who bullied him once started looking at themselves questioning their own abilities. Let's take a look at the inspiring story of a 14-year-old boy, Tyler Gordon from California.
A Bad Welcome into the World:
Tyler Gordon was born in San Jose, California. His life is a hornet's nest. He and his twin were born prematurely at seven months to Nicole Kindle. "The doctors told me that my twins aren't going to make it.", recollects Nicole. While his twin brother was safe, Gordon was born deaf and remained deaf until the age of five. He underwent a surgery post which he was able to hear through one ear. Unfortunately, because of the operation, he began to stammer. As he stumbled over his words, he was subjected to severe bullying at school. He was also diagnosed with Vitamin D deficiency that resulted in an emergency, landing him in the operation theatre yet again. This time his hips were knifed and he was confined to the wheelchair for over a month. When the doctor told young Tyler that he cannot play basketball or football anymore, the earth underneath him sank.
"I was crying," Tyler recollects.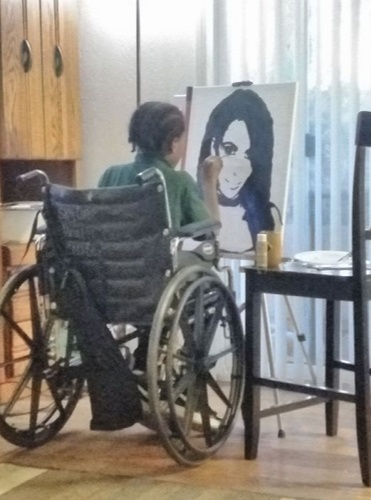 Brush Is His Stress Buster:
Tyler who endured extreme physical and mental pain right from birth was never de-motivated by anything that hit him on the face. He discovered his love and skill for painting early in his childhood. He started holding the paintbrush and painted every thought he found appealing. By the age of 10, he already painted the portraits of more than 60 celebrities including Barack Obama, Jay-Z, Beyonce, the Beatles, Jennifer Lopez, Alex Rodriguez, etc. This self-taught painter never left the brush behind even when he was on his wheelchair. He found comfort in painting. A sense of being worthy of something hugged him with pride when he painted.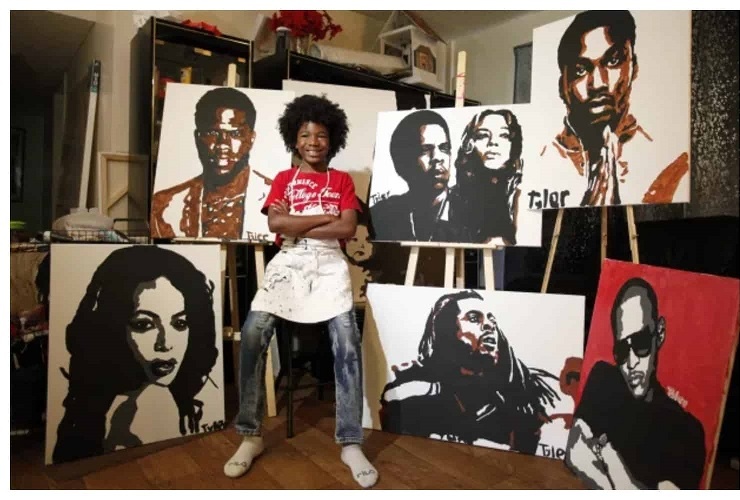 The emergence of an Entrepreneur From An Artist:
Tyler wanted to finance his paintings and so he decided to sell his works to make money. Thus, he started his career. The boy whose confidence is crippled quite often by his fellow mates resorted to building himself up with the help of his artistic flair. He did not at once start selling his paintings at higher prices. Like an experienced and skilled entrepreneur, he devised a plan. He started to promote his artworks first. He loaded his work on social media platforms like Facebook, Twitter, and YouTube and he started getting the recognition that increased his fan base and followers day by day. This resulted in selling dozens of his work online. What started with as low as $10 per work rose multiple times as the boy's work gained popularity.
Tyler - A Celebrity:
In July 2018, Tyler appeared on Steve Harvey's show, "Little Big Shots," He also appeared in San Jose's Juneteenth celebration at Plaza de Cesar Chavez. That day, he went on to live-paint for several hours and the stamina he got was only from one baloney sandwich. He sold more than 40 paintings that day.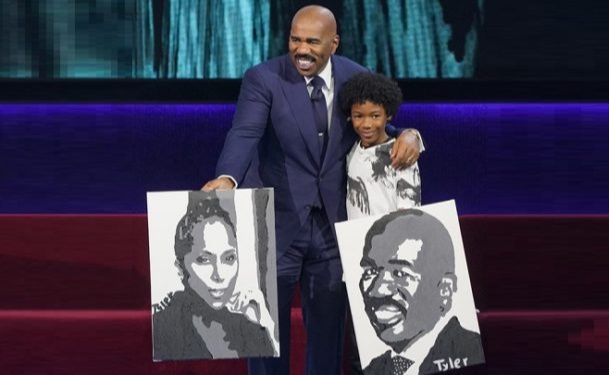 Love from the Favourite Star:
Tyler Gordon has a deep love for basketball ever since he was a child but as his medical condition didn't allow him to play, he followed the game and Kevin Durant (All-Star basketball player) is one of his favourite players. A life-changing moment happened one day when Kevin Durant's mother contacted Tyler and offered him to buy one of his paintings for $100. The boy's joy had known no bounds as his talent started making others happy.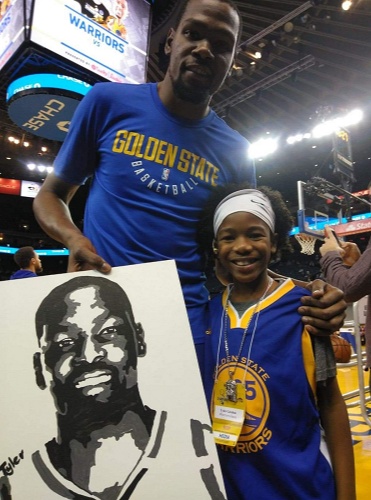 The Child Prodigy:
Tyler Gordon was presented the Global Child Prodigy Award, the world's first and only award ceremony solely dedicated to recognizing unique and talented children. Tyler Gordon won the award under the category of art in 2020. Moreover, he was amongst the Top 100 Prodigies List of 2020!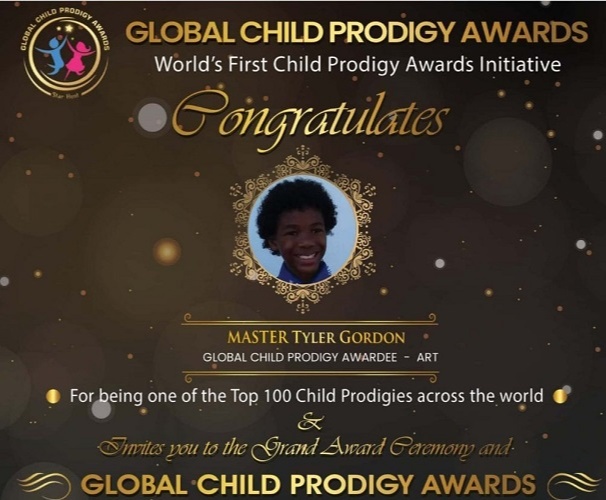 Tongue-Tied:
Having subjected to bullying as a child, Tyler knows how deeply it can affect someone. So, Tyler has set himself on a mission to help kids fight Bullying. He founded the "Tongue Tied" foundation that helps kids to fight and face bullying. Isn't he inspiring?
We wish this young boy with immense resilience continue to inspire and uplift many in his way.

Follow His Tweets