Divorce papers used for a Wedding Gown. What's the message and purpose by 15 yo school project.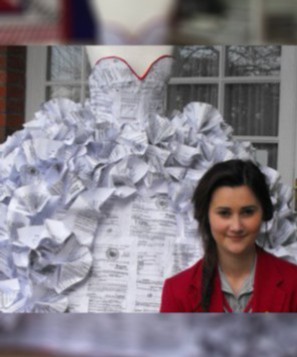 ''This was an incredibly ambitious piece and it took courage, patience and tenacity to see this through from concept to final piece". When the Head of Art at Demi's school, Claire Davis said these words about Demi Barnes, it's not an exaggeration. Whoever takes a look at Demi's work would surely quote the same. Well, without creating much ambiguity about what I'm referring to, let me take you into the details. I hope no one has forgotten the iconic elaborate wedding dress of Diana, the Princess of Wales. Inspired by it, a teenager has designed a wedding dress. That is not all. This wedding dress has something to tell all of us. "A wedding dress with a strong message". How many weddings are lasting forever? Aren't the weddings being decided in a haste, performed in a haste and at the end, are being ended abruptly? What time is it taking for the new couples to call off their relationship? Rushing into the marriage and then ending up getting divorced quickly has become the most common phenomenon. A teenager from England decided to address this very concern by turning it into the concept of her final exam project. Her innovative and unique thought spread like wildfire across the globe and she has been receiving huge appreciation from netizens. Let's take a look at Demi's incredible story.
The Project With A Cause:
Demi Barnes was 15 years old and she hails from West Sussex, England. She studies at Lingfield Notre Dame School in Surrey. For her school art project, she decided to design a wedding dress. Inspired by Diana, the Princess of Wales' wedding gown, Demi resolved to design one of such type. But she thought of making it a little different instead of giving it just a wedding dress status. She wanted to deliver a potential message with her design. She mentioned that she wanted to "create a wedding dress with a meaning". Demi initially thought of designing a dress with paper. For that, she considered using magazine cut-outs. However, she didn't find any purpose in doing so, as she wanted to convey some potential message. The concept of people rushing onto marriage and then ending up divorced too quick caught her attention. She then decided to get a wedding and divorce – the two opposite poles together- into her design. She thus settled her thoughts upon designing a 'wedding dress' with 'divorce papers'.
1500 Divorce Papers – A Strong Message:
With no intention to turn down the concept of marriage, Demi's only wish was to let people understand the importance of marriage. She wanted to convey that marriage is not trivial and must be taken seriously. People who are getting into wedlock, she says, should proceed only if they think that they can make it forever. To convey this message through her design, Demi made serious brainstorming of how to proceed. I didn't really know how to do it at first. It was quite a challenge," Demi said. As she is just 15 years old, she couldn't get the real divorce papers. So, she filled out a divorce form that she downloaded from the internet and printed 1500 copies of it. It took her two school days - close to 10 hours to design the dress. With a trial-and-error approach, she first constructed the bodice with wire and then folded the papers stapling them on the bodice. She mentioned that, out of the whole process of dress designing, folding the papers artistically and creatively was the most challenging and time-consuming part. During her 10-hour-long exam at the school, she designed this "message-oriented wedding gown".
`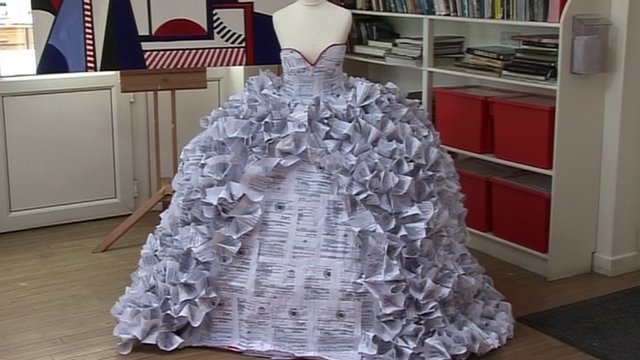 Immense Liking And Appreciation:
Demi Barnes posted a picture of the dress she designed on Facebook so that her cousin who lives in Italy would see it. However, she didn't expect that this Facebook post of hers would make her the most famous designer. The pictures went viral on social media with more than 47,000 likes and 1500 shares. She has collected more than 130,000 hits on Tumblr. She started to become famous and her work began to receive immense appreciation. Many brides began to ask Demi to design a wedding dress for them. Also, major designers have reached out to her to inquire about her work. ''When I put it up on Facebook, it was just to show my cousin in Italy what I'd been up to. Within a week, it had had over 40,000 hits and people were approaching me to design their wedding dresses", she said adding, "Major designers have asked for copies". Talking about her outstanding achievement, the Head of Art at Demi's school, Claire Davis said, "Demi became charged, like electricity, when she had the idea for the dress. This was an incredibly ambitious piece and it took courage, patience and tenacity to see this through from concept to final piece". The headmaster of Lingfield Notre Dame, Richard Bool said, "I'm extremely proud of the work Demi and the entire Art Department have achieved this academic year. It is also a pleasure to see the power of social media working for a student in a positive and responsible way". The dress is kept on display at the school. When asked about what Demi would do with the dress in future, she laughed and said, "My mum would like it at home but it's not an easy thing to move around, and we'd probably need to remove the front door!"
Demi Barnes, the passionate girl who is driven by fashion and design said that she is looking forward to establishing herself in the industry. "I am hoping that someone will approach me with a work experience placement so I can turn my passion into a career.'', she said. School projects bring out the best in students. But not every student will think critically and creatively. The one who does so creates history. We wish more conscious designs fall from her artistic mind and may all of them gain love and acceptance just like her first one.