Discards RO and goes back to the age-old technique to purify water and tells people to go back.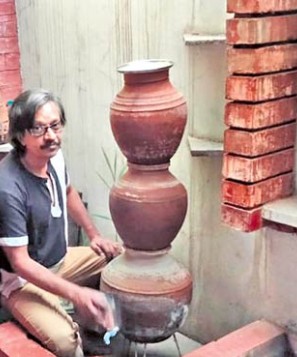 Okay. Let's re-post the water purification process that we all have learnt in school. Yes. It was there in our science textbooks but hardly anyone of us paid attention to it. Let's revisit the process once.
Take three earthen pots of the same size. Take coarse sand, the one that is used for construction, Gravel, and charcoal.
Setting Up The Filtration System:
Start with washing the pots thoroughly and fill two of them with two cups of water. Allow it to settle for 15 minutes and then drain the water. Next, pierce holes in the pots at the bottom using a sharp nail without the use of a hammer or a drill. (the pot may break). Now take sand, gravel and charcoal, wash them thoroughly, and let them dry in sunlight for a day. This process can be repeated for three days or until the elements are clean. Once they are ready, fill the topmost pot with equal quantities of gravel and sand and arrange the charcoal pieces evenly upon the mixture by ensuring that the pot is filled to half or less than half. In the second pot, fill sand and gravel in equal quantities (more in quantity as compared to the first one) and place charcoal pieces evenly over the mixture. The quantity of charcoal pieces also should be slightly more than that in the first pot. The total mixture must cover up to half or three-fourths of the pot. Now place the pots over a stand and pour water into the topmost pot. Wait until it reaches the last pot. It takes 20min and purified water is ready for consumption.
While we all have studied this process of filtration back in our elementary school, none of us followed. We run behind RO plants to filter the drinking water. But we don't realise that these filtration systems also remove vital minerals from water along with purifying. Also, there's a lot of water wastage that happens during the filtration process along with the consumption of much electricity. But, 54-year-old MV Ramachandrudu from Hyderabad very well understood the effectiveness of this process. He, along with his family that comprises his wife and 26-year-old son consumes water that's purified in this way. Rather than depending on technology-based products for water purification, this man embraced this effective method and has been following it for years now.
A Civil Engineer's Water Filtration Practice:
MV Ramachandrudu is a civil engineer by profession. This environmentalist also volunteered with an NGO called Wassan that focuses on water resource management. During his journey with Wassan, he was involved in many studies that dealt with how RO water and canned water are purified. He understood that while RO purification robs the water of its vital minerals during the purification process, canned water is not purified properly at all. "Purification of drinking water is about removing harmful bacteria and not removing essential minerals. While RO water may remove these harmful bacteria and pathogens, it can also strip vital minerals present in water. Canned water is sometimes purified recklessly or irresponsibly that does not remove any impurities.", he says. While Ramachandrudu drank municipal water supplied by the government all his childhood, he was pushed to buy water cans when he came to settle in Hyderabad's Nagole area. As there was no Municipal water supply, people bought water cans. Also, the municipal water, even if available, was often contaminated due to the faults in supply lines. In addition, there were sewage leaks in pipes as well as the pipes also turned out to be dirty due to improper maintenance. Thus, Ramachandrudu thought of a solution to this pressing problem and found out that sand filtration is the best instead of canned water or water from RO systems. "During that time, I came across stories about there being sewage leaks in those pipes, and some being dirty without maintenance. While thinking about alternative solutions to get access to potable water, I decided to tap into the most effective but least used method – sand filtration.", he says.
Thus, along with his son who was in class 9 back then, he made a sand-based water filtration system using three pots. "In that system, we feed in rainwater collected from the terrace or tap water, and have pure drinking water within 20 minutes.", he explains. Ram says that the pots must be cleaned or replaced and the materials must be changed every six months to one year for effective filtration.
Isn't it quite effective? Purified water with no additional costs of electricity, no problem of water wastage, and no deprivation of minerals. Instead of spending thousands of rupees on non-effective systems, how wise it is to shoulder such practices that provide wholesome benefit. We wish that more people follow the footsteps of MV Ramachandrudu so that no house has people succumbing to water-borne diseases just because they cannot afford expensive filtration systems.