Why was this award winning young engineer successful in running a dairy farm?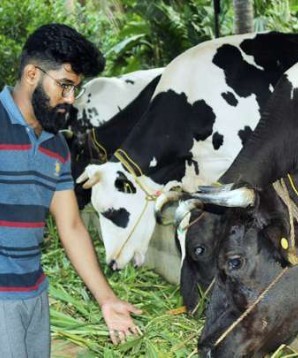 Well, there are many dairy farms and numerous people ventured into dairy farming so far. Not everyone taste success. For many people, dairy and poultry farming have gifted nothing but bitter experiences. Where does the mistake lie? Animals falling sick and being vulnerable to diseases or improper management? When I came across Jamsheer's story we realised how passion and love towards what we do can create wonders. Jamsheer's story is different from the other dairy farmers in many ways. From being very young in age to make such big thoughts to being an engineering graduate for having chosen dairy farming, everything he did for his farm, his business and for the cattle sets him apart from the lot. Let's know how this educated dairy farmer became the father of animals in his farm.
Theory and Practicality:
Jamsheer is a 25-year-old B.Tech graduate who hails from Malappuram, Kerala. Having grown up in a family that's associated with cattle, Jamsheer always had a love for animals especially cattle. With this passion, he thought of getting specialised in dairy farming. Thus in 2013, after completing his class 12, he joined the Dairy Diploma course offered by the Kerala Veterinary and Animal Sciences University in Wayanad District. But he very well knew that the theoretical knowledge is not sufficient in itself without practical experience. So, he bought five goats and two cows and developed a mini-farm at his home. He applied for financial aid through the agricultural department but it was rejected. However, with his own efforts and family's support, he continued without taking a back step and increased the number of cows he owned to five. After completing his diploma course, he cleared the entrance for the Dairy Engineering College of the university through lateral entry. Thus, he started his B.Tech course while continuing to work at his mini-farm. His acquaintances and relatives advised him to continue with studies alone as farming might distract him from studies. But Jamsheer, who always believed in a practical approach to the theoretical knowledge, didn't leave his farm behind. During this time, when Jamsheer was busy with his exams and assignments, his mother, father, brother and uncle helped him in taking care of the farm. Finally, Jamsheer successfully graduated from the University bagging practical knowledge as well.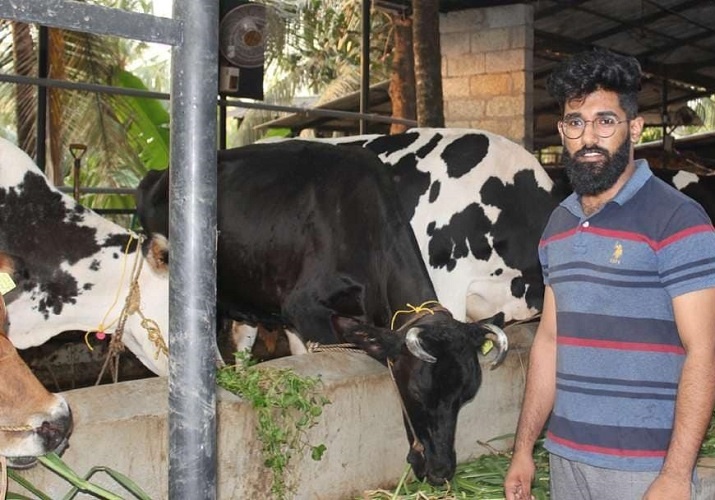 Steps to a Bigger Venture:
In 2017, Jamsheer opened a PCM farm in Kizhissery district of Kerala with the help of family as well as through some loan. What started as a mini-farm now grew mightier with 40 cows, 28 of which produce 300 litres of milk every day. In the farm, Jamsheer has different breeds of cows like Holstein Friesian, Jersey and another hybrid breed which give up to 15 litres of milk per day. Some cows also produce more than 30-litre milk per day.
Care For Animals - The Way We Care For Humans:
Cows in Jamsheer's farm are fed with nutrient-rich food consisting of hybrid Napier grass that Jamsheer himself grows in his farm. They are also given corn powder, bran, cottonseed cake and probiotic mixture.
The grass cultivation is a major factor that influenced the success of his farm, says Jamsheer.
The farm has been installed with an automatic water bowl system to provide the cattle with fresh water always. Mist cooling system and ceiling fans are found on the farm so as to keep the heat in the farm at bay. To allow the cows to take rest, rubber mats are spread on the floors. Melodious music is played the whole day except during the milking time. Who doesn't love music? Cows on the farm also enjoy the melodious songs played and this; Jamsheer says enhances the animal's mental health thereby boosting milk production. Milking machine and chaff cutter are also available at the farm. The cattle are given regular exercise too by allowing them to graze around the 2.5-acre farm. Also, the new cows are kept in quarantine for three weeks and are allowed to join other cows only after ensuring their good health and fitness in order to prevent the spread of diseases like Theileria and Anaplasma. Regular vaccination is given to the cattle. Above all, insurance coverage is also been given to the cattle through the government's Gau Samridhi and Gau Samridhi Plus schemes.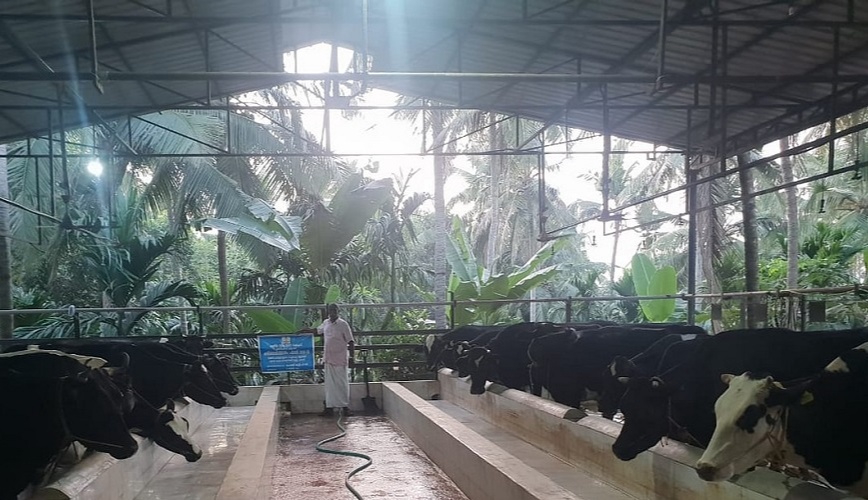 More than Just A Dairy Farm:
The dairy farm includes a cow dung processing unit and biogas plant for waste management. The processed dung is used for organic farming which is again a part of Jamsheer's dairy farm. The waste management system that PCM farm has is the first of its kind in the panchayat to get a government license. Besides the dairy farm, Jamsheer also cultivates banana, yam, taro, pumpkin, green chilly, cassava, bush orange and other crops around the land. Local chicken and ducks are also grown on the farm. Jamsheer has two Rottweiler dogs that guard the farm. Thus Jamsheer's farm is a wise combination of animal husbandry and organic farming. For this innovative approach, Jamsheer bagged the award for the best dairy farmer in the panchayat.
A Fruitful Farm:
After deducting all the expenses like the labour charges, cow feed, electricity and treatment, close to around Rs.4000 can be saved per day. A net profit of around Rs. 1 lakh can be earned every month. About 80 litres of milk is supplied to the locals at Rs 60 per litre. With the help of the Kerala Co-operative Milk Marketing Federation (KCMMF), he reaches out to small houses and other towns to sell off his milk through the milk supplying unit called Milma. Jamsheer invests the profit he earns for the expansion of the dairy farm.
Future Plans:
Jamsheer plans to launch a dairy plant that processes milk and manufactures milk products that come with his own brand.
Small scale dairy brands have wide acceptance among the locals, he believes.
When he could do so much being a student, now, after he turned into a full-time entrepreneur, where is the scope for scepticism about his success? We wish he creates a good balance between animal husbandry and organic farming also creating employment to many.