Diana Award for Bengaluru's teen. Donate a Sole to save a Soul is driven by an empathetic soul.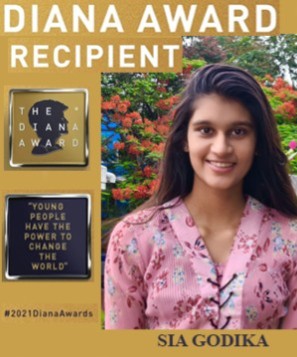 A teenager from Bengaluru has collected close to 15,000 pairs of footwear since November 2019. Before asking anyone else to contribute footwear, this teenager set her to drive into motion right from her house. She and her parents were the first ones to donate their unused footwear. She later proceeded to apartment complexes and gated communities, requesting them to donate their unused footwear. "We get slippers, sandals, football shoes, men's wear, and women's wear which is later segregated into different boxes"., the teenager said. But what is this all about? Why is she collecting footwear and sorting them? The answers to such questions can be found in Sia Godika's story. This teen has not only WOWed the nation with her philanthropic work but also became the proud recipient of The Princess Diana Award. Let's know more about her work that gained the admiration of the Royal house.
A Minute Observation, The Mammoth Step:
Born on 31st August, 2006, to Vidya Laxman and Salil Godika in Charlotte, United States, Sia Godika studies in Grade 10 at Neev Academy. This teenager loves baking, swimming and reading. She loves to pamper pets, especially, dogs. Ever since childhood, Sia had an empathetic eye. She always thought of possible solutions for people's sufferings. One day, when she was 13, Sia observed that the construction workers around her house were working barefoot. She also noticed that their children were strolling in dirt and dust without footwear. When she dug deep into this, she learnt that numerous people like labourers, street vendors and people in slums work and wander barefoot without paying attention to the terrain and its conditions. Her further research into this revealed that "according to WHO, over 1 billion people worldwide suffer from foot diseases due to their lack of footwear. In India itself, 88 million individuals cannot afford footwear which leads to health problems. This exacerbates the existing poverty cycle as adults cannot continue working, and children suffer from developmental challenges". Deeply saddened by the fact that walking and moving barefoot leads to serious health hazards, Sia wanted to extract a solution to this. She looks at herself and the way she uses her footwear. Buying too many pairs and leaving them to the gust of air, she felt guilty when she thought about those who are not able to afford a single pair of shoes. Like her, there are in fact many. According to statistics, 350 million pairs of footwear are discarded annually. Sia brainstormed for a solution and that's how, in 2019, her movement, Sole Warriors took birth. "I would often discuss this with my external fitness teacher, Arjuna Awardee Reeth Abraham who motivated me to learn and understand more about the problem when I decided to start the initiative 'Sole Warriors' as the solution in November 2019.", mentioned Sia.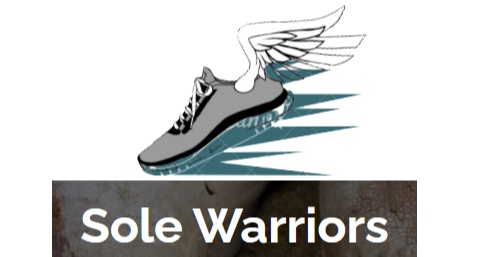 Gifting Soles To Souls:
Sole Warriors is a non-profit that is aimed at gifting footwear to underprivileged barefoot warriors. This is an initiative that breathed its first in 2019 after realising the significance of footwear for the healthy feet of the underprivileged. Sia aims to provide footwear to the needful by recycling those collected from the privileged sections of the society. Sia's Sole Warriors has in it, a group of like-minded individuals who are moved by the alarming number of people without footwear. While millions of people don't have shoes and suffer from foot diseases and allergies, there are millions of others who discard shoes that are still in good condition. To achieve her mission of providing footwear to the underprivileged, Sia wanted to poise this imbalance. "I did some research and found that millions of people contract diseases by walking barefoot, while 350 million footwear is discarded by privileged households and some are just stashed in cupboards unused," Godika said. Her Sole Warriors is an initiative to recycle the shoes collected from the ones who have them and distribute them to those who don't. In this process, Sole Warriors minds of the UN Sustainable Development Goal of good health by reducing the contraction of foot diseases by providing good quality, recycled footwear. The initiative asks people to donate their unused shoes with the main motto as "Donate A Sole, Save A Soul".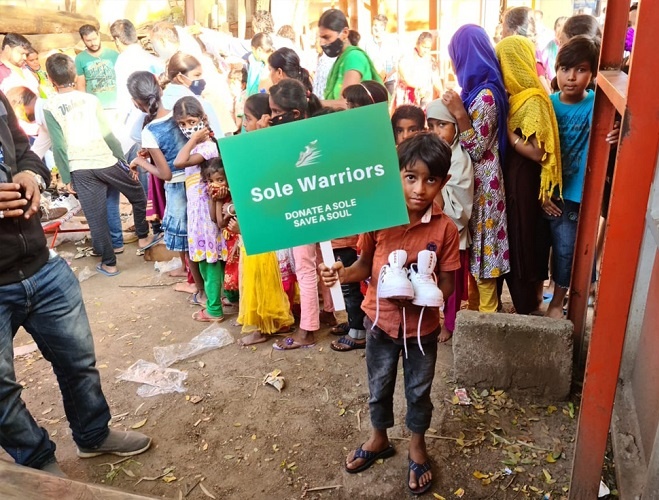 Owing to the pandemic, as many people were staying at home, numerous pairs of footwear were lying unused. Knowing about Sia's initiative, they started to donate them for her cause.
All one has to do is to pick a pair of their unused shoes that are still in good condition, clean them and put them in a box. Either the individual can become a Sole Warrior and collect shoes from their area or drop their boxed shoes in an ongoing shoe drive where the shoes will be collected by the volunteers of Sole Warriors. Once the shoes are collected, they are taken to the cobblers who mend them. They are later given to the NGOs who further distribute the shoes among the needy. Sia has been working with several groups to recycle the shoes and distribute them. "I started new chapters in Chennai and Mumbai which are currently not active due to not having a strong volunteer base. But I wish to spread it further and bring the like-minded together and help those in need.", says Sia. Sia has collaborated with social organizations like Ploggers' Army, Robin Hood Army and the Rotary Club. She has also collaborated with a cobbler services company, Presto Cobblers to recycle the footwear. She also runs her own warehouse in Koramangala where the footwear is sorted into different boxes.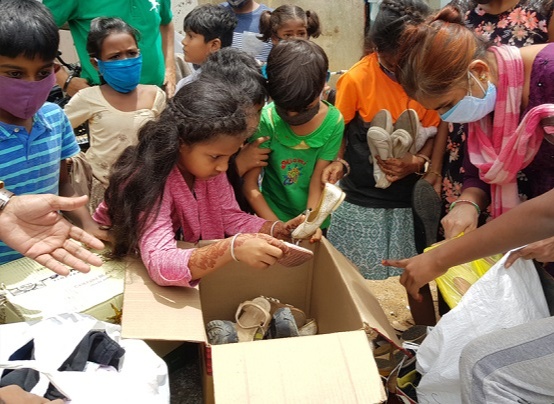 Making People Self-sufficient:
Sole Warriors is not only aimed at gifting soles to the barren feet, it is also bringing food onto the tables of the differently-abled helping them to become entrepreneurs. After recycling the shoes, selected footwear is given to the individuals with special needs who sell them and earn a livelihood. "They were filled with joy with their first earnings and we were filled with immense gratitude to be a part of their journey towards self-reliance", Sia said with happiness gleaming on her face. So far, Sia and her team collected 15000 shoes, and Sole Warriors has 50 volunteers spread over two cities touching 85 communities. Sia says that they move ahead with the "Indian Ploggers Army" headed by Plog Raj, as their main base. Talking about the volunteers who, Sia terms as the pillars, she says, "The volunteers, also known as Sole Warriors, are the backbone of the movement. Without them and the other partnering organisations, Sole Warriors wouldn't have gained this much momentum and definitely wouldn't have been able to touch 20,000 households. So special thanks to them!"
A Global Recognition:
For her selfless contribution towards solving the most neglected concern, Sia Godika has been awarded the prestigious Diana Award. Given in the memory of Diana, Princess of Wales, the award is presented by the charity of the same name and has the support of her sons, The Duke of Cambridge and The Duke of Sussex. She received the award through a virtual ceremony on 28th June, 2021 for bringing change and trying to improve the lives of others. Prince Harry, the Duke of Sussex, was also present at the ceremony. Sharing her views about receiving the award, she said that she was nominated by her teacher without her knowledge. "It is an honour to receive the prestigious Diana Award. The award will provide a platform to build a movement in every city as well as reach our goal of helping one million feet. I am very grateful to our volunteers without which Sole Warriors would not be a reality," she added.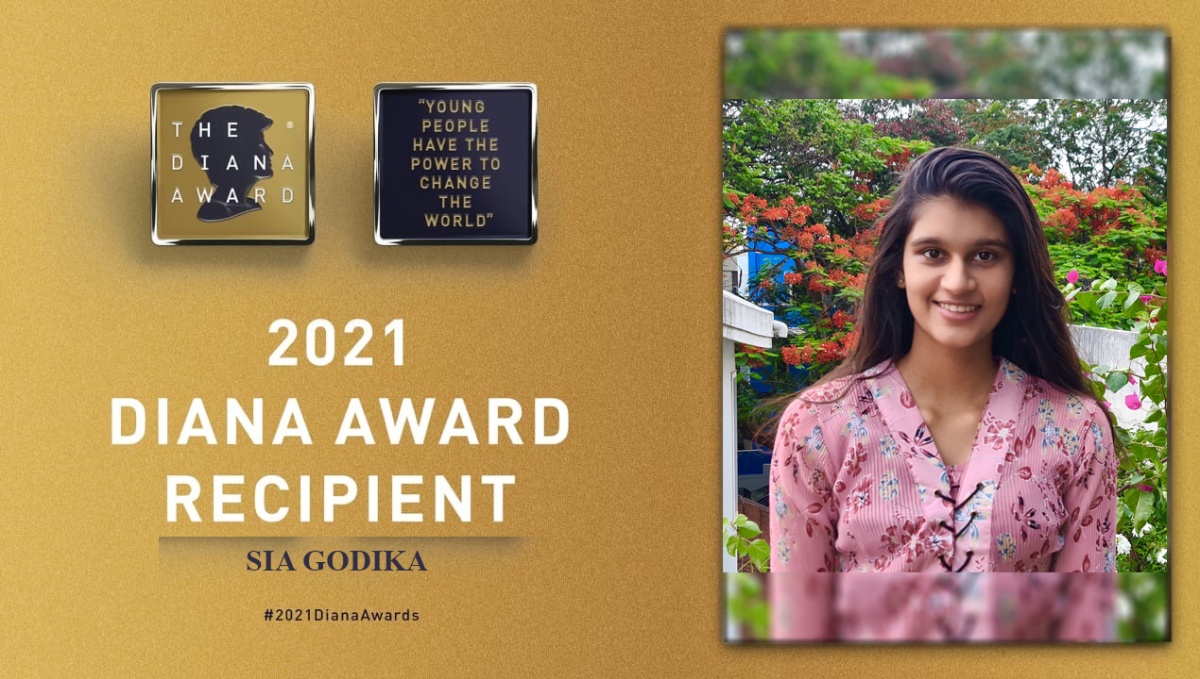 The Road Ahead:
When asked about what she is looking forward to in the years to follow, she said that she is still exploring what she would like to do. "I definitely want to give back to society", she tells BOA. She is also on a mission to take the Sole Warriors movement to other nations. "We are already discussing prospects for the movement to spread to Monrovia, Liberia (west of Africa), Great Britain and Singapore. I am also passionate about dogs so I want to help strays especially during covid times", she concluded.
From being branded as impulsive to behaving sensible and empathetic, teens are re-writing the stereotypical notions laid on them for ages now. Who had thought of the blisters on the feet of the underprivileged but for this young and vibrant girl? At a very young age, she thinks so much of giving back to society.
The highest form of knowledge is Empathy.
For Any Further Queries, ReachOut To Sia Godika.

siagodika@gmail.com

+91 9742835911

Know More About Sole Warriors

Follow Sole Warriors

Follow Sia Godika