Delhi teen desings a device to detect cattle theft. He worked as a brand ambassador for Entrepreneur Cell of IIT Kharagpur.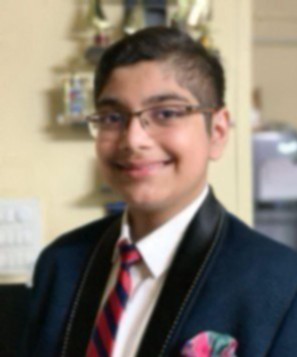 "The strongest people are not those who show strength infront of us, but those who win battles we know nothing about" - 14-year-old Venayak Singh kickstarted his speech with the above quote when he was invited as one of the speakers to Dr. Kiran Bedi's Live Book Reading and Interaction With Children. When someone quotes something, it means that they firmly believe in it. Venayak need not tell us in words, that he is strong by thoughts and actions. His works and the accolades that follow speak for him.
"A calm and composed face that bears no sign of impatience, stability in expressing thoughts and the bulldog spirit to create something new and useful" - these lines paint a perfect picture of Venayak Singh, the young innovator who studies in Sri Venkateswar International School, Dwarka, New Delhi. Just listen to him speak about anything related to sciene, new technology, innovations, etc. without actually seeing him. You are sure to wrongly conclude that some established entrepreneur or a scientist is giving away the lecture. But he is just 14 years old. With amazing public speaking skills, this mastermind behind some great innovations is registering for himself, some of the reputed national and international records. Hailed a couple of times by the Government of India, this champion made his way to establish world records as well. Keeping awards, recognition and all fame aside, one best thing about this lad is that "he thinks for the society". The neurons in his brain keep constantly working on deriving solutions to real-time problems faced by people in the society, especially the farmers.
An Out-of-the-ordinary Child:
Born to Dr. Mukta and Mr. Dal Singh, Venayak Singh was an inquisitive child since the beginning. While other toddlers and kids of his age watched cartoons, Dr. Mukta says, Venayak would watch documentaries. Though he hadn't understood them initially, he still insisted on watching them to the surprise of his parents. While the other kids would either play with or break toys, Venayak would force open them to understand their mechanism. Ever since childhood, Venayak has been inquisitive about the Whats and Hows of things. He often sought out answers and out of undying thirst for learning, he would research, learn, experiment, create, fail, re-create and stand up. Giving up was never in his dictionary.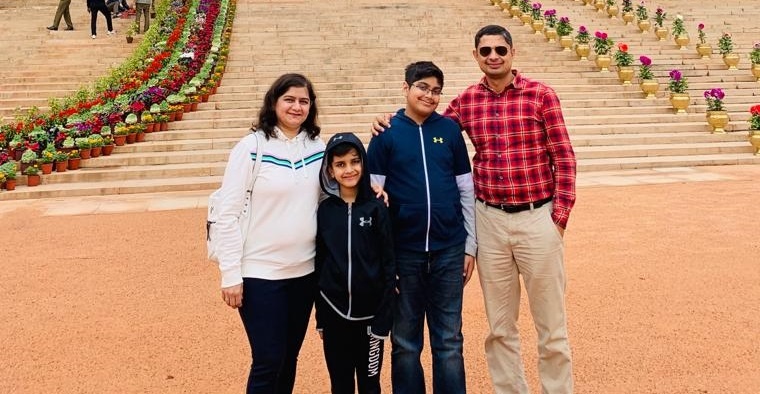 A Mindful And Sensible Innovator:
If someone is keen on creating something new, then it should carry a purpose. The creation should be of use to others, should solve an existing problem, must be easy to use, accessible and affordable. It's hard to believe that Venayak, not even a high school pass-out, bears all these in mind whenever he sets to create something new. Love for creating germinated in him when he was in Grade II - thanks to the legos kit he bought from Walmart. His love for creating legos shaped his creativity over the following years. His passion for innovation received the required fuel during his stay in Boston, U.S.A., where he got to take part in several science and technology-related projects. He was pursuing his elementary schooling when he already created Tesla Coil, Crystal Radio, Raspberry pi, Text To Speech Synthesizer, Apple Button, Shock Wire Game and several other lego projects.
When he was in Grade 7, this boy astonished everyone by completing his Jr. MBA, post which he signed up for two internship programmes with the renowned Samsonite and BMW Infinity car. He also stood as one of the finalists in the All India OIS startup idea championship for business plan pitching organized by IIT- Roorkee. He was just 12 years old then. He won for 'The Most Organized Deck' in the same event. Most recently, Venayak was also selected as an ambassador for Entrepreneur Cell in IIT Kharagpur. He was the top performer in two micro marketing projects there. Venayak exhibited his sensibility as a social innovator when he designed a device for cattle theft sensing.
He has also filed a patent for this in the Delhi Patent Office on 19th January, 2022. Apart from this, he is a great orator and a debater. Having successfully completed the Junior CEO and Junior CMO programmes, he was also certified from Google for studying and submitting case study on Data Analytics. Venayak has also completed SQL for Data Science from the University of California, Davis (USA). Venayak was one of the panelists in several conferences where he spoke about an array of topics including the Importance of Science in everyday life.
This technology enthusiast spoke to Wonder publish magazine in which he, besides appreciating the job being done by global technology giants like Apple, Google, Tesla and Amazon; didn't mind to highlight what corrections they need to look in for. His suggestions to the tech heads seemed just right!
The Recognition That Followed:
Venayak holds a record with the International Book of Records for his innovation as the youngest to make a device that helps in detecting cattle theft. Venayak was also honoured with the Inspire Manak Award for technology and innovation from the Department of Science and Technology of Government of India and was also granted a scholarship of Rs 10,000. He was recognised as one of the Top 100 child prodigies of the world.
He is also the recipient of Global Kids Achiever Award 2021 and the Junior Star Award. He also bagged the most coveted Literoma Junior Star Award. Venayak was conferred with the Bal Pratibha Samman Award for his outstanding achievements in technology and innovation. He was recognised in attempting for a couple of categories by the Guinness World Records including the 'Most Viewers for a nutrition lesson livestream on a bespoke platform".
He is an outstanding orator and has won numerous prizes at national level in Debate, MUN, Youth talks. At just eight years old, Venayak earned the EAA membership during his training at the Young Eagles Rally where he proved his calibre as the co-pilot of a jet in 2017. He was also featured on their website and magazine. He also became a member of the Academy of Model Aeronautics (AMA) in 2019. And note that these are just a few out of his numerous scholastic and co-scholastic achievements.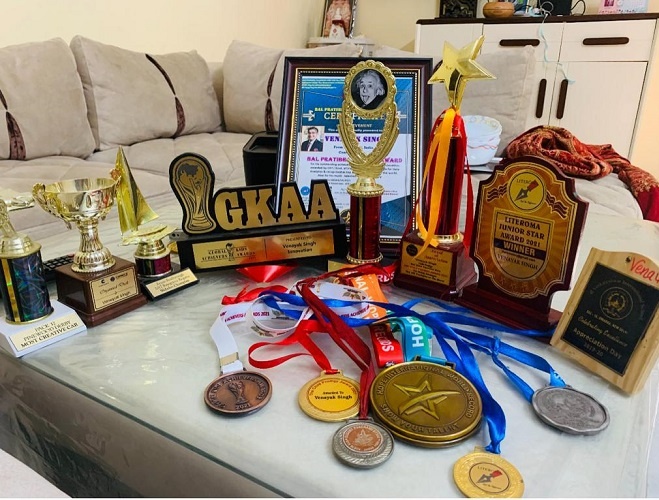 No Pressure, It's A Journey Of Sheer Pleasure:
Oh yes! While people clap for the teenager's accomplishments, they can also bite their lip pointing out to the pressure that the boy must be undergoing.
"The journey so far was so exciting and is not hard as people might think", Venayak says. Of course, when you are passionate about what you do, no challenge is difficult.
His parents have never pushed him to do anything. All they did was to recognise his innate ability to learn and create, thereby providing him the right resources and environment. Venayak mentions that he is thankful to his parents for supporting him in all ways. Dr. Mukta, his mother, sees the boy as an upcoming entrepreneur doing his best for the upliftment of the society. She envisions just what her son ideates. Fascinated by tech advancements of the day like the crypto currency, NFT, Elon Musk's biotechnological feat Neuralink etc., Venayak has so much to do in the years to come and team BOA wishes him good health, happiness and success.

Like and Subscribe For More Videos
Also Know About Vardan Singh :
8 YO publishes 2 books, contributes to betterment of society. Dr Kiran Bedi is all praises.