Test, Trace, Track, Treat mantra successful for Ghatne Village to be COVID-free. All prepared for the third wave.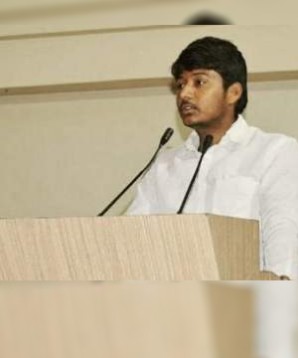 Leaders are born, they say. But leaders are made! They are self-made in most cases. Present day youth watch World Test Cricket, binge watch movies on Netflix and Amazon Prime, go to eat outs, long drives and enjoy night life. Still, they come back and think of what's needed. They observe the world around them, they investigate, analyse the concerns, brainstorm about the issues, come up with possible solutions and work for the advancement of the people. Present generation is into everything. While you see them bunking college and slipping to a movie, you also see them working tirelessly to change the face of their downtrodden village. Some are choosing to become social entrepreneurs while some are choosing politics and power to bring about change. One such "just-out-of-college" lad is striving hard to make his village Covid free. He also received praises from the Chief Minister of Maharashtra recently. He is Ruturaj Deshmukh, the youngest Sarpanch of Maharashtra.
Lesser In Age, Bigger In Responsibility:
Ruturaj Deshmukh is 21 years old and belongs to Maharashtra, India. He pursued his Bachelor of Science degree in Chemistry from the Savitribai Phule Pune University (SPPU) and was graduated in 2020. Post his graduation, out of interest to serve the people, he contested in the local elections. Though there were challenges, he could gain the trust of the villagers who elected him their Sarpanch. Thus, 21-year-old Deshmukh has become the Sarpanch of Ghatane village in Mohol taluka, Solapur. Determined to change the face of this backward hamlet, Ruturaj Deshmukh set to work immediately. It was then that this youngster was challenged by corona pandemic testing his potential in saving his people from the virus.
The Unflinching Leader:
Ghatane is a small village with no basic amenities. The small hamlet doesn't even have access to a primary health care centre. Ask about a covid care centre, it is about 20km from the village. At around 10km away from the village, there is a Public Health Centre at Narkhed or the villagers have to travel to the tehsil place of Mohol which is 20km away. In such a situation, the death of a father and son in April 2021, due to covid shook the villagers with fear. At the time when Deshmukh took charge as the Sarpanch, the scene in Ghatane was different. There were no COVID-19 cases reported from March 2020 to April 2021. When, in the first week of April, two patients lost their lives, Deshmukh plunged into action. The first challenge before him was to calm down the villagers who were trembling with fear. Ruturaj used his intelligence to deal with the village that has a population of 5000. He started with a drive called "Be positive and keep our village Covid negative". The villagers responded positively to the drive. The young Sarpanch then launched a five-point programme - Tracing, Testing, Treatment, Vaccination and Adherence to COVID- Appropriate Behaviour.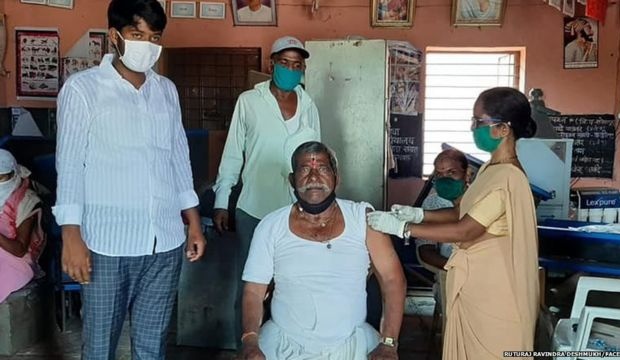 He involved all the panchayat workers, youth volunteers, health workers in the program. "My mantra was to be positive in outlook with confidence that we can keep our village free of coronavirus," Deshmukh said. Residents who had to travel outside the village for work are randomly tested. The outsiders who enter the village are quarantined for three days and are made to undergo Rapid antigen test. The ASHA (Accredited Social Health Activist) workers were given the task of visiting every house in the hamlet to check the blood oxygen level and body temperature of the villagers. The villagers with blood oxygen level below 92 are shifted to either isolation centres or to COVID Care Centres in Mohol taluka. Also, corona safety kits that include a face mask, hand sanitiser, disinfectant,and vitamin tablets were supplied to the people. A steam machine was made available at the gram panchayat office that can be used by anybody in need. Police were deployed to ensure that people are following covid norms. Fines were imposed if anyone broke the protocol. With his tireless efforts, Ruturaj could make his village Covid free.
Praises From The Chief Minister:
The Chief Minister of Maharashtra, Uddhav Thackeray showered praises on Deshmukh for his outstanding contribution towards making his village Covid free. He also called other sarpanchs to derive inspiration from the young leader. When asked about how he felt with the Chief Minister's appraisal, Deshmukh said, "The chief minister may have mentioned me in his address but local political opposition remains. There is no difference at the political opposition at the state level or village level". While overcoming challenges like ignorance of people, lack of basic amenities, shortage of vaccines, etc. Deshmukh emerged as the best leader and started being loved by all.
Doesn't Rest His Spine:
Ruturaj Deshmukh who says that micro-management will help eradicate coronavirus in villages, states that though the village is covid free now, he is not going to relax. He has a long to-do-list for getting the village ready to face the third wave of the pandemic. Deshmukh said that the gram panchayat is planning to set up a 20-bed isolation centre which will be also accessible to patients from neighbouring villages and a paediatrics task force will be set up with two doctors in the village. "I also want to make Ghatne the first fully vaccinated village in Solapur district with the state government's help," he said.
Young leaders are emerging. India! Smile. Smile with pride that your children are leading you towards a brighter tomorrow. May many more youngsters like Ruturaj Deshmukh come to the fore to change the face of Indian politics.