Thousands of villagers wait for their 87 YO Cycle Doctor to treat them especially during Covid...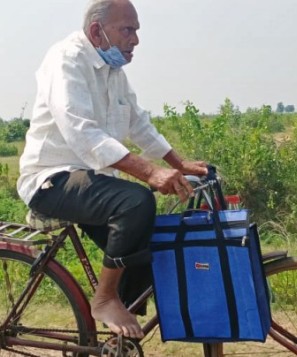 He is an 87-year-old whose day begins at 6.30 am. He rides his bicycle without footwear and spectacles with two bags of medicines and some testing kits. He returns home by 1.00 pm. This routine that has been continuing for the past 60 years where he goes to see patients living in the villages located in remote areas hasn't changed to date. As many people living in the remotest areas cannot afford their treatment at the hospital, this man treats them at their home. He is Ramchandra Dandekar from Maharashtra and his story of service inspires everyone.
They say that doctors are equivalent to gods. Ramchandra Dandekar is a walking example. He walked into the lives of the sick and the distressed and has been treating them free or at minimal costs. This 87-year-old man acquired a diploma in homoeopathy from Nagpur College of Homeopathy in 1957-58. He belongs to Chandrapur district, a remote and highly dense forest area in Maharashtra. After finishing his diploma, Ramachandra worked as a lecturer at the Chandrapur Homeopathy College for a year. One of his acquaintances requested him to go work for the sake of rural communities rather than working in the cities. Ramachandra Dandekar liked the idea and agreed to it immediately and ever since then, this homoeopath has been serving the tribal patients selflessly. Chandrapur, a remote and highly dense forest area, that houses tribal communities has barely any good transportation. To reach the villages and people, the only way to travel is either on foot or on a bicycle. To take care of the people inhabiting these areas who cannot afford expensive treatment or going to hospitals, Ramachandra Dandekar ventured on his bicycle.
Years Of Selfless Service:
Ever since Ramachandra Dandekar decided to serve the tribal communities, he has been travelling to the remote villages on his bicycle treating those who cannot travel to big towns and cities to avail medical facilities. He has been travelling for at least 10km every day to villages in Mul, Pombhurna and Ballarshah talukas, providing doorstep medical treatment to people. He climbs on his bicycle with no footwear or spectacles but with two bags of medicines and test kits. He does not even carry a mobile phone or a watch while visiting the villages. If he has to attend to patients in faraway talukas, he travels by bus. "And if he gets late, he chooses to stay back at someone's house. Everyone calls him ''Doctor Sahab Mul waale'' and he visits around 20 homes in each village," his son Jayant Dandekar says. What starts at 6:30 am continues till 1 pm. Sometimes, when it is required, he again goes in the evening. "I have not disturbed my routine for the last 60 years," Dandekar said. In a service that has been continuing for the past 60 years now, Ramachandra Dandekar has treated thousands of poor and tribal patients. Wondering how much he would charge? In an era where doctors who come to city hospitals by cars charge thousands and lakhs from their patients, this cycle doctor doesn't make it compulsory for his patients to pay. "It's not mandatory to pay; it depends on a person's ability.", he says. The wellness of the poor and the destitute is all that this good Samaritan wants.
कुछ लोग दुसरो के लिए ही जीते है...

Ramchandra Dandekar, a 87 yo homoeopathic doctor in Chandrapur district Maharashtra. He travels 10 km barefoot from last 60 years on his bicycle daily to provide medical treatment to needy people without any cost.@ActorMadhavan @IshitaYadav pic.twitter.com/NyadiuAkkk

— IMShubham (@shubham_jain999) October 24, 2020
Pandemic Is Not A Problem:
In these bleak times, when coronavirus pandemic has been shaking the world, Dandekar feels that his responsibility has doubled. Instead of staying home, he continued his journey to the remote villages serving the poor. Even in the pandemic times, his door-to-door medical service didn't cease. "My routine is the same as before. I want to continue to provide selfless service to the poor in villages.", he mentioned. "He guides and advises people to get admitted to nearby hospitals if they are found suffering from fever or other symptoms of the virus," says his son.
"I am 87 years old but not tired, and nor do I want to rest. I want to serve the people; that gives me immense energy," Dandekar said.
When young people complain and crib about many things in life, this 87-year-young is showing how age and luxuries don't matter when it comes to discharging one's duties.