Why did this man collect more than 120,000 cigarette butts. You may stop smoking after your read this.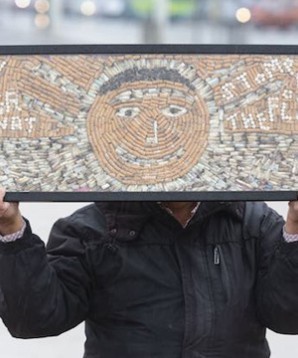 Cigarette smoking is injurious to health - we all know this. We also know that the habit of smoking that an individual has, is injurious to other's health as well. We also know that discarded cigarette butts don't decompose and are harmful to the environment. But how many of us thought that it is also effecting the marine life in the worst possible way? Of course, with no point of shock, we should understand straight away that the discarded cigarette butts, when gulped by any marine creatures pose serious threat to their lives. How many times, how many ways are people warned about cigarette smoking and waste disposal? A 69-year-old England pharmacist collects all those disposed cigarette butts and uses them to promote the idea of No-smoking. He expresses his anguish for the people who are not only putting their own lives in danger by smoking but also is landing the whole of his surroundings in danger. His unique approach is undoubtedly attracting everyone's attention and let's take a look into it.
The Problem:
Smokers, who blow rings out of the cigarette butts only think of the fun they experience but not of the consequences. They don't realise that what they are smoking through, the filters, are made of plastic NOT cotton. That means, the person who smokes past the filter is actually smoking plastic. Often, tobacco companies make smaller filters so that smokers don't smoke the plastic by accident which means more tobacco is discarded as waste. This discarded tobacco is full of chemicals that is not good both for humans and animals. When people throw these cigarette butts near the water bodies, they are sure to reach the waters and chances are extremely high that they pollute the waters. Also, the seagulls tend to pick this waste up to build their nests. That means, a smoker is causing damage to his own health, the health of others, the earth as well as to other creatures around him!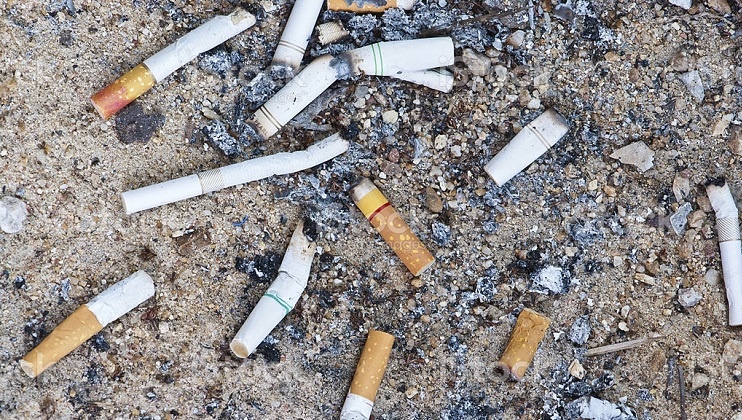 The Waste Collector:
Negweny El Assal is a 68-year-old retired pharmacist who has been collecting cigarette butts ever since his childhood. As per his statement to the BBC, he picked up the habit while he helped the homeless children in Egypt. When he moved to Blackpool, he noticed that quite a lot of cigarette butts are being discarded there. Blackpool is a tourist hub and is also prone to commuters discarding waste - mainly the cigarettes. He wanted the tourist spot to be clean and tidy. Thus, he continued to pick up cigarette butts from the place. The council has also provided him with the required equipment to help him in his mission. "When it is raining butts become moistened and release chemical content then seagulls drink such water and I was crying from deep in my heart and insisting there would be no more cigarette butts in Blackpool," he told in an interview. El Assal very well knows about the toxic chemicals inside each butt and he doesn't want them to effect the seagulls. When he saw a seagull drinking water from a puddle filled with these monster toxins, the cigarette butts, and the harmful tobacco, he decided to set into action.
What About The Collected Waste?
Negweny who has collected more than 120,000 cigarette butts from the streets of a seaside resort turns them into works of anti-smoking art. Yes! You got that right. El Assal makes beautiful and enlightening pieces of art with the discarded cigarette butts to promote the idea of No-smoking. His artworks show how cigarettes effect the health of the people, the environment as well as the animals. He started creating mosaics to educate people about the hazards of smoking. "I pick the butts myself and am so, so, so, happy when I find a group of them and I say to them they will never be in the street, 'you will be framed and one day the whole world can see you'.", he stated with zest in an interview. "I hope to not only encourage stopping the litter but also stopping smoking.", he added. He says that he uses toothpaste to secure the moistened butts that also helps reduce the smell. When you look at the mosaic of a skull he prepared using 7,500 cigarette ends, you are sure to understand the graveness of the problem.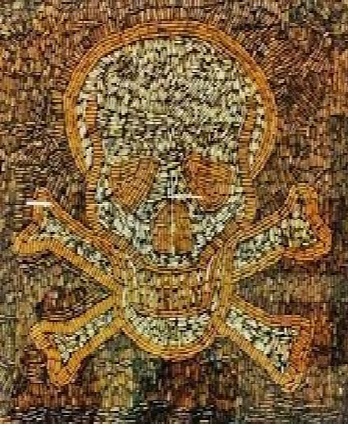 A picture in which a small fish is seen consuming a cigarette butt is heart-wrenching. He also made a no-smoking sign using old roll-ups and cigarette filters, comparing used and unused filters to unleash the hazards of smoking. Each art piece he designs, aims to send a message to smokers urging them to give up smoking.
Art Gallery:
Art created by Negweny from cigarette butts was planned and placed in an art gallery highlighting the issues of plastic pollution and smoking. He was given planning permission to open a gallery in a former bank on Central Drive. "People could see the art and learn what is in a cigarette.", Negweny said. "My gallery would be for an exhibition of my art and also so people could learn what is in a cigarette and hopefully that would convince them not to smoke.", he told the Local Democracy Reporting Service.
Kudos to the thought of an environmentalist who consistently stuck to it for decades and is now spreading great message in a unique way. May this be followed everywhere in the world and may the world become a No-smoking zone. Difficult, but not impossible.

Like and Subscribe His Channel For More Updates