His Shell art will drive anyone CocoNUTS. Almost 400 plus inspiring pieces.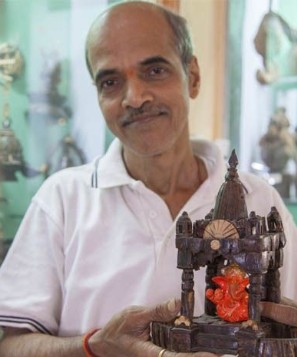 Fallen coconuts, broken coconuts, used coconuts, dried coconuts, empty coconut shells, stems and leaves of coconut trees, coconuts from Kashmir and Andamans - all these take a marvellous shape in his hands. 59-year-old Maharashtra man is the coconut artist whose one floor of the house is filled with 400 pieces of his coconut art. His family calls him crazy but his childhood passion doesn't care about their words. What started as an "Art out of Waste" idea has been continuing for more than a decade now with people who pass through every masterpiece in his gallery standing in awe.
It All Started With A Lotus:
Vijayanand Shembekar is called the Alibaug's coconut shell artist. He works at Rashtriya Chemicals & Fertilizers (RCF), teaches yoga, organises creative art classes for disabled children and also gives lectures at various institutions. He goes to work in the morning and the dark night hours are for his artworks. He carves mind-blowing masterpieces out of coconut shells that range from miniature pieces to home decor items. It all started when he met one of his artistic friends. His friend who knew his interest in developing art out of waste suggested he pick one waste material instead of many and surround his art around that in particular. On his advice, Vijayanand took a coconut shell that day. He set his artistic muse on fire and drove his fingers on it for one long hour and the result was a beautifully carved lotus. That first piece gave him confidence in his own ability and from there on, there was no looking back.
Coconut, Coconut All-Around:
Vijayanand thus started collecting coconuts - waste, damaged, broken ones, husks, stems, leaves locally and from overseas as well. Alibaug, being a Konkan area houses numerous coconut trees where shells are abundantly available at the dump yards.
"Choosing coconuts as my main raw material not only saves my money, but it's also eco-friendly," Vijaynand says. He also collects coconuts from his friends' farms and most of his neighbours voluntarily give their coconut waste to him. His coconuts also arrive from Kashmir and Andamans. "I was terrified while bringing coconuts back from the Andamans, but turns out, I could've brought back a whole bag!" , he laughs. Vijayanand observes the shape of the coconut first. Though for laymen, a coconut might just seem to be round in shape but to his artistic eyes, it's different.
"There was a weirdly shaped coconut with a lot of husk on it. The top was rectangular and the bottom had two small circles. So that took the shape of a miniature car," he says.
The next step is to clean the coconut and later follow cutting, grinding, and proper gluing. His artifacts are so intricately designed that the patterns leave the spectators in awe.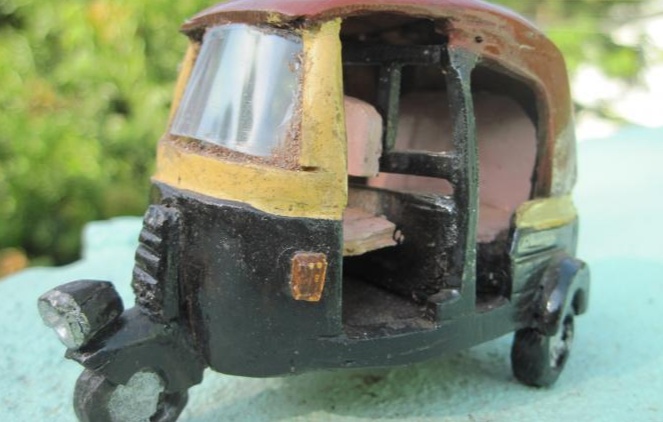 The New Beginnings:
Vijayanand carved a few pieces out of coconut shells and other related items and kept them in his house initially. His family members were enthralled at his artistic skills and his works were kept as showpieces in the house initially. As time passed, they noticed that Vijayanand's deep interest became a cause of concern for them. When it came close to around 35 pieces lying around the house, his wife was so upset with him as she was worried about the space. Finally, he had to dump all his artefacts in a room on their first floor.
"That room sort of became my 'art house'. A year later, I threw open the gallery for visitors," he recalls.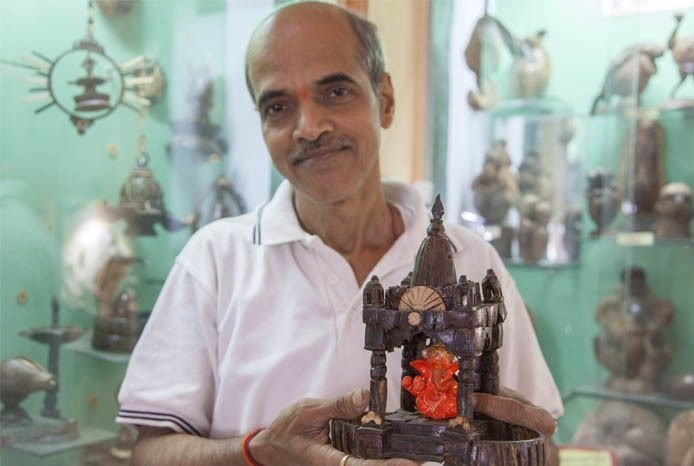 Vijayanand's Art Gallery:
The room on the first floor is where he set his second world. To one corner, automobiles like a tractor, car, auto-rickshaw, cycle and bike are parked. At some distance, some space is allocated for the collection of fauna- parrots, crocodiles, cockroaches etc. To the other end, idols of Ganesha and Krishna along with models of temples are divinely placed. You will also find home decor items like lamps, wall hangings, instruments, miniature pots, etc. Well, even the chains that are tied to keep the visitors away at some distance from the crafts ahead of waste coconut- the links, and a little deco to each stand.
Yeh kudh ka innovation hai (This is my own invention.), he giggles.
Art - To Learn, See And Enjoy - Not For Sale:
Vijayanand doesn't sell his art pieces. He says that one cannot tag his works with a price as he says, they are invaluable.
"The moment I commercialise them, they will lose their charm. I have a full-time job that takes care of our financial needs. So, there is no reason for me to sell." He also says that his art pieces are a reflection of his time and effort.
"It is easy for a customer to put a price on art, but not so easy for an artist to do the same. We lose track of the time we invest in one single piece of work; the effort that goes into it is unaccounted for; all you see is the final stage. So no to selling them. Plus, it is rare for me to come across a coconut that is identical; hence, each piece of art is original.", he adds.
The Gift Of Art:
Vijayanand, though is reluctant to sell his art doesn't stop himself from teaching art to the enthusiasts. He hosts art sessions for school children and adults. He also keeps spare coconuts using which he gives demos to the visitors of his gallery. He also encourages them to try carving by themselves.
This gifted man who can turn waste into beautiful pieces of art is surely the one to be looked up to. May he develop more artistic wonders and continue to amaze the world.