Gurugram boy receives the Global Child Prodigy Award 2020, contributes proceeds to cancer and covid patients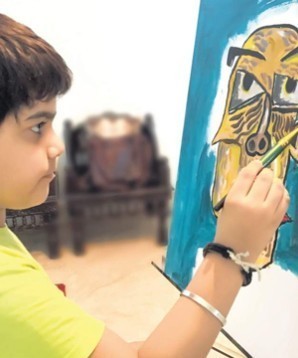 What is the most important thing in life? Ask this question and people put on the table a handful of different answers - education, peace, happiness, family, etc. Pose the same question to Aarav Verma. He will say that being the right person is the most important thing in life. This, he says, is taught to him by his parents. Who is Aarav Verma by the way? Continue reading and you will be impressed!
When Parents Step Out Of Their Conservative Mindset, Children Flourish:
Aarav who hails from Gurugram is raised by parents who are from a conservative family that stresses on the importance of education. However, his parents kept their ideologies away from affecting the child's innate abilities. Aarav's 3-year-old little fingers held the paintbrush and started to fill colours on canvas. He doesn't remember what his first painting was but when he was seven, Aarav drew the face of a lady with red hair and named it "A Lady Shadow". He never named any of his previous paintings until then. Eventually, Aarav developed his painting skills and he has never seen any drawing and imprinted it on his canvas. Instead, he let his imagination flow on to the sheet making his every thought and every emotion, an idea behind his portrait. Ideas naturally pop out of the lobes of his brain and all he does is to add a brush to them with creative colours. He participated in various art exhibits along with an exhibit show at World Art Dubai in 2018. Aarav who is currently in grade 9 manages both studies as well as his artworks. His parents dedicate the maximum amount of their time and many times plan their schedule based on Aarav's timetable. Aarav, who has never been to a drawing school believes that painting is not just confined to a canvas. It spreads various messages that one can't think of.
I am unable to count all my artworks, but they are not just artworks; they are my life to me, says Aarav.
Out of the paintings that Aarav misses count on, there's one painting which he calls "Four Faces" and it is very close to his heart.
It is one of my best artworks because whenever I see it, I realize how creative I am, says Aarav.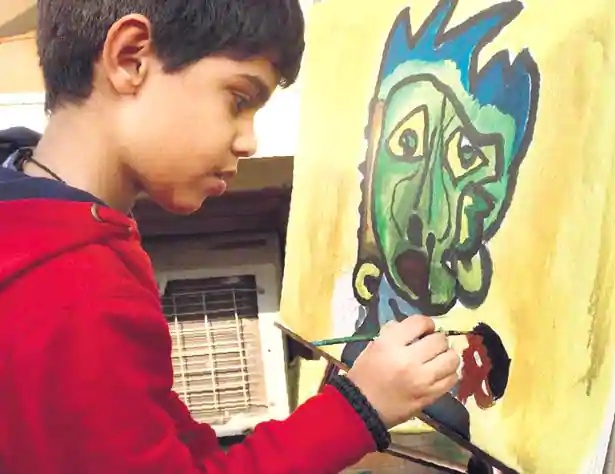 Not Just Paint Brush and Canvas:
Aarav is also a movie lover. He loves to watch fantasy and action movies. Aarav also had a keen interest in computers and technology. Aarav spent his leisure hours cycling and playing table tennis.
The Child Prodigy:
Aarav received the Global Child Prodigy Award that recognizes children having extreme competency in their field of interest such as painting, modelling, writing, entrepreneurship, martial art, music, social work, etc. His name was also among the top 100 prodigies of the year.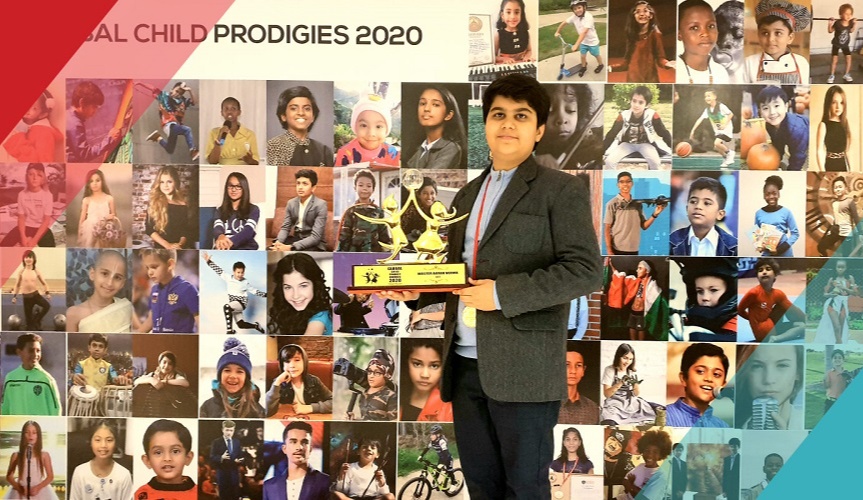 The Brush That Bloomed Beyond Just Painting:
When Aarav was just 11 years old, he did his very first live painting show. In that, Ustad Shujaat Khan Ji acknowledged his talent and Aarav was also provided with a chance to perform on his music. His first live show stood as a blockbuster and his painting was also auctioned. Aarav has given over the entire fund he received out of auction to Rama Krishna Mission for offering free treatment to cancer. When the COVID-19 pandemic hit the world, Aarav wanted to do something for the welfare of the society being an artist. Thus he has done a few fundraising events during the pandemic like 'Fight Covid With Canvas'. In it, Aarav made some amazing artworks and generated funds to fill the tummies of the migrant workers.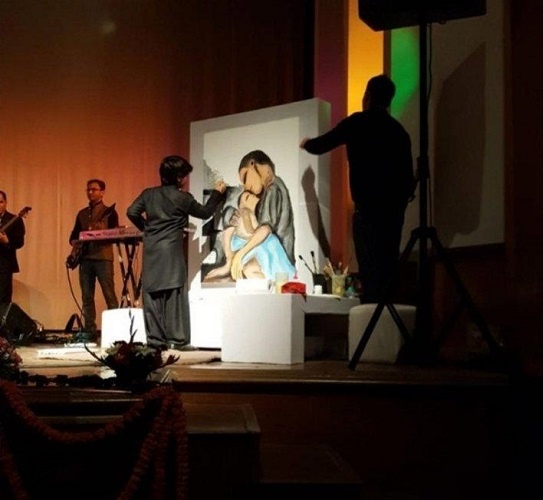 I was honoured to get NDTV's and World Vision India's together with children, quotes Aarav.
Everyone irrespective of age loves Aarav's artworks. Aarav wants to create a positive message in society using his skills.
Grounded To Reality:
"I always live in the present", says Aarav, a thought that not every young boy can stick to. Aarav wants to help society using his artistic flair. "I want to become a soldier in the field of arts for my nation." he declares. He says that his dream comes true only when every one of his age would think of peace, love and harmony. Aarav's only aim is to continue producing his artworks based on his emotions. The motto behind every artwork of his, he says, should be to serve the mankind.
I believe that if I were able to generate more ideas, my hard work would make my dream turn into reality, says Aarav.
Kudos to the young artist who is on his way to inspire the budding artists and who also wants to utilize the fruits of his art for the betterment of the society.

Know More About Aarav Verma Art Works

Follow Him For More Updates