Among so many Soap-sculptors she won two world records. Anything special?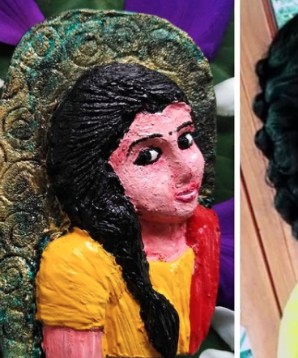 "Straight-away the ideas flow in upon me, directly from God, and not only do I see distinct themes in my mind's eye, but they are clothed in the right forms, harmonies, and orchestration."
—Johannes Brahms
Every artist's heart echoes the same words when asked about their muse. Art is magical and it does not just confine to the artist but the magic flows to every other's heart when the artist manifests it. Here is the amazing story of the soap sculpture emerged in India's God's own country, Kerala. She is Amrutha R and this is her story.
Embraced Art As A Child:
Born on 25th December 1996 in the Kollam district of Kerala to Mr Anilkumar and Mrs Remadevi, Amrutha went to Govt. UPS Kumaranchira, and Santhinikethanam Model HSS. She realised that she has flair for art at a very tender age. She started spending time in learning new skills and methods to enhance her art. She relentlessly strived to hone her artistic skills to create unique artwork. She started spending her days and nights with colours, brushes, papers, and clay with a desire to build magnificent portrayals. She also explored new artforms and carving techniques. Her collection was always given a fresh bunch of artistic works. When she joined the TKM College of Arts and Science, she came across distinct pencil arts on several websites and thus started carving portraits on crayons, colour pencils, chalks, and other objects. Looking at how well her fingers performed magic, friends and family encouraged her to take more challenging tasks. That is how this young artist thought of carving on a soap bar and it is only after several futile attempts that she could finally sculpt a face. She didn't stop there but continued to master soap-sculpting.
Art - An Obstacle:
While Amrutha was deeply immersed into exploring new forms of art and dipped herself into mastering them, she realised that she was slowly getting distracted from studies. Her parents were much worried about her future. They felt that education is the door that opens to an ideal life and art doesn't serve the purpose. According to her parents' thoughts, education gives way to a government job and creates better opportunities in life. So they have asked Amruta to focus on education leaving the art behind. With heavy heart, Amruta decided to follow her parent's advise and concentrate on studies. However, this couldn't again keep her away from soap-sculpting. Her sister Anju supported her greatly so she could manage both her passion and academics. Post her education, Amrutha applied for several government jobs and has been giving exams without leaving behind her love for art.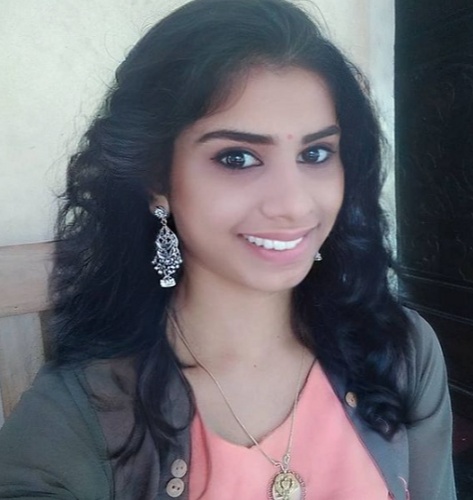 Journey To Enhance Her Artistic Abilities:
When one-day Amrutha came across a featured story about the famous miniaturist, Mr Manoj Violine over a news channel, she immediately contacted him and as an inquisitive child, she asked several questions about the work be does and the techniques he uses. After a good fruitful talk about the work, she also shared her sculptures with him. Amazed by Amrutha's flair and dedication for art, he introduced her to a creative group in Kerala. This came as a cherry on the cake for her where she made new friends and learnt new skills. Eventually, Amrutha joined Kerala Pencil Carvers' official group and showcased her mastery to everyone there. Members of the group appreciated her exceptional carving and pushed her to work on many new things. They also made her a significant part of their projects. Thus, Amrutha got the opportunity to shoulder challenging tasks using modern techniques which boosted her confidence and determination. With this exposure, she determined to set a record in micro art. She then read about Dr. Venkatesh Gettam, who is a Guinness Book world record holder from Andhra Pradesh. She approached him and Venkatesh motivated her to make a career in art. He also encouraged her to experiment and explore the field more. His words gave Amrutha new hope to achieve her dreams.

Know More About Venkatesh Gettam Micro Artist from Andhra Pradesh
Worked Hard To Make The Dream Come True:
Amrutha who is burning with a desire to break all the world records in art strived hard to achieve this. She made her dream walk towards her in September 2020 when she created two world records in her name- the Champions Book of World Records and the Supreme Book of World Records for her exemplary work in soap-sculpting. The way she was encouraged by eminent artists, she also determined to motivate and train young talents, spread awareness and create exposure to how can art become a career option. She wants to simplify the journey for young artists. Along with sculpting, she has also applied for a job in Kerala police.
Sending Waves Of Good Luck:
Striving to make your dream happen in reality on one side but striving hard to create a simplified path so others can follow is a million times more commendable. Let's wish this amazing artist with pure and passionate aspirations a sky full of opportunities and may her flight never stop.

Follow Her Work

Know More About Venkatesh Gettam Micro Artist from Andhra Pradesh