Meet the burn survivor whose Trust offers free plastic surgeries to burn victims.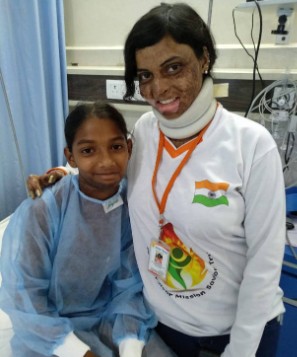 What would you say to a person who has attempted to commit suicide but was saved? If it were a woman who was saved from death after she attempted suicide unable to bear the domestic violence at her in-laws' place, she would not listen to words of comfort but the society rather says that she is 'impulsive' in deciding to kill herself. 'She must have waited with patience. It's not anything new that's happening to her alone' – such words don't comfort her, but break her even more. Here is the story of a woman who wanted to end her life out of similar circumstances but was saved, only to face the society that, instead of acknowledging the pain she underwent in her in-laws' place, said that she took a hasty decision of committing suicide. While everyone thought that it's an ending to her life, she wrote a new beginning, not just to herself but to all those who are in 'burning' pain.
"I came to know about the programme through a newspaper report. One out of my three surgeries have been done, and my neck is more flexible now. All this has been possible and thanks to Neehaari ma'am and her team", said Reshma Rajan, a burn survivor from Kottayam, Kerala. Who is Neehaari and what she does? Let's get to know.
Succumbing To Fate But Rising To Will-power:
When Neehaari Mandali was 20 years old, she attempted suicide by setting herself on fire unable to bear what her in-laws' family has subjected her to. When she was saved from death, not many people acknowledged the amount of pain she underwent in her husband's house but rebuked her decision to commit suicide. Harsh and painful reprimanding took over words of assurance and empathy. While everyone thought that she has to live with those scars for the rest of her life, Neehaari, who survived with 55 percent burn injuries, is 'living' with them and is helping others suffering similar fate.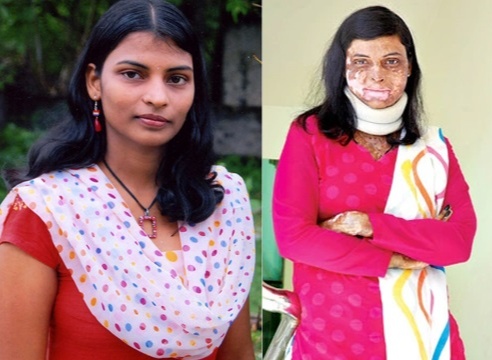 A Ray of Hope To 'Burnt' Lives:
Neehaari, who knows the pain of living with a burnt skin and body, says that it is really very hard for a burn survivor to lead a normal life. While they have to undergo multiple surgeries and take long-term medication, they also have to endure neglect and negativity from people around them. The treatment that requires lots of money and efforts also needs the victim to be positive and motivated to respond to it. Neehaari recollects how on some days, she couldn't even hold a spoon in her hands. The post-burn life is the most difficult one to lead and as Neehaari walked through the painful process, she decided to stand for those who are in the same boat. While collecting the broken pieces of her life, Neehaari laid foundations to the Burn Survivor Mission Saviour Trust. Through this Trust, Neehaari helps people with post-burn deformities undergo plastic surgeries free of cost. The services of the Trust are spread across Andhra Pradesh, Telangana and Kerala.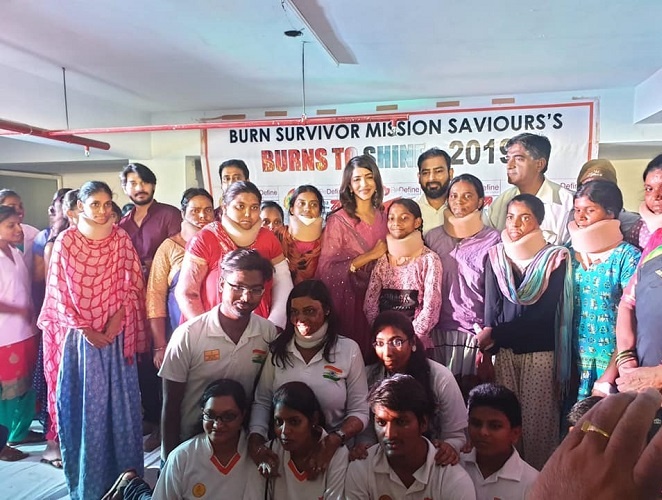 In 2014, Neehaari met a physician and politician, Dr. M.K. Muneer, who volunteered at a plastic surgery camp organised by her Trust in Andhra Pradesh. In 2017, Muneer invited Neehaari to conduct a similar camp in Kozhikode in Kerala. It is there that around 24 free surgeries were organised. Neehaari's Trust collaborated with Pettah Cosmetiq Clinic, Kerala Plastic Surgeons Association and Trivandrum Round Table 66 to perform free post-burn surgeries on 15 survivors from Kerala, out of which seven surgeries were done with the remaining to happen in a few days. Neehaari, who lives in Thiruvananthapuram at present, says that the support she receives from Keralites is immense. "Dr Bibilash Babu and serial actor Anoop Sivasenan play key roles in the current project," Neehaari says. She mentions that post-burn surgeries are both expensive and are non-prevalent. So, through her Trust, Neehaari aims to help those who are financially crippled to get the treatment done and those who do not even have an idea of treatments. She explains, "Free surgery recipients are selected based on these factors, as well as their age and burn percentage. People have this perception that plastic surgeries are only done on celebrities to enhance their beauty, which is wrong. It is also a significant method to resist the contraction of a burn survivor's body after wound healing". Neehaari's Trust takes the help of generous groups and surgeons to carry out their activities. So far, the Trust has supervised 126 operations and conducted over 900 counselling sessions.
Her Plans For Future:
Neehaari says that there are enough fully-equipped government hospitals for fresh burn treatment. But there is immense lack of awareness about post-burn deformities. While private hospitals provide this service, everyone knows about the extent of affordability. To bridge this gap, Neehaari says that she wants to extensively conduct awareness programmes in schools and colleges.
"I want society to consider burn survivors as normal humans. Also, survivors should seek assistance to get back to ordinary life and find their own identity," she says.
To all those whose hopes must have shattered because of fire accidents and burns, Neehaari has come like a ray of hope setting before them, an example of herself while at the same time, helping them reunite with themselves in a new beginning. We wish Neehaari the best, that keeps her selfless service going and may she continue to enlighten, inspire and empower the burn survivors.

Follow Her Work

Follow Her Work