Brave widow became a Commissioned Officer in the Indian Army. Tribute to her lost husband.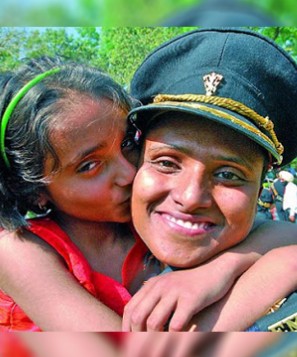 She was a first-year undergraduate student when she was made to enter into a wedlock. But life didn't lock her with the chains of household chores and family duties. She walked beyond her maang ki sindoor. Not just that she continued her education, secured a higher degree and a respectable job, but she did something that no one in India has ever done. Priya Semwal, a name that remains crafted on the solid rocks of the Indian Armed forces, is the pride of the nation. Let's know what is so exceptional about Priya.
Married Off Young:
It was 2006. Priya Semwal was pursuing her first year of undergraduate course when she was married off to Mr Naik Amit Sharma, an Army Jawan. The two started their life and Amit Sharma, who just studied only until class X, advised his wife to continue pursuing her education instead of immersing herself in household chores. Excited about this, Priya decided to continue her education, studied hard and finished her graduation. She went on to pursue her MSc in Mathematics and then attained a B.Ed degree. Priya took up a job and started tutoring students in a private coaching institute in Dehradun. A little baby girl Khwahish entered into their lives and the happy two became the blissful three.
Fate had a different Plan
Naik Amit Sharma was serving in Arunachal Pradesh with the 14 Rajput regiments when a counter-insurgency operation near Tawang took his breath away. The news of her husband's death shook Priya and the world around her came to a standstill. The thought of her four-year-old daughter's future trembled Priya.
A Ray Of Hope:
He was Colonel Arun Agarwal. When he attended Naik Amit Sharma's last rites, he came to know about Priya and her qualifications. Arun was the commanding officer of the unit Naik Amit Sharma was serving before his martyrdom. Colonel Agarwal suggested Priya to join the Armed forces as an officer.
"She was qualified and I felt that she will do it. Initially, her apprehensions made her hesitant but once she was convinced, she didn't look back", said Agarwal.
Initially, the family couldn't digest this and Priya met with some resistance from close ones. The young widow convinced them with her firm will. "Though there was hesitation initially, she wanted to face it and become an officer and we supported her. We are very proud of her decision.", her brother said.
Hard Work And Pain Resulted In Gain:
Priya successfully cleared her CDS exam and then toiled day and night to clear the SSB. She had to undergo an eleven-month-long training at OTA, Chennai. The pain of being separated from her little girl shook Priya and even the baby who was very closely attached to her mother was shattered. However, with a heavy heart, the girl baby was made to live with her grandmother in Dehradun while Priya came down to Chennai for training. All the pain and sweat didn't go in vain. When Priya successfully finished her training, Colonel Agarwal came down to Chennai all the way from the border to see her graduated. Priya was appointed into the Indian Army as a Commissioned Officer. Lieutenant Priya Semwal was inducted into the Corps of Electrical and Mechanical Engineering (EME) of the Indian Army.
"Priya's story is unprecedented. It's the biggest tribute she could pay to her martyred husband and the greatest service she could render to our nation", the then OTA commandant Lieutenant General S. S. Jog said.
There could have been examples of other women who took up their husband's jobs after they are martyred. But Priya is different from them. Her husband was a Non-commissioned officer. But Priya sweated out, cleared all the exams along with the training to become a Commissioned Officer in the Armed forces.
"Probably, this is the first time an Army jawan's wife has become an officer in India.", said Colonel Agarwal.
Unprecedented Will:
Priya who says that she is grateful to Colonel Agarwal for his timely suggestion and thought-provoking words want to see her daughter also as a Commissioned Officer in the days to come. Looking at her daughter, now, Priya's parents are extremely proud for she has become a role model to many women and also a lesson of courage to all those who submit themselves to fate.
What would have happened if Priya would have continued tutoring students staying with her parents, cribbing her ill faith? She wouldn't have become a strong woman from whom her daughter and other daughters of the nation have learnt bravery. Salute to you, Lieutenant Priya Semwal. May you wear many stars on your dress.