Santa Sand Clause wished and warned to use masks and stay safe. Receives huge appreciation.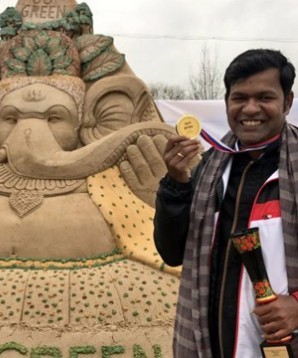 On the eve of Christmas, Odisha's Puri beach witnessed a record-setting artistic work in 3D where two giant Santa Clauses hold a mask giving the message, "Use Mask, Stay Safe" to the world. It attracted the artistic hearts from across the globe and when the world looked towards India on this occasion to know who created this masterpiece, everyone found that it was Sudarsan Pattnaik, an internationally acclaimed sand artist and the recipient of Padma Shri. This story is about this Odisha based man whose achievements, when listed, don't fit in this page. Let's take a look.
Born Poor Financially But Rich In Skills:
Sudarsan was born on 15th April 1977 in Marchikote Lane, Puri district, Odisha in a poor family. The third son in an economically unstable family always lived in uncertain conditions but kept moving forward. Having grown up by the beachside, Pattnaik always had an inclination for the ocean and the beach sands. By 7, he had already learnt sand sculpting without anyone's help by messing with the sand on the beach. The time came when Pattnaik's family couldn't send him to school anymore. This made Pattnaik turn to the beach sands to find solace in sculpting. His sand sculptures have undergone fine shaping with time and his fan base included the tourists who visited the beach initially. Later, he became well-known across India and the globe. He uses this international fame to raise awareness on contemporary social issues as his sculptures appear on newspapers, e-magazines, websites and thus his voice is heard until far and wide. His sculptures revolve around current issues, public awareness, saving environment, religion, social issues, global issues, famous personalities and anything that motivates people in the right direction. He also represented India in countries like the UK, China, Japan, Holland, US, France, Italy, etc.
Remarkable Achievements:
This nation's treasure who put in his sincere efforts into sand sculpting became the first Indian sand artist with a never-ending list of awards and achievements. If we have to tell you about his endless achievements, it takes not just this article and the following are just a significant few.
* He was awarded the fourth highest civilian award, the Padma Shri by Government of India in 2014 for his contribution in sand arts.
* He won the People's Choice Award at the 1st Moscow International Sand Sculpture Championship held in Russia.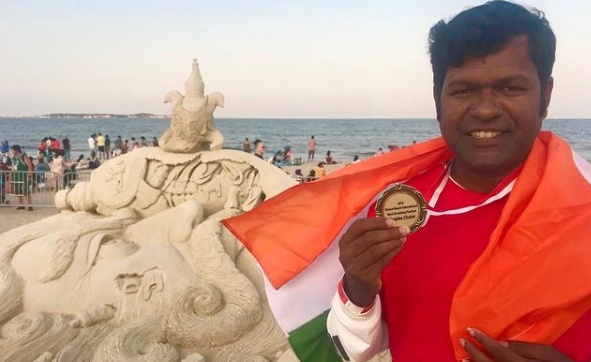 * He made the tallest sand sculpture featuring Santa Clause sand which was 15 feet high and thus his name was registered in world books.
* His 'The Black Taj Mahal' sculpture was appreciated and applauded by people around the globe.
* He won a gold medal at the 12th International sand sculpture competition in the year 2013 held in Saint Petersburg.
* In 2011, he won 1st prize as well as a public prize at Denmark. He also won a double medal at Solo International Sand art contest in Mervala in 2012.
* He has been conferred with the Italian Golden Sand Art Award, 2019 becoming the first Indian to win the prestigious award for his contribution to sand art.
The above are just a few out of his numerous achievements. He has participated in more than 60 international sand art festivals and championships around the world and brought home prizes from everywhere.
Wishes and Warnings:
This renowned artist whose prime focus lies on educating people about various contemporary issues chose to meet everyone yet another time on the occasion of Christmas. He also chose to remind people about wearing masks and sent a warning that the pandemic is still not over implicitly asking them not to relax. Sudarsan, who dedicated a sand art to brave soldiers on Diwali, came with two Santa Clauses for Christmas to remind the world about wearing masks. With this feat, he also attempted a world record, in fact, to break his own previous record. He created a 3D sculpture that was 120ft long and 50ft wide on an area that spanned for 6000sq.ft with the help of 20 students from his art school.
"Attempted for another world record on 3D SandArt. World's biggest mask with Santa Clauses on 3d SandArt with message Use Mask Stay Safe.", he wrote on Twitter.
He also mentioned that with the deadly pandemic still around us, it is absolutely imperative to wear masks as well as practice social distancing at all times. For this, Sudarsan received an email from the Limca Book of Records.
"For the last 20 years, I have been doing sand art during Christmas and set many records in the Limca Book of Records. This year also, I have attempted for a world record by creating the 3D sand Santa with a mask over a 6000 sq ft area." This attempt is made to break his previous record that was made in 2015 wherein the sand art was made over 4900 sq ft area.
Teacher with No Education:
With an aim to promote this seventh-century art among youngsters and interested people, he established 'The Golden Sand Art Institute' in his homeland Puri and is thus carrying this unique art form forward.
Kudos to this artistic warrior who is raising the bar for himself and is striving to place India in the supreme place on the world map.

Follow His Works

Follow Him