Bengaluru student receives an award from the President for her exceptional contribution towards the needy students.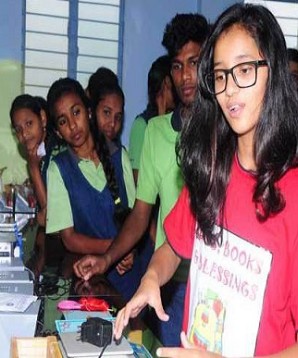 The barrier between the privileged and underprivileged has been in existence since time immemorial. Does anyone really notice or care? Probably Not. As each one of us is caught up in our daily hectic life routines it may not even register that they exist. Rightly so as India moves to becoming a digital India with costs escalating, there is no way the below poverty level families can cope and afford some basic necessities like bags and books for their children.
Nikhiya is one among thousands of students, who actually took notice and started helping a few kids around the vicinity by asking for usable books, well- kept bags, geometry boxes, water bottles, uniforms and anything else a school kid would need. Nikhiya not only got what she asked for but received in abundance, and was really touched by people's kindness and gesture. At 13, launched her NGO which has now reached a higher level where more than 7500 underprivileged students are being helped.
These are basic necessities, but what about imparting some knowledge and learning? That's when Nikhiya started Yearn to Learn another initiative; which aimed to start Science and Math Labs in schools and pre-university colleges where there are no proper lab facilities. These students had to go to another college to do experiments. Her NGO has set up Physics, Chemistry and Biology labs at Parikrma Humanity Foundation and now boasts of nearly 2000 students from orphanages to avail these facilities. In addition, they have 30 plus labs in various schools across Bangalore catering to learning needs of more than 5000 students.
The success of her two initiatives, motivated Nikhiya of Class X to launch an e-commerce website to raise funds and sustain the activities of offline campaigns. Take a look at some interesting unique gifting products she has in store for you.
Achieved so much in such a short time; her exemplary work has not gone unnoticed. She won the prestigious National Child Award for Exceptional Achievement 2017 and was presented by the President of India Mr Ram Nath Kovind at Rashtrapati Bhavan.
Know more about her work – visit her websites,
bagsbooksandblessings.com

,

yearn to learn.in and

knicnacs.com

Watch Her Video: