Meet Mother of orphans who spent all her life caring and providing to the orphans.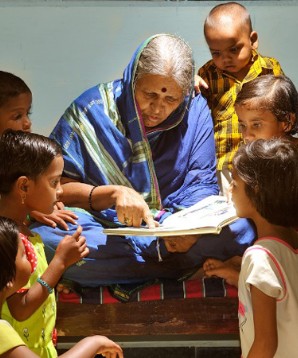 Childhood is the happiest period of creation. The family loves and primp their kids, making them the core of their life. Even then, the same upbringing can be terrible if a child is deprived of a home and a family. India is among the most populous nations and a major chunk of this community are children. Here I believe great misery relies on being an orphan or leading a life without shelter. It's always written, "Almighty god assigns individuals to planet earth to bring a change in society." Sindhutai Sapkal becomes one of those who bring an immense change within society. Being the mother of the orphans, Sindhutai has become the gift from god to thousands of poor children. As we describe Sindhutai Sapkal, a quite typical Indian lady with an extraordinary deed towards society. She is a mother of nearly 1200 children including her daughter and sons.
A lady at age 71 tried hiding life scars behind her gorgeous smile...
SindhuTai was born on 14 November 1948, that is, the day of the children, with an enthusiastic and interested temperament from childhood onwards. She adored going to class yet it was against the desire of her mom, in any case, her dad anyway consistently needed to teach her. She continued her study until age 9 in 4th grade. Sindhutai got married at age 10 to a 30-year-old man. She was not permitted to go to school by her In-laws and after that left school. At the age of 19, she gave birth to two sons and afterward a beautiful daughter at age 20. One day she was miserably thrown out of the house by her husband.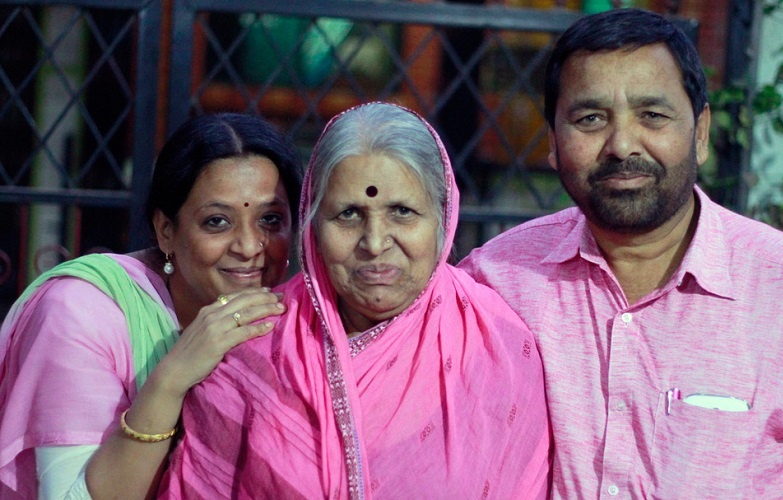 Her sole goal to add happiness to homeless lives.....but the beginning was not so easy
She raised a child, and slowly this became precious to her. With no government support or life story expression, she decided to open homeless shelters and raised more than 1,300 youngsters. She just tried to demonstrate that existence is what we create out of it.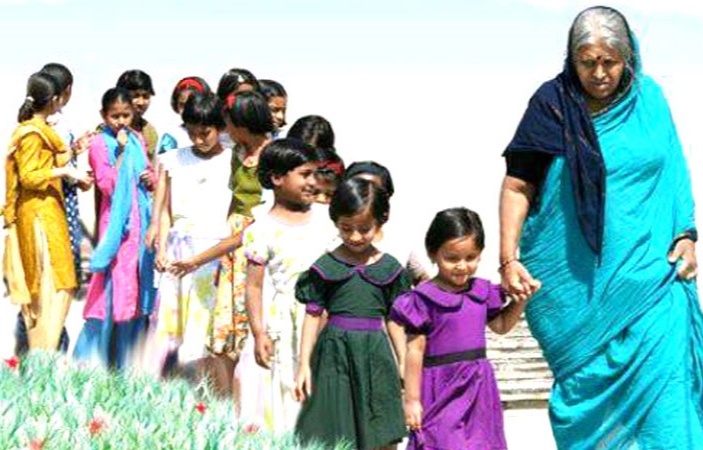 "Deepak" was her first rescued boy.
It was during those difficult times when she understood how troublesome it would be for shelter-less children and chose to accomplish something for them. Her journey begins after adopting a child named "Deepak", whom she spotted on the railroad line. Later she adopted 16 children.Begging the whole day on streets and becoming "tai" to homeless ones…Sindhu Tai was never born as a beggar, however, situations forced her to come and ask for the livelihood on the streets. Several times, in the evenings, she prepared rotis on dead people's burnings. She ate as well as distributed them within homeless, needy children.
As a mother, she holds them all into her lap….
She became "Tai "of half-dead three hungry kids whom she rescued from a place. She's distributed food and clothes to poor children after begging on the street.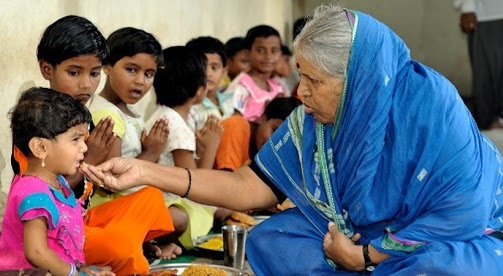 A road of creativity
......
She has educated over 1,200 children throughout her 42 years. Her truly inspirational movements reveal that nothing is difficult. Sindhutai is a perfect example of humanity.
Life taught Sindhutai to choose this path…..
Sindhutai is a well-known and dedicated social activist who focuses on nurturing poor children. Life experiences and memories led Sindhu Tai to realize the pain of negligence and thereafter she decided to devote whole her life to taking care of struggling poor children and this became her life's ambition.
She is popularly known as "The Mother of orphans"
An inspiration to youngsters……. Sindhutai is popularly known as ' The Mother of orphans and vulnerable' kids. She travels a journey from a tragic life to begging streets and continuing her journey towards serving society even at age 71.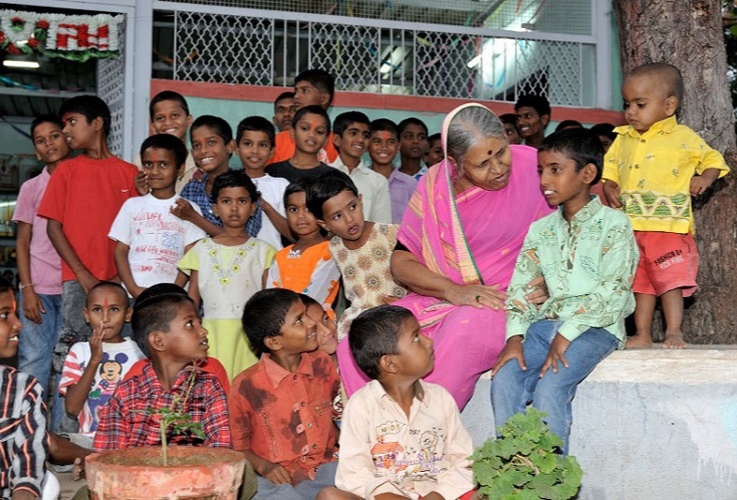 NGOs supported and participated in achieving goals
……
As she decided to open her first ashram in Chikhaldara. People who donated funds requested her to provide a certificate and decide to take support from NGOs.
Soon she registered at an NGO, Savitribai Phule Girls' Hostel under the Vanvasi Gopalkrishna Shikshan Evam Kreeda Prasarak Mandal in Chikaldhara in Amravati. Presently, her children run 4 such NGOs, and her first adopted son, Deepak too opened an NGO named, Mamta Bal Bhawan, on his daughter's name, Mamta.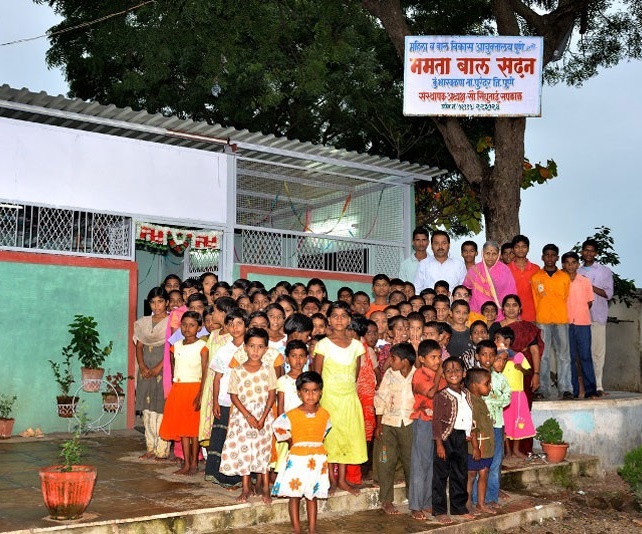 Their beloved "Maaii"
Some of her adopted ones now became physicians and lawyers. Some sponsored orphanages. They realized that their "Maaii "is responsible for their success today. Sindhutai even set up a cattle shelter, named Gopika Gai Rakshan Kendra, to save aged cattle.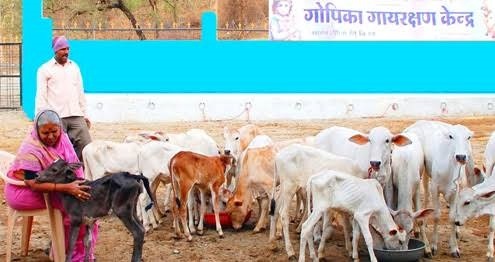 A perfect model of bravery……
She won more than Eight hundred distinctions and received four awards from the Indian President. Today, many engineers, physicians, business executives, and many more come forward to serve our society whom she provided shelters and education one day. She recently opened schools and colleges for poor students.
Sindhutai's challenging life transformed into achievements now….
In 2013, she won a popular nationwide Mother Teresa Award. In 2016, Sindhutai Sapkal received a doctorate in literary works from the DY Patil Institute of Technology and Research, Pune. She won an award known as 'The Mind of Steel' in 2010. Indian President Ram Nath Kovind awarded her as an honored women achiever with Nari Shakti Puraskar on an International Women's Day 2018.
A

Marathi film on Sindhutai

……
"Mee Sindhutai Sapkal" a 2010 Marathi film directed by Anant Mahadevan is based on Sindhu Tai Sapkal's real-life story that explains how a poverty-stricken Maharashtrian woman battles the social ills and eventually comes out on top. This movie went for nomination at the 54th London Film Festival awards.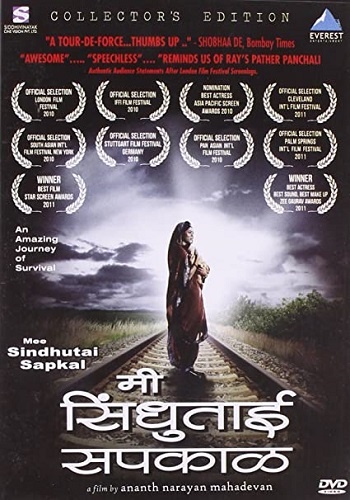 Hats Off "Tai"
We salute and acknowledge Sindhutai Sapkal for her vast contribution in uplifting society, alongside proving that if somebody has that courage to accomplish something in their life, then nobody can stop them.

Get In Touch With Sindhutai Sapkal For More Information